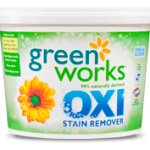 I've said it before and I'll say it again- with three kids and a dog, plus a husband who does a lot of DIY projects, my laundry gets dirty.  I was reminded yet again of how much I love Green Works Oxi Stain Remover just this weekend, when I was pulling the new "seasons" of clothes out for the kids, many of which are handmedowns, and discovered upon opening the bins that half had stains not noticed by me before they were packed into their bins.  I am sure they weren't noticed by the folks who were generous enough to pass along handmedowns.  They also had that odor from being packed away- almost musty, but not fully. Frustrated, I did what I normally do with laundry issues- grabbed the clothes with the stains, headed to the basement and tossed them into the wash with a scoop of the Green Works Oxi Stain Remover.  A good soak cycle and then a wash through with my normal detergent and out to the clothesline they all went to sun out whatever remnants of stains there might be…
Success!!  No packed away odor and no more stains!! There was a top and a pair of tights that had a little stain left even after drying in the sun so I made a paste using the Oxi and my detergent and let that sit overnight, then followed my normal wash process…and even those were vanished! 
When I first learned that we'd be doing a review of the Green Works, I went to check out their site- and in reading the reviews of this product by other consumers, was very intrigued to read that someone else has hard water at their home, and was successfully using this product in each wash load as a water softener.   A product that can boost my laundry detergent's effectiveness and soften our water?  Awesome!!  I've been using this in each load, and its definitely helping with our hard water!!
 You can add it to your wash, soak clothes in it, or gently rub it into whites and colors to pre-treat stains. And as you might expect, it's fragrance, chlorine, detergent, dye and harsh residue free.
Green Works has a seemingly ever-expanding line of natural products to keep your home clean in a safer, more natural way.  I'm really enjoying these products- without harsh chemical smells or stinging on my hands from chemicals, I feel like the Green Works line offers a really affordable way for everyone to be able to use more natural options in cleaning their homes- for laundry or anywhere else in the house.  I feel like I'm finding coupons for these products regularly which means it costs even less, and I've not found a Green Works product that isn't effective!!
I received a sample of this product to facilitate my review from Green Works through my affiliation with Mom Bloggers Club.  Opinions are my own.