Everyone‌ ‌wants‌ ‌‌to‌‌ ‌‌live‌‌ ‌‌in‌‌ ‌‌a‌‌ ‌‌beautiful‌‌ ‌‌and‌‌ ‌‌peaceful‌‌ ‌‌abode.‌‌ ‌‌Nonetheless,‌‌ ‌‌‌‌ ‌‌modern-day‌‌ ‌‌housing‌‌

‌
‌does‌‌ ‌‌not‌‌ ‌‌allow‌‌ ‌‌for‌‌ ‌‌this‌‌ ‌‌as‌‌ ‌‌the‌‌ ‌loosely‌ ‌built‌ ‌‌ones‌‌ ‌‌need‌ ‌repair‌‌ ‌from‌ ‌time‌ ‌to‌ ‌time.‌ ‌‌‌
‌‌The‌‌ ‌‌current‌‌ ‌‌hard‌‌ ‌‌economic‌‌ ‌‌times‌‌ ‌‌might‌ ‌‌not‌‌ ‌‌allow‌‌ ‌‌you‌‌ ‌‌to‌‌ ‌‌acquire‌‌ ‌‌that‌‌ ‌‌beautiful‌‌ ‌‌home‌‌ ‌‌you‌‌ ‌‌have‌‌
‌ admired‌ ‌‌for‌‌ ‌‌years.‌‌ ‌‌What's‌‌ ‌‌more‌‌, ‌‌COVID-19‌‌ ‌‌has‌‌ ‌‌had‌‌ ‌‌a‌‌ ‌‌significant‌‌ ‌‌impact‌‌ ‌‌on‌‌ ‌‌the‌‌ ‌‌real‌‌ ‌‌estate‌‌
‌industry‌‌ ‌,‌ ‌leaving‌‌ ‌‌it‌‌ ‌‌shaky‌‌ ‌‌and‌‌ ‌‌unfriendly‌‌ ‌‌to‌‌ ‌‌newbies.‌‌ ‌‌‌ ‌‌‌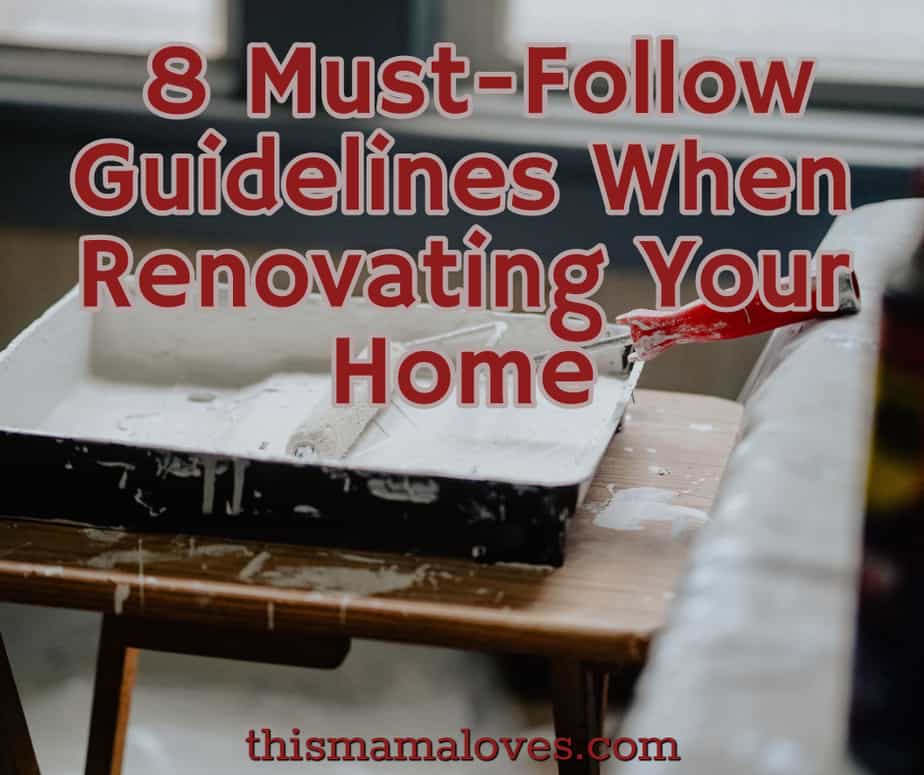 8‌ ‌Must-Follow‌ ‌Guidelines‌ ‌When‌ ‌Renovating‌ ‌Your‌ ‌Home‌ ‌‌‌
Fortunately‌ ‌you‌ ‌can‌ ‌‌work‌ ‌‌with‌‌ ‌‌what‌‌ ‌‌you‌‌ ‌‌currently‌‌ ‌‌have‌‌ ‌‌and‌‌ ‌‌turning‌‌ ‌‌it‌‌ ‌‌into‌‌ ‌‌a‌‌ ‌‌magnificent‌‌ ‌‌
‌home‌ ‌of‌

‌
your‌ ‌dreams‌
.‌‌ ‌‌Besides‌‌ ‌‌saving‌‌ ‌‌on‌‌ ‌‌‌‌
renovating‌‌‌‌
‌costs,‌ ‌it‌ ‌‌helps‌‌ ‌‌you‌‌ ‌‌maintain‌‌ ‌‌your‌‌ ‌‌family‌‌ ‌‌identity‌‌ ‌‌and‌‌

‌
‌memories.‌‌ ‌‌‌
‌
‌
‌Moreover,‌‌ ‌‌it‌‌ ‌‌saves‌‌ ‌‌you‌‌ ‌‌time‌‌ ‌‌and‌‌ ‌‌preserves‌‌ ‌‌your‌‌ ‌‌precious‌‌ ‌‌items‌‌ ‌‌that‌‌ ‌‌may‌‌ ‌‌otherwise‌‌ ‌‌get‌‌ ‌‌lost‌‌ ‌‌or‌‌

‌
damaged‌‌ ‌‌during‌‌ ‌‌the‌‌ ‌‌moving‌‌ ‌‌process.‌‌ ‌‌Despite‌‌ ‌‌being‌‌ ‌‌a‌‌ ‌‌viable‌‌ ‌‌option,‌‌ ‌‌you‌‌ ‌‌must‌‌ ‌‌understand‌‌ ‌‌that‌‌
‌home‌‌ ‌‌renovation‌‌ ‌‌is‌‌ ‌‌not‌‌ ‌‌an‌‌ ‌‌easy‌‌ ‌‌process.‌‌ ‌‌It‌‌ ‌‌comes‌‌ ‌‌with‌‌ ‌‌its‌‌ ‌‌‌‌ ‌‌price‌‌ ‌‌that,‌‌ ‌‌if‌‌ ‌‌not‌‌ ‌‌well‌‌ ‌‌handled,‌‌ ‌‌may‌‌
‌‌result‌‌ ‌‌in‌‌ ‌‌worse‌‌ ‌‌repercussions.‌‌ ‌‌‌ ‌‌‌
‌Here‌‌ ‌‌are‌‌ ‌‌nine‌‌ ‌‌tips‌‌ ‌‌to‌‌ ‌‌ensure‌‌ ‌‌you‌‌ ‌‌have‌‌ ‌‌the‌‌ ‌‌best‌‌ ‌‌experience‌‌ ‌‌during‌‌ ‌‌your‌‌ ‌‌upcoming‌‌ ‌‌home‌‌
‌improvement‌‌ ‌project.‌‌ ‌‌‌ ‌‌‌
‌
Have‌ ‌a‌ ‌Clear‌ ‌Mind‌

‌
Before‌‌ ‌‌embarking‌‌ ‌‌on‌‌ ‌‌your‌‌ ‌‌home‌‌ ‌‌renovation‌‌ ‌‌journey,‌‌ ‌‌you‌‌ ‌‌need‌‌ ‌‌first‌ ‌to‌ ‌decide‌‌ ‌‌the‌ ‌necessary‌

‌
repairs‌ ‌in‌ ‌the‌‌ ‌‌home.‌‌ ‌‌To‌‌ ‌‌begin‌‌ ‌‌with,‌‌ ‌‌you‌‌ ‌‌must‌‌ ‌‌have‌‌ ‌‌a‌‌ ‌‌clear‌‌ ‌‌picture‌‌ ‌‌of‌‌ ‌‌the‌‌ ‌‌‌‌ ‌‌outcome‌‌ ‌‌illustrating‌‌
‌what‌‌ ‌‌every‌‌ ‌‌space‌ ‌‌in‌‌ ‌‌the‌‌ ‌‌house‌‌ ‌‌will‌‌ ‌‌occupy.‌‌ ‌‌Many‌ ‌fantastic‌‌ ‌‌home‌‌ ‌‌designs‌ ‌are‌ ‌spurning‌‌ ‌‌up‌‌ ‌‌daily‌‌ ‌,‌
‌and‌ ‌this‌ ‌‌may‌‌ ‌‌confuse‌‌ ‌‌you‌‌ ‌‌if‌‌ ‌‌you‌‌ ‌‌are‌‌ ‌‌undecided.‌‌ ‌‌‌ ‌‌‌
‌Therefore‌‌ ‌,‌ ‌‌have‌‌ ‌‌a‌‌ ‌‌sit‌‌ ‌‌with‌‌ ‌‌your‌‌ ‌‌contractor‌‌ ‌‌and‌‌ ‌decide‌ ‌‌what‌‌ ‌‌you‌‌ ‌‌‌want‌ ‌‌with‌‌ ‌‌the‌‌ ‌‌home.‌‌ ‌‌After‌‌ ‌‌this‌‌
‌meeting,‌‌ ‌‌please‌ ‌do‌‌ ‌‌your‌‌ ‌‌best‌‌ ‌‌to‌‌ ‌‌avoid‌‌ ‌‌unnecessary‌‌ ‌‌changes‌‌ ‌‌as‌‌ ‌‌they‌‌ ‌‌distract‌‌ ‌‌and‌‌ ‌‌delay‌‌ ‌‌the‌‌ ‌‌process.‌‌ ‌‌‌ ‌‌‌
‌Nevertheless,‌‌ ‌‌some‌‌ ‌‌changes‌ ‌must‌‌ ‌‌take‌‌ ‌‌place‌‌ ‌‌as‌‌ ‌‌the‌‌ ‌‌work‌‌ ‌‌progresses.‌‌ ‌‌Ensure‌‌ ‌‌to‌‌ ‌‌always‌‌
‌
communicate‌‌ ‌‌with‌‌ ‌‌your‌‌ ‌‌contractors‌‌ ‌‌to‌‌ ‌‌get‌‌ ‌‌their‌‌ ‌‌second‌‌ ‌‌opinion‌‌ ‌‌on‌‌ ‌‌the‌‌ ‌‌matter.‌‌ ‌‌It‌‌ ‌‌may‌‌ ‌‌happen‌‌ ‌‌they‌‌

‌
have‌‌ ‌‌a‌‌ ‌‌way‌‌ ‌‌around‌‌ ‌‌the‌‌ ‌‌situation‌‌ ‌‌that‌‌ ‌‌doesn't‌‌ ‌‌require‌‌ ‌‌the‌‌ ‌‌change.‌‌ ‌‌‌ ‌‌‌
‌
Work‌ ‌With‌ ‌a‌ ‌Realistic‌ ‌Budget‌

‌
Budgeting‌‌ ‌‌is‌‌ ‌‌a‌‌ ‌‌must-do‌‌ ‌‌activity‌‌ ‌‌in‌‌ ‌‌your‌‌ ‌‌home‌‌ ‌‌renovation‌‌ ‌‌process.‌‌ ‌‌It‌‌ ‌‌entails‌‌ ‌‌identifying‌‌ ‌‌the‌‌ ‌‌cost‌‌ ‌‌of‌‌

‌
‌the‌‌ ‌‌renovation‌‌ ‌‌and‌‌ ‌‌various‌‌ ‌‌streams‌‌ ‌‌of‌‌ ‌‌financing‌‌ ‌‌it.‌‌ ‌‌The‌‌ ‌‌amount‌‌ ‌‌of‌‌ ‌‌money‌‌ ‌‌you‌‌ ‌‌have‌‌ ‌‌for‌‌ ‌‌the‌‌
‌‌project‌‌ ‌‌will‌‌ ‌‌determine‌‌ ‌‌how‌‌ ‌‌far‌‌ ‌‌you‌‌ ‌‌go‌‌ ‌‌into‌‌ ‌‌renovating‌‌ ‌‌your‌‌ ‌‌home.‌‌ ‌‌‌ ‌‌‌
‌Nevertheless,‌‌ ‌‌it's‌‌ ‌‌always‌‌ ‌‌advisable‌‌ ‌‌to‌‌ ‌‌start‌‌ ‌‌with‌‌ ‌‌your‌‌ ‌‌top‌‌ ‌‌‌needs‌‌‌ ‌‌in‌‌ ‌‌the‌‌ ‌‌renovation‌‌ ‌‌project‌‌ ‌‌just‌‌ ‌‌in‌‌
‌case‌‌ ‌‌something‌‌ ‌‌comes‌‌ ‌‌up‌‌ ‌and‌‌ ‌‌finances‌‌ ‌‌fail‌‌ ‌‌you.‌‌ ‌Therefore,‌ ‌it‌ ‌would‌ ‌help‌ ‌if‌ ‌you‌‌ ‌differentiated‌‌
‌
your‌‌ ‌‌priorities‌‌ ‌‌from‌‌ ‌‌your‌‌ ‌‌wants‌‌ ‌‌before‌‌ ‌‌starting‌‌ ‌‌‌‌ ‌‌on‌‌ ‌‌the‌‌ ‌‌project.‌‌ ‌‌‌ ‌‌‌
You‌‌ ‌‌can‌‌ ‌‌pay ‌‌for‌‌ ‌‌your‌‌ ‌‌home‌‌ ‌‌improvement‌‌ ‌‌project‌‌ ‌‌using‌‌ ‌‌various‌‌ ‌‌means‌‌ ‌‌such‌‌ ‌‌as‌‌ ‌‌your‌ ‌‌‌ ‌‌savings,‌‌
‌applying‌‌ ‌‌for‌‌ ‌‌cash-out‌‌ ‌‌refinance,‌‌ ‌‌home‌‌ ‌‌remodels‌‌ ‌‌loan,‌‌ ‌‌home‌‌ ‌‌equity‌‌ ‌‌line‌‌ ‌‌of‌‌ ‌‌credit‌‌ ,‌ ‌and‌‌
‌government‌‌ ‌‌loans.‌‌ ‌‌Please‌ ‌take‌‌ ‌‌note‌‌ ‌‌that‌‌ ‌‌each‌‌ ‌‌of‌‌ ‌‌these‌‌ ‌‌options‌‌ ‌‌has‌‌ ‌‌its‌‌ ‌‌‌‌ ‌pros‌‌ ‌‌and‌‌ ‌‌cons.‌‌ ‌‌‌ ‌‌‌ Therefore‌‌, ‌‌start‌‌ ‌‌by‌‌ ‌‌conducting‌‌ ‌‌in-depth‌‌ ‌‌research‌‌ ‌‌to‌‌ ‌‌identify‌‌ ‌‌which‌‌ ‌‌one‌‌ ‌‌is‌‌ ‌‌right‌‌ ‌‌for‌‌ ‌‌you.‌‌ ‌‌Some‌‌ ‌‌of‌‌ the‌‌ ‌‌factors‌‌ ‌‌to‌‌ ‌‌guide‌‌ ‌‌your‌‌ ‌‌decision‌‌ ‌‌include‌‌ ‌‌your‌‌ ‌‌monthly‌‌ ‌‌budget,‌‌ ‌project‌‌ ‌‌size‌‌ ‌,‌ ‌and‌‌ ‌‌expected‌‌
‌returns.‌‌ ‌‌‌ ‌‌‌
‌
As‌‌ ‌‌you‌‌ ‌‌budget‌‌ ‌‌for‌‌ ‌‌your‌‌ ‌‌project,‌‌ ‌‌ensure‌‌ ‌‌to‌‌ ‌‌settle‌‌ ‌‌on‌‌ ‌‌a‌‌ ‌‌flexible‌‌ ‌‌amount‌‌ ‌‌to‌‌ ‌‌cater‌‌ ‌‌for‌‌ ‌‌any‌‌ ‌‌changes‌‌ ‌‌that‌‌

‌
may‌‌ ‌arise‌‌ ‌‌along‌‌ ‌‌the‌‌ ‌‌way.‌‌ ‌‌‌ ‌‌‌
‌
Plan‌ ‌for‌ ‌the‌ ‌Process‌

‌
The‌‌ ‌‌old‌‌ ‌‌saying‌‌ ‌‌of‌‌ ‌‌failure‌‌ ‌‌to‌‌ ‌‌plan‌‌ ‌‌is‌‌ ‌‌planning‌‌ ‌‌to‌‌ ‌‌fail‌‌ ‌‌‌‌ ‌‌very‌‌ ‌‌much‌‌ ‌‌applicable‌‌ ‌‌in‌‌ ‌‌this‌‌ ‌‌situation.‌‌ ‌‌Home‌‌‌
renovation‌‌ ‌‌is‌‌ ‌‌a‌‌ ‌‌complex‌‌ ‌‌undertaking‌‌ ‌‌that‌‌ ‌‌may‌‌ ‌‌overwhelm‌‌ ‌‌you‌‌ ‌‌if‌‌ ‌‌you‌‌ ‌‌do‌‌ ‌‌not‌‌ ‌‌prepare‌‌ ‌‌well‌‌ ‌‌for‌‌ ‌‌it.‌‌ ‌‌‌ ‌‌‌A‌lso, it almost always takes longer than anticipated. Plan for that when you're looking for guidelines when renovating your home to make it into the living space you've dreamt of!
To‌ ‌begin‌ ‌with,‌ ‌you‌ ‌must‌ ‌develop‌ ‌a‌ ‌goal‌ ‌for‌ ‌your‌ ‌remodeling‌ ‌project.‌ ‌Next,‌ ‌you‌ ‌need‌ ‌to‌ ‌identify‌ ‌how‌ ‌the‌ ‌remodeling‌ ‌will‌ ‌occur‌ ‌in‌ ‌terms‌ ‌of‌ ‌what‌ ‌gets‌ ‌worked‌ ‌on‌ ‌first.‌ ‌Concurrently‌ ‌it would be best if you‌ ‌packed‌ ‌up‌ ‌your‌ ‌essentials‌ ‌to‌ ‌create‌ ‌room‌ ‌for‌ ‌the‌ ‌required‌ ‌repairs.‌
‌Remodeling‌ ‌your‌ ‌home‌ ‌may‌ ‌at‌ ‌times‌ ‌require‌ ‌you‌ ‌to‌ ‌shift‌ ‌to‌ ‌a‌ ‌different‌ ‌location‌ ‌to‌ ‌avoid‌ ‌injuries‌ ‌and‌ ‌other‌ ‌inconveniences.‌ ‌You‌ ‌, therefore,‌ ‌need‌ ‌to‌ ‌plan‌ ‌on‌ ‌where‌ ‌you‌ ‌will‌ ‌be‌ ‌staying‌ ‌as‌ ‌the‌ ‌renovation‌ ‌takes‌ ‌place.‌ ‌ ‌
Also,‌ ‌ensure‌ ‌you‌ ‌identify‌ ‌what‌ ‌you‌ ‌can‌ ‌do‌ ‌by‌ ‌yourself‌ ‌and‌ ‌start‌ ‌working‌ ‌on‌ ‌it‌ ‌as‌ ‌soon‌ ‌as‌ ‌possible.‌ ‌This‌ ‌will‌ ‌give‌ ‌you‌ ‌ample‌ ‌time‌ ‌to‌ ‌do‌ ‌other‌ ‌essential‌ ‌tasks‌ , ‌such‌ ‌as‌ ‌supervising‌ ‌the‌ ‌outsourced‌ ‌work‌ ‌as‌ ‌the‌ ‌project‌ ‌progresses.‌ ‌ ‌
Work With Experts
In‌ ‌as‌ ‌much‌ ‌as‌ ‌you‌ ‌would‌ ‌prefer‌ ‌to‌ ‌do‌ ‌the‌ ‌renovation‌ ‌on‌ ‌your‌ ‌own‌ ‌to‌ ‌save‌ ‌on‌ ‌costs,‌ ‌it's‌ ‌advisable‌ ‌you‌ ‌subcontract‌ ‌some‌ ‌of‌ ‌the‌ ‌work‌ ‌to‌ ‌home‌ ‌remodeling‌ ‌professionals.‌ ‌These‌ ‌people‌ ‌have‌ ‌the‌ ‌needed‌ ‌experience‌ ‌to‌ ‌ensure‌ ‌the‌ ‌project‌ ‌ends ‌on‌ ‌time‌ ‌and‌ ‌it's‌ ‌as‌ ‌you‌ ‌had‌ ‌planned.‌ ‌ ‌
Moreover, they help cut down on expenses by minimizing errors that mostly have one spending more than anticipated. What's more, some home renovation companies like Renewal by Andersen have extensive knowledge in renovating different parts of a home and will leave you with what you exactly need.
Note‌ ‌also‌ ‌that‌ ‌these‌ ‌experts‌ have connections ‌to‌ ‌suppliers‌ ‌of‌ ‌quality‌ ‌materials‌ ‌required to remodel ‌your‌ ‌home.‌ ‌ ‌
Have a Timeline
The‌ ‌truth‌ ‌is‌ ‌home‌ ‌renovators‌ ‌are‌ ‌busy‌ ‌people‌ ‌and‌ ‌will‌ ‌always‌ ‌require‌ ‌a‌ ‌schedule.‌ ‌Consequently‌, ‌not‌ ‌all‌ ‌times‌ ‌of‌ ‌the‌ ‌year‌ ‌are‌ ‌suitable‌ ‌for‌ ‌your‌ ‌home‌ ‌remodeling.‌ ‌Depending‌ ‌on‌ ‌the‌ ‌type‌ ‌of‌ ‌work‌ ‌needed, you‌ ‌need‌ ‌to‌ ‌select a time ‌‌ ‌when‌ ‌the‌ ‌weather‌ ‌is‌ ‌friendly‌ ‌and‌ ‌you‌ ‌are‌ ‌less‌ ‌busy‌ ‌as‌ ‌a‌ ‌family.‌ ‌ ‌
This‌‌, therefore,‌ ‌requires‌ ‌that‌ ‌you‌ ‌work‌ ‌with‌ ‌your‌ ‌given‌ ‌contractor‌ ‌and‌ ‌schedule‌ ‌a‌ ‌convenient‌ ‌time‌ ‌for‌ ‌the‌ ‌both‌ ‌of‌ ‌you.‌ ‌As‌ ‌you‌ ‌do‌ ‌this,‌ ‌be‌ ‌flexible‌ ‌and‌ ‌create‌ ‌room‌ ‌for‌ ‌any‌ unpleasant ‌situation‌ ‌that‌ ‌may‌ ‌delay‌ ‌your‌ ‌project.‌ ‌ ‌
Do Proper Research and Ask for Referrals
Your‌ ‌home‌ ‌is‌ ‌too‌ ‌precious‌ ‌to‌ ‌go‌ ‌around‌ ‌picking‌ ‌just‌ ‌anybody‌ ‌to‌ ‌work‌ ‌on‌ ‌it.‌ ‌You‌ ‌need‌ ‌to‌ ‌ensure‌ ‌that‌ ‌you‌ ‌are‌ ‌working‌ ‌with‌ ‌the‌ ‌best‌ ‌professionals‌ ‌in‌ ‌the‌ ‌market.‌ ‌For‌ ‌this‌ ‌to‌ ‌happen,‌ ‌you‌ ‌must‌ ‌first‌ ‌scrutinize‌ ‌your‌ ‌potential‌ ‌contractors‌ ‌to‌ ‌identify‌ ‌their‌ ‌background‌ ‌details‌ ‌and‌ ‌determine‌ ‌if‌ ‌they‌ ‌qualify‌ ‌for‌ ‌the‌ ‌awaiting‌ ‌work.‌ ‌ ‌
While‌ ‌at‌ it,‌ be sure ‌ ‌to‌ ‌seek‌ a second‌ ‌opinion‌ ‌from‌ ‌friends‌ ‌and‌ ‌families‌ ‌who‌ ‌might‌ ‌have‌ ‌worked‌ ‌with‌ ‌them‌ ‌before.‌ ‌Also,‌ ‌please pay‌ ‌a‌ ‌visit‌ ‌to‌ ‌their‌ ‌company‌ ‌website‌ ‌to‌ ‌read‌ ‌‌ ‌previous‌ ‌customer‌ ‌reviews as this‌‌ will‌ ‌give‌ ‌you‌ ‌everything‌ ‌you‌ ‌need‌ ‌to‌ ‌know‌ ‌concerning‌ ‌the‌ ‌people‌ ‌you‌ ‌intend‌ ‌to‌ ‌contract.‌ ‌ ‌
Additionally,‌ ‌do‌ ‌proper‌ ‌‌research‌‌ ‌to‌ ‌identify‌ ‌shops‌ ‌selling‌ ‌the‌ ‌materials‌ ‌you‌ ‌need‌ ‌in‌ ‌the‌ ‌renovation‌ ‌at‌ ‌a‌ ‌lower‌ ‌price.‌ ‌Failure‌ ‌to‌ ‌do‌ ‌this‌ ‌will‌ ‌waste‌ ‌your‌ ‌money‌ ‌and‌ ‌leave‌ ‌you‌ ‌with‌ ‌substandard‌ ‌materials.‌ ‌ ‌
Engage in Continuous Monitoring and Evaluation
Many‌ ‌homeowners‌ ‌are‌ ‌fond‌ ‌of‌ ‌leaving‌ ‌everything‌ ‌to‌ ‌the‌ ‌contractors‌ ‌after‌ ‌planning‌ ‌and‌ ‌budgeting.‌ ‌Such behavior doesn't seem right‌ ‌and‌ is ‌a‌ ‌significant‌ ‌cause‌ ‌of‌ ‌delays‌ ‌in‌ ‌many‌ ‌home‌ ‌renovations.‌ ‌Every‌ ‌homeowner‌ ‌must‌ ‌be‌ ‌indirectly‌ ‌involved‌ ‌in‌ ‌the‌ ‌renovation‌ ‌process‌ ‌to‌ ‌ensure‌ ‌everything‌ ‌goes‌ ‌as‌ ‌planned.‌
‌If‌ ‌possible,‌ ‌always‌ ‌ensure ‌to‌ ‌monitor‌ ‌the‌ ‌progress‌ ‌of‌ ‌the‌ ‌ongoing‌ ‌work‌ ‌every week.‌ ‌ ‌Doing this ‌will‌ ‌enable‌ ‌you‌ ‌to identify‌ ‌and‌ ‌handle‌ ‌mistakes‌ ‌as‌ ‌soon‌ ‌as‌ ‌they‌ ‌arise.‌ ‌Moreover,‌ ‌it‌ ‌will‌ ‌help‌ ‌you‌ ‌keep‌ ‌your‌ ‌contractors‌ ‌on‌ ‌toes‌ ‌and‌ ‌avoid‌ ‌dilly-dallying‌ ‌common‌ ‌with‌ ‌some‌ ‌of‌ ‌them.‌
‌What's‌ ‌more‌, ‌frequent‌ ‌monitoring‌ ‌will‌ ‌help‌ ‌keep‌ ‌your‌ ‌finances‌ ‌in‌ ‌check‌ ‌as‌ ‌it‌ ‌ensures‌ ‌you‌ ‌don't‌ ‌get‌ ‌out‌ ‌of‌ ‌plan.‌ ‌ ‌
Keep an Open Mind
Although‌ ‌everyone‌ ‌would‌ ‌wish‌ ‌things‌ ‌to‌ ‌run‌ ‌as‌ ‌planned‌ ‌and‌ ‌have‌ ‌the‌ ‌home‌ ‌beautifully‌ ‌renovated‌ ‌within‌ ‌the‌ ‌stated‌ ‌time‌ ‌, many‌ ‌things can‌ ‌go‌ ‌astray‌ ‌, leading‌ ‌to‌ ‌a change‌ ‌of‌ ‌plans.‌ ‌Such occurrences ‌are natural‌ ‌, and‌ ‌it would help if you‌ ‌kept‌ ‌an‌ ‌open‌ ‌mind‌ ‌to‌ ‌avoid‌ ‌stress‌ ‌and‌ ‌disappointments‌ ‌from‌ ‌such‌ ‌events.‌ ‌ ‌
Also, be informed ‌that‌ ‌some‌ ‌designs‌ ‌may‌ ‌not‌ ‌turn‌ ‌out‌ ‌as‌ ‌they‌ ‌appear‌ ‌on‌ ‌the‌ ‌internet‌ , as ‌people ‌exaggerate them.‌ ‌Therefore‌ ‌don't‌ ‌equate‌ ‌this‌ ‌to‌ ‌your‌ ‌contractors‌ ‌being‌ ‌unprofessional‌ ‌or inexperienced.‌ ‌ ‌
Please do‌ ‌your‌ ‌best‌ ‌in‌ ‌the‌ ‌home‌ ‌renovation‌ ‌project‌ ‌but‌ ‌don't‌ ‌beat‌ ‌yourself‌ ‌ as‌ ‌this‌ ‌will‌ ‌hardly‌ ‌help.‌ ‌ ‌
Conclusion
There‌ ‌is‌ ‌no‌ ‌doubt‌ ‌that‌ ‌everyone‌ ‌would‌ ‌love‌ ‌to‌ ‌live‌ ‌and‌ ‌die‌ ‌in‌ ‌their‌ ‌first‌ ‌home.‌ ‌Changing‌ ‌home‌ environments‌ ‌come‌ ‌with‌ ‌psychological‌ ‌torture‌ ‌and‌ ‌added‌ ‌expenses.‌ ‌Despite‌ ‌this,‌ ‌the‌ ‌fact‌ ‌remains‌ ‌that‌ living‌ ‌in‌ ‌an‌ ‌old‌ ‌house‌ ‌is‌ ‌detrimental‌ ‌to‌ ‌your‌ ‌health‌ ‌and‌ ‌general‌ ‌wellbeing.‌ ‌ ‌
With‌ ‌careful‌ ‌planning‌ ‌and‌ ‌execution‌, ‌remodeling ‌your‌ ‌old‌ ‌house‌ ‌can‌ ‌serve‌ ‌you‌ ‌better‌ ‌than‌ ‌buying‌ ‌a‌ ‌new‌ ‌one.‌ ‌Implement‌ ‌the‌ ‌above‌ ‌eight‌ ‌tips‌ ‌for‌ ‌an‌ ‌easy‌ ‌time‌ ‌as‌ ‌you‌ ‌remodel‌ ‌your‌ ‌home‌ ‌in‌ ‌the‌ ‌coming‌ ‌future.‌ ‌ ‌