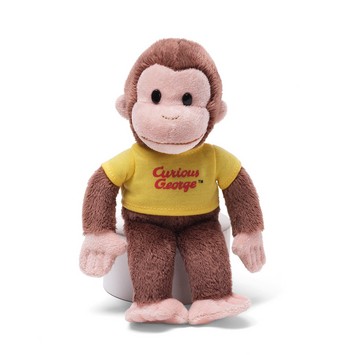 Easter is coming up soon and it's time to fill your little ones' baskets with treats and toys from the Big Bunny himself!
One thing that every Easter Basket needs…someone soft and cuddly and GUND has just the thing…well, lots of things! For more than a century, GUND, a division of Enesco, LLC, has been known worldwide for its top quality, soft and huggable plush designs and gift products. Award-winning GUND products appeal to all ages, from infants up, and are perfect for both play and collecting.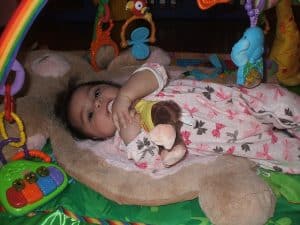 This Easter, why not include a Fuzzy in your little one's basket? Perhaps the most huggable plush ever, Fuzzys are extra soft and extra floppy making them the ideal companions everywhere you go!
Does your little one like Curious George?  Everyone's favorite inquisitive little monkey, in soft huggable 8" plush, wearing your choice of a red or yellow shirt.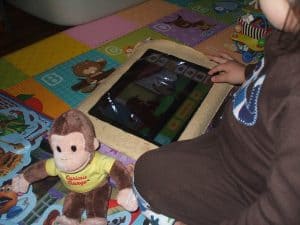 Maybe your kids are a little older? Try a Nuzzle! Nuzzles are designed to lay gently and comfortably against your neck and cheek. A great decorative addition to any child's bedroom or playroom, Nuzzles also offer a soft place to lay your head on longer car or plane rides, or while you're watching TV!
My Thoughts:
The folks at GUND sent me their 8″ Curious George plush, wearing his famous yellow shirt.  This toy was supposed to be an Easter basket gift for Savannah, but she saw me taking it out of the package, before I could hide it on her.  But, the look on her face, when she saw Curious George peak out of the box was priceless.  If only my camera was ready for the photo op.  Her big, brown eyes lit up, and she grinned from ear to ear, before pointing and running towards the GUND plush bear.  Savannah is only 20 months old,  so her vocabulary is still limited. But, she can say some of her favorite cartoon characters, including Curious George (well, she refers to him as George), and couldn't stop yelling 'George,' as I handed her the plush toy.  She quickly brought it over to her little sister, who was having tummy time on the floor, to show it off.
This plush toy made Savannah's day.  And, by night's end, she was snuggling up next to Curious George, after a busy day of playing with him.  If your children are fans of Curious George, why not surprise them this Easter with an 8″ plush from GUND.  Or, if they are older, not to worry, as GUND offers an assortment of plush toys for children of all ages.  Click here to see more great ideas from the GUND Easter Gift Guide.  These plush toys make for great keepsakes, because when the chocolate and sweets are gone, these cuddly pals will keep your little ones entertained at the days through.
Disclosure:  I was sent a sample from the vendor in order to write up an honest review.  The views above are mine and mine alone.
0