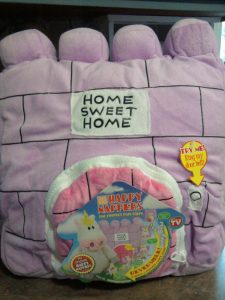 Happy Nappers (aka "The Perfect Play Pillow") are stuffed animal friends with a twist.  They can turn inside out (with a quick unzip and pull) and change into something different.   A purple palace that has a wprking doorbell- and when you unlock the "gate", it turns into a soft, fuzzy unicorn!  There are several varieties of the Happy Nappers, each with it's own individual style and design.  They are cute, they are fun, and oh, so soft.  They are great for playtime, but also great for snuggling up to read a book or do a puzzle, or even watch a movie.  There are 6 varieties, including a Penguin that turns into an Igloo, and at $19.99, an affordable gift idea.  Plus, a portion of the proceeds is donated to The Home Sweet Home Fund which benefits the Children's Brain Tumor Foundation.
I think the Happy Nappers are a sweet, fun idea.  I am a fan of multi-purpose/multi-use toys and this defintely fits the bill.  My son suggested they make a shark that turns into a man.  I'm not sure how that would go over with most people, but it sure would be a funny Happy Napper!!
One of my readers will win a Happy Napper of their choice!!
I received a sample of this product to facilitate my review. Opinions are my own.  
0