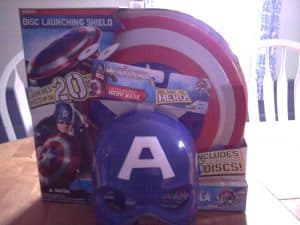 Captain America The First Avenger Disc Launching Shield is going to be a HUGE hit with little boys.  As if Captain America himself isn't cool already, now he's got a super cool shield that also launches discs.  What a fun outside toy (maybe inside some places, but not my house.  Too small!!) and a great way to build on imaginative play, role play and some serious superhero fun!!
Built especially for the Allies' own super soldier, this indestructible shield became a symbol of strength for people around the world. In the hands of Captain America, it is a powerful weapon. Now you've got the chance to wield the shield of the most skilled fighter in the world!

Make crime-fighting action "come alive" with this Disc Launching Shield. When enemies appear and it's up to you to defeat them, wield your shield to protect yourself from their advances. Just when they think they've got you cornered, use your shield to launch your five discs up to 20 feet to take out their forces! With your power and this shield, there's just no stopping you!

Shield comes with 5 discs.

Requires 4 "AA" batteries (not included).

Ages 5 and up. $19.99 ARV

/!\ CAUTION: Do not at aim at eyes or face. TO AVOID INJURY: Use only discs designed for this product. Do not modify discs or blaster.
There is a Captain America The First Avenger Hero Mask that is a nice, soft, pliable rubber for ease of use and comfort for little hands.  Hours of fun with the disc launching sheild, sure to please your little superhero.   Fits ages 5- adult.  I may have to put this on Mr. Bargains just to see.  I love how masks nowadays do not cover full faces – much easier for kids to see and maneuver around, and just as fun!  I forsee many hours of play in these toys!
Make super hero action "come alive" with this awesome Captain America Hero Mask. When villains rear their ugly heads and you've got to save the day, put on your mask to feel just like your favorite hero! With details that make this mask seem just like the real thing, you'll want to wear it all the time — or until your evil enemies are defeated!

Mask adjusts to fit head sizes for ages 5 through adult.

Ages 5 and up. $8.99 ARV



Star Wars 3.75″ action figures are a great stocking stuffer, gift for a friend, add on gift- or just for fun.  We have "guys" all over my house, my van and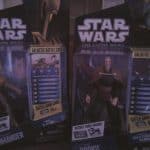 my son's backpack- he's not quite into the 'big kid' action figures like these but I find the realistic features impressive and attention to detail always amazes me.
(Approximate Retail Price: $4.99-$7.99; Ages: 4 & up) – Hasbro offers a wide variety of action figures from all of your favorite brands like G.I. JOE, TRANSFORMERS, STAR WARS AND MARVEL! With such a wide selection of characters and story lines, it will be hard to choose which ones to put into stockings this holiday season, at such a great price point!