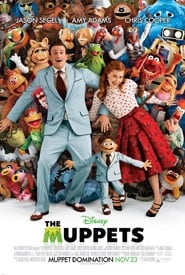 You'll laugh, you'll cry, you'll laugh some more, and you will maybe even fall in love with a guy named Walter. I have seen The Muppets on the big screen, loved every corny joke-filled, sweet story, goofy trick, song and dance routine-filled minute of it. From the surprise (!!) Toy Story short at the beginning of the film (hilarious) to the many, many cameos woven throughout the story…to Chris Cooper being his quintessential bad guy self and busting into one of the funniest raps I have seen in a very, very long time…its just awesome. Kermie, Piggie, Fozzie, Gonzo and the gang brought it. They're back. I'm ready to go again. My kids are, too.
The story is a good one- all of the Muppets have to get back together to fight to save Muppet Theater- that, combined with the elements of the Muppets we all know and love- silly humor, fun routines, comedy, singing, dancing…it draws you in, and it draws you in fast.
I have never been in a movie before this one where the majority of the audience broke into song- not once, but probably half a dozen times. It was awesome. So many of us who were present at the screening clearly grew up loving all of the Muppets and I imagine many of us were feeling so much nostalgia at seeing our beloved childhood friends on the big screen!! Even Muppet Man did an appearance!!
The only thing I have heard that wasn't rave review about this film is that it is long- and it is- with previews, etc I think we were in the theater about 2 hours plus 5-10 minutes, but it wasn't bad. My kids usually get pretty squirmy and they were set- which told me they were enjoying it too. The singing, the dancing, the jokes, plus a good story line made for a great movie.
We'll be going again before The Muppets leaves theaters. Muh-na Muh-na!
Have you gone? Did you see it? What did you think?
We were invited to attend a screening of this film.  Opinions are my own.