I want my kids to be healthy, productive, and successful. I'm fairly certain every decent mother wants the same. I find, however, that the "healthy" part is much easier said than done. The day and age that we live in is all about go, go, go, and my family is no different. Always on the rush from one practice to another with school work and regular household duties fitted snugly in between. Finding healthy on the go snack ideas can often be tricky. They take great pre-planning, in order for everything to run smoothly. According to a study conducted by Taste of Nature, I am not alone. The study shows that Americans in general struggle to snack nutritiously, opting for taste over nutrition 73% of the time.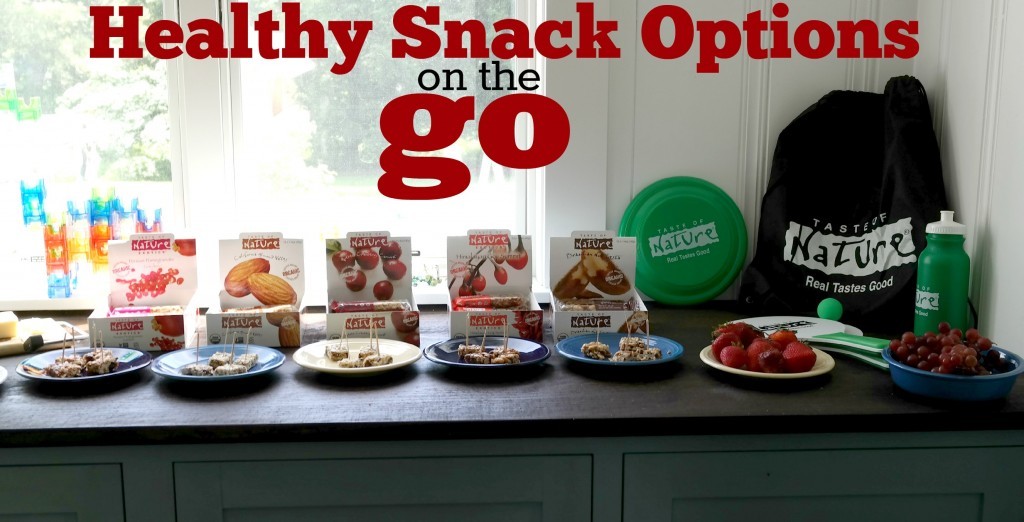 While I like to eat healthy when snacking, convincing the kids to do the same is another matter entirely. They've somehow developed the mindset that if something is GOOD for you, it can't TASTE good as well. Luckily for me, Taste of Nature was on my side. Taste of Nature creates delicious, certified organic, gluten-free certified, non-gmo project verified snack bars with real nuts, fruits and grains that you can see (did I mention they're also only 200 calories?).
Taste of Nature asked me to host a little party to share their snack bars with some friends.  What I decided to do was have a few of my mom friends over, share the bars with them, get a little girl time in, and then send them all home with some of the bars and a goodie bag.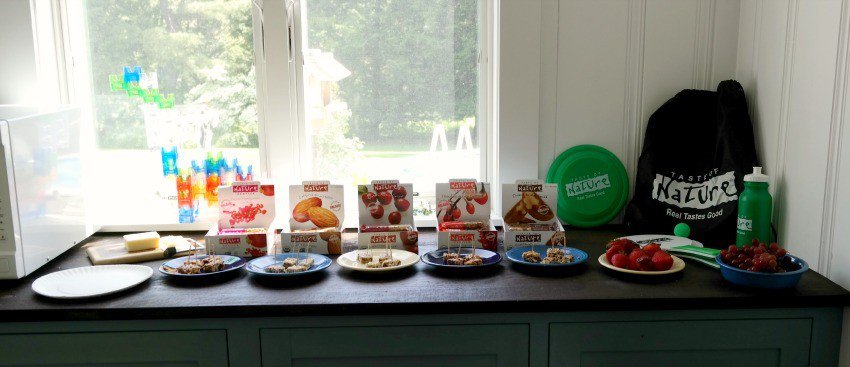 I cut one of each bar up for each mom to try while she was here. I also set out some cheese, strawberries and grapes to make a more rounded snack for everyone. I thought that if the moms were familiar with the bars, their flavors and ingredients, and could bring some samples home to try, it might help the kids be more willing to try something new. 🙂
The verdict? Moms loved these healthy snack bars.  Everyone agreed they think their kids will like at least 2 of the varieties if not more.
They were really excited to get a goodie bag to bring home full of some fun stuff to encourage their kids to get outside and enjoy nature, plus some of the bar flavors to share with their families!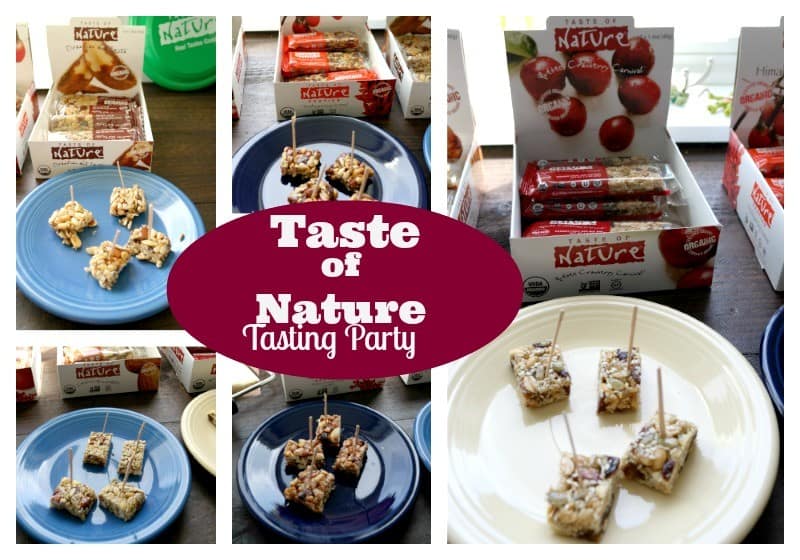 Taste of Nature believes Real Tastes Good. They actually carry 6 great flavors in the U.S.: Brazilian Nut Festival, California Almond Valley, Quebec Cranberry Carnival, Canadian Maple Forest, Himalayan Goji Summit, and Persian Pomegranate Garden.  None of these flavors contain anything artificial; no fillers, no chemicals and most importantly… no complaints from my friends, their kids or my own kiddos! In fact, the kids still have no idea exactly how healthy Taste of Nature bars are! (Shhhh)
So all of this goodness must come at a high price, right? Wrong! Taste of Nature bars run around $1.99. I grab my mine at "Garden of Light' or "The Living Earth" usually, but you can find them at all fine natural products stores as well as select retailers. Head on over to http://www.tasteofnature.ca/where-to-buy/ and find a Taste of Nature retailer near you!
What are your favorite healthy on the go snack ideas?
I was selected for this opportunity as a member of Clever Girls Collective and the content and opinions expressed here are all my own.