Dolls have been around a very, very long time.  Big, small, realistic, non-realistic, well made, not so well made, themed dolls, look alike dolls, dolls that pee, dolls that eat, dolls that have eyes which can close…the  list is kind of endless.  Once in a while, though, a doll comes along that stands out a bit from the rest….like the Hearts for Hearts Girls.
These dolls are gorgeous- very well made, beautiful features and stylishly dressed…which is all well and good but the reason these dolls stand out is that they give back.  You see, for each of the Hearts for Hearts dolls that is purchased, a portion of the proceeds is given back to one of the countries that the dolls represent.    As a mom, I love to support brands that give back.  As a former kid who loved dressing dolls, I love the awesomeness of these dolls.  They are fun, appealing and seem to be ready to withstand countless hours of play, dress up, and who knows what else.
You can read more about these dolls below:
Hearts For Hearts Girls is a charitable doll line and fashion collection from Playmates Toys, which seeks to empower girls to become agents of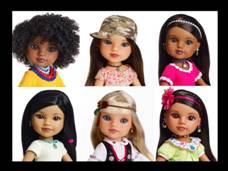 change in their communities, their countries and around the world. The line features six dolls inspired by real girls from real places allover the world. Each authentically dressed and lifelike doll has her own story to share and is working to change her community in ways unique to her home country. A portion of each doll sale is donated to a non-profit organization that helps children from that doll's country. Playmates Toys is working with non-profit partner World Vision to make this possible.
The Hearts For Hearts Girls dolls come to life with a fully interactive website that lets girls discover different cultures, read about girls who have overcome challenges, and engage with the dolls through a range of activities. Each doll comes with a special code that lets girls unlock a free membership to the kid-safe website at www.hearts4heartsgirls.com. All girls are welcome to visit the website, but the special code that comes with purchase provides access to a larger array of games and also lets girls create their own "myHeart" page. This special page displays things that girls care about, ways in which they want to help girls or their community, and words to help express how they feel as a Hearts For Hearts Girl. They can change the page as often as they like!
One reader will win a Hearts for Hearts girl!!
I received a sample of this product in exchange for my post.  Opinions are my own.
0