When we adopted Brownie, we knew her beginnings weren't the best. Left in the middle of the woods in Georgia as a brand new puppy with both parents and 7 siblings, she struggled for many weeks to survive. Once rescued, Brownie was given love and attention, but because of the experience in the woods, had several digestive issues because of what she ate to survive.  She also had a distrust of humans.  Her first foster mom loved her and nursed Brownie to health so she could travel up here to CT where OUR story with her began…but even when she did arrive to the new foster mom and dad, she had to get stronger and healthier before coming home to us.Thank you to Petcube for sending us a Petcube Play and sponsoring today's post about helping an anxious pet when you aren't home.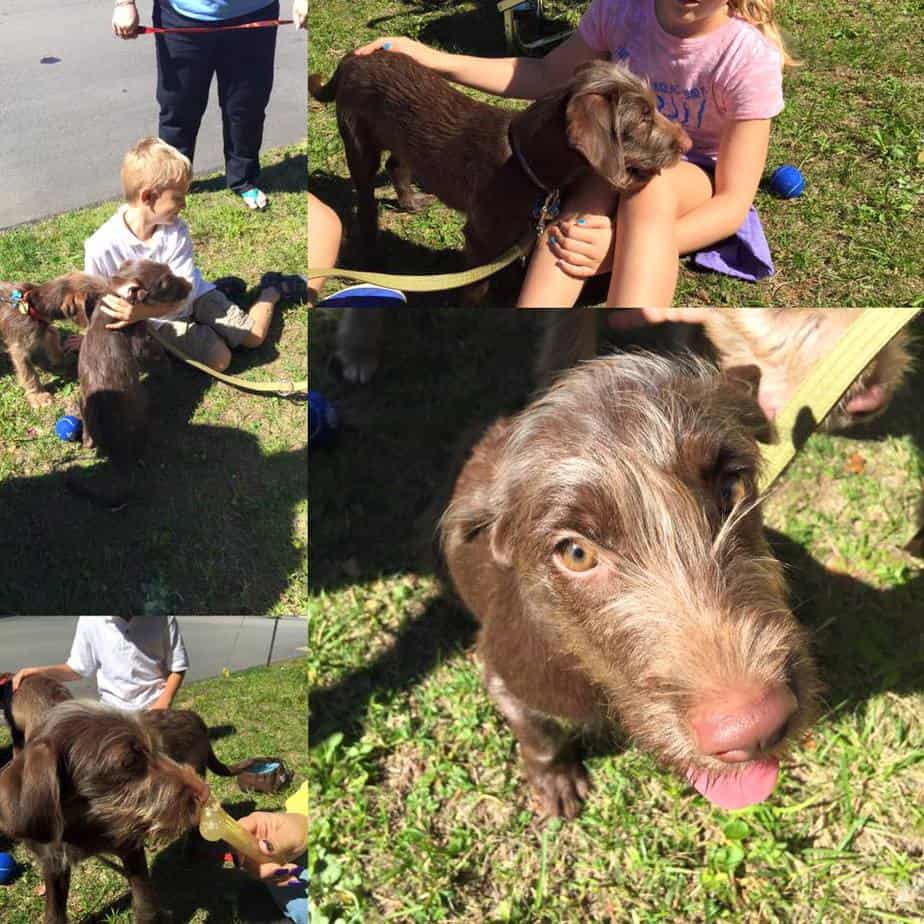 Fast forward 18 months, and Brownie's thriving. She's filled out, her digestive concerns are no longer an issue, and she's happy and healthy.  The one kind of lingering issue from her beginning is an anxiety of being left behind. I am Brownie's "chosen" one- not that I love her more than anyone else does, or that she loves me more than the rest of the family, but because I work from home, I've been the one who's done most of her caregiving, and she's never more than a few feet from me when I am at the house. Most of the day when I am sitting in my office, Brownie's either laying ON my feet or just beside them.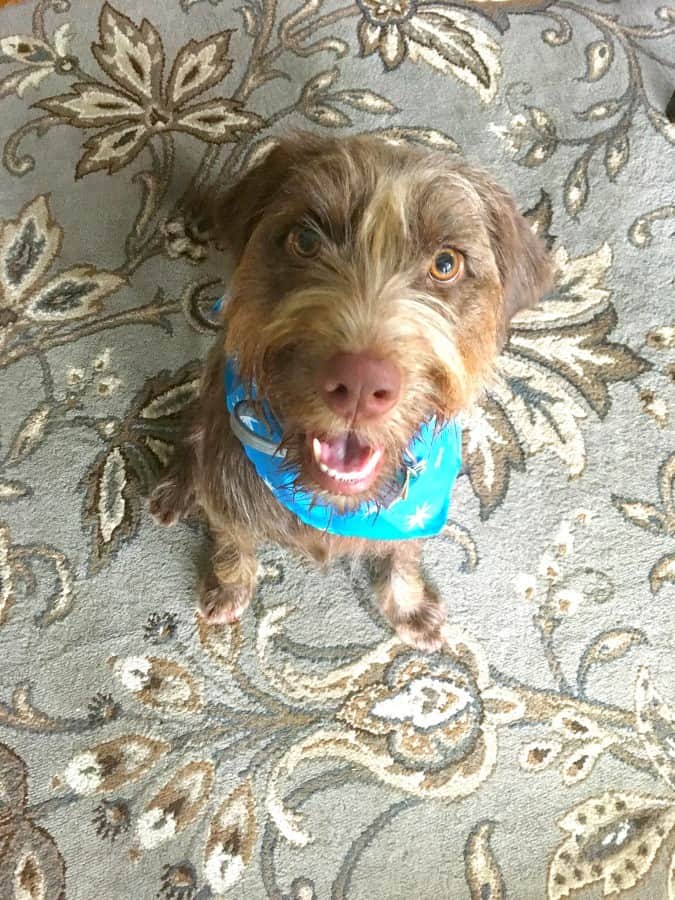 When the temperatures allow, Brownie comes in the car with me everywhere I go. But, with extreme temperatures or just me having to go out for long periods of time, she's got to be home. We moved to a new home in October of 2016, and while she was happy in her crate and would go in just to nap throughout the day, the crate causes anxiety at the new house. When we're gone and she's home alone, she's either on her bed, or, more likely, on the floor of my office waiting for me to come home. Most days, this isn't an issue, because I am here. But when I do have to go out for a few hours, or all day, or on occasion, away overnight(s)…it's really stressful for Brownie.
We do have friends who are more than willing to come over on days I'm away that will take Brownie out to play or for a walk- but we all have our own things and that's not always an option. When Petcube emailed and told me about their product, I had this moment of "oh gosh, can this be what helps our Brownie Buttons?" and agreed to try their product out. Petcube is a bluetooth device that lets you see, talk to and play with your dog (or cat) from your phone.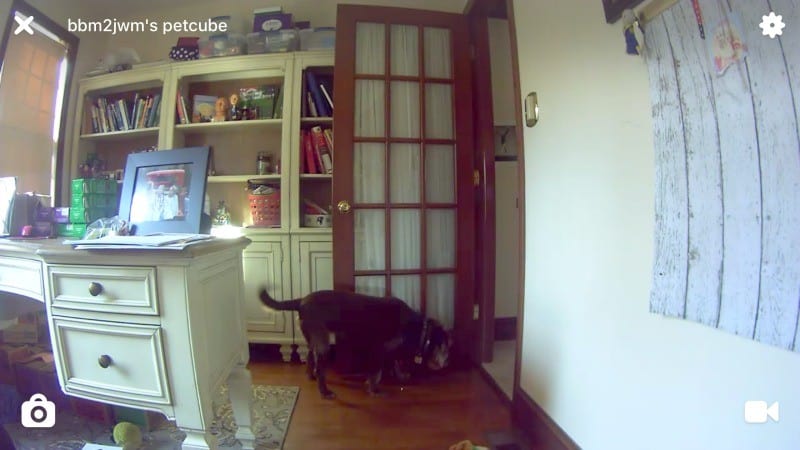 I have the Petcube hooked up in my office, so when I feel like checking in on Brownie, I can open up the app and say hello to my furry little sidekick. I can also talk to her, but I can move my finger around on the phone screen while in the app and Brownie sees a red laser dot moving as I do so. Playtime from wherever I am? Yes, please!
The playing thing is fun, and Brownie does like to chase the laser- we tried to get the cat to do it but apparently, she's just can't even deal with us lately, so she won't even turn her head (what cat turns down a laser dot?)! But Brownie will engage and play around.  Mostly, though, I love that I can kind of check in and she can hear my voice, and feel reassured that I'm not far away. When I get home? She's pooped.  Ready for a nap.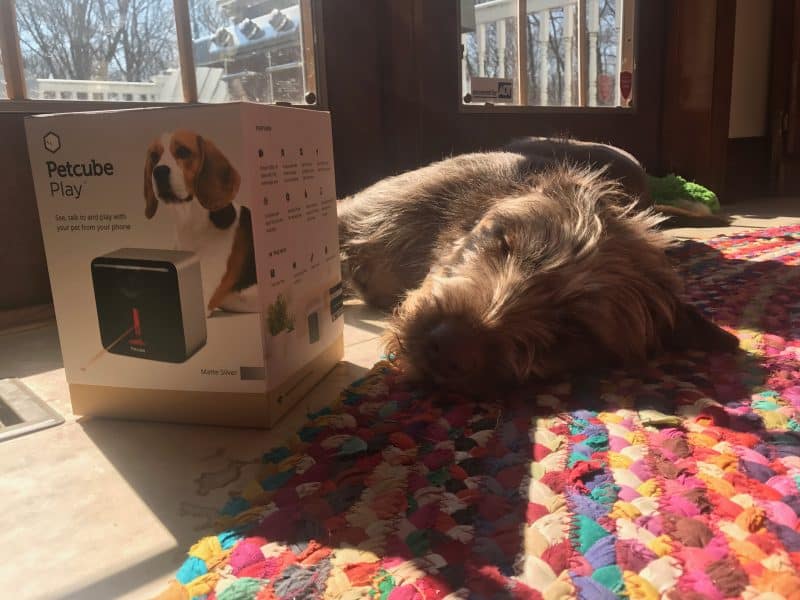 Is this a perfect solution? No. Is it a great one? YES! It's helping Brownie to feel less anxious when we aren't home and gives me reassurance she's not crying and whining the entire time we aren't with her.
The Petcube Play's camera provides 1080p real-time video right to your phone or tablet through the Playcube app. The 138° wide-angle viewing lens gives you a lot of coverage of whichever room you place the device.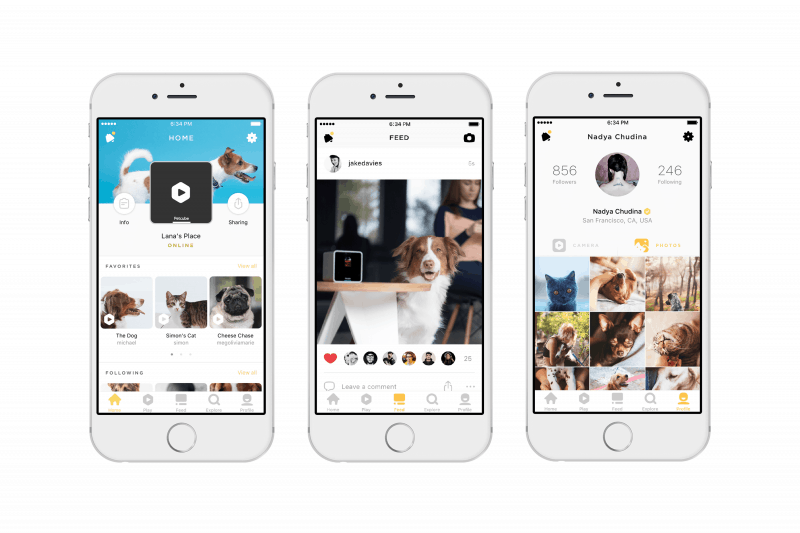 Petcube Play's cool features
2 way sound- I fear by including this my husband will realize he can play pranks on me…because he can put the app on his Android phone and since we keep the Petcube Play in my office….but you can also hear what's going on at home, so if you aren't seeing your dog where your Play is set up, you may just hear your dog barking at the package delivery person dropping a box on your front stairs.
Motion and/or Sound Detection– you can change the settings so that movement or sound will give you notification from the Petcube, so you'll know if your pooch is awake and wanting to play.  Also? Kind of a side bonus, but since it's motion and sound activated, should anyone happen to enter that part of your home who shouldn't be there, you'll know right away and can notify authorities.
Night Vision – the Play works with low and no light, too, you just won't have the color video or view as you do in daytime.  But this is great when you are out in the evening and want to check in on your pet! (Also, this is an additional kind of security as with the motion and sound detection)
Laser Play- with the exception of our cat, pets love chasing red laser dots around. The Petcube Play has this feature built in, and this is how you can play with your pet when you aren't home… slide your finger on the screen of your device with the app open and you're entertaining your pet remotely! This is one of my favorite features of the Play device. So much fun for all!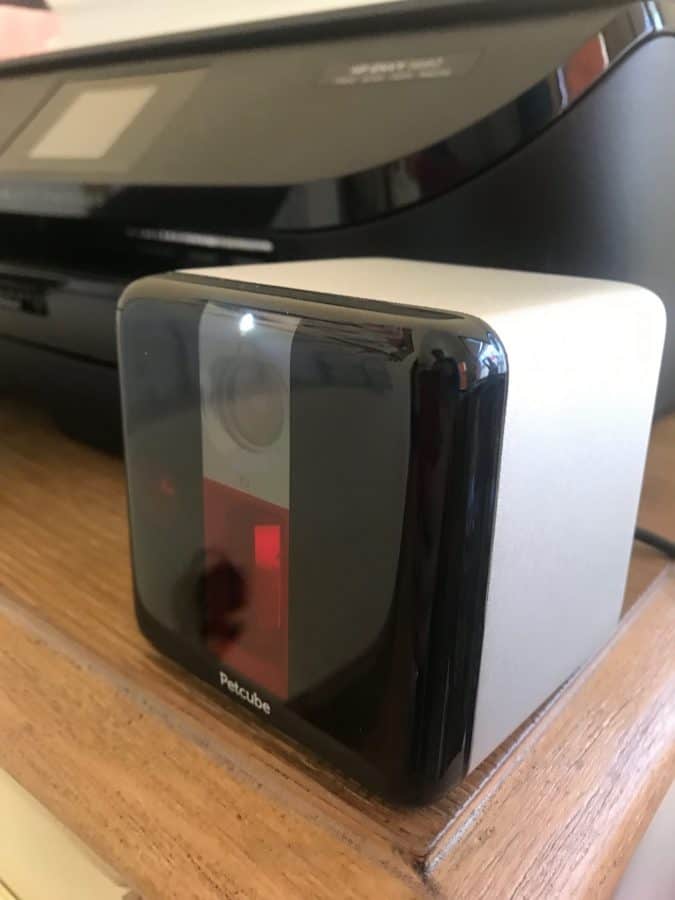 Stay Connected on Social: Instagram, Facebook and Twitter
There's a new Petcube Bites coming out- taking the interactive play a step further and allowing you to reward your pet remotely with treats. My birthday is coming up in May and I think this is top on my wish list! I love it!
Sign up for emails on the Petcube site and save $10 now! Petcube Play retails for $199 but happens to be on sale (even in Rose Gold, my FAVE)- grab yours now!