I will preface this by saying I'm getting my crafty mojo back, after a someone long hiatus.  My kids are loving it.  When my husband saw me looking at the link for this recipe, he declared that his beloved marketing victim was back in action!!  (We saw these on a commercial this How To Get Ex Back weekend and I knew we had to try them).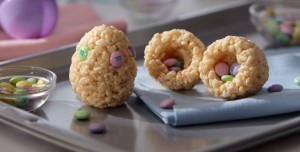 Hidden Surprise Easter Egg Treats™ Recipe – Kellogg's® Rice Krispies®.
1. Clean, then coat inside of plastic eggs with cooking spray. Set aside.
2. In large saucepan, melt butter over low heat. Add marshmallows and stir until completely melted. Remove from heat.
3. Add Kellogg's® Rice Krispies® cereal. Stir until well coated.
4. Using greased hands, firmly press 1/4 cup of Rice Krispies® mixture into both halves of each plastic egg. Use fingers to make hollow center in each half. Remove from molds. Place on wax paper. Cool slightly.
5. Place about 6 M&M'S® Brand Chocolate Candies in one half of each egg. Gently press two halves of each egg together until they stick. Cool completely.
6. Decorate with frosting and additional M&M'S® Brand Chocolate Candies (if desired). Best if served the same day. Serving size is 1 egg.
MICROWAVE DIRECTIONS: Follow step 1 above. In microwave-safe bowl heat butter and marshmallows on HIGH for 3 minutes, stirring after 2 minutes. Stir until smooth. Follow steps 3 through 6 above. Microwave cooking times may vary.
Notes:
For best results, use fresh marshmallows.
1 jar (7 oz.) marshmallow crème can be substituted for marshmallows.
Diet, reduced calorie or tub margarine is not recommended.
Store no more than two days at room temperature in airtight container.
Now, I looked at the reviews on this site and poked around google.  Most all of the reviews/comments said this takes far longer than the 40 minutes.  If you cook with kids you already know this will take longer- I just want to be sure we are all on the same page that this will take longer. 
MY Tips:
Pack the krispies into the eggs.  The tighter they are packed the better they will hold together.   Maybe let the kids start and finish it up if they are little like mine (5 and under).
Somewhere along the way I saw a suggestion to put both halves of the egg together while they set so they keep their shape.  We tried this but then I didn't want to break them open again to add the M&Ms (and really, what good is a surprise Easter egg with no surprise inside??) so I just used a little bit of frosting to glue the edges. 
We may make these again and put people's first initial on them for place cards for Easter dinner! 
Happy Food Crafting!!