It's the most wonderful time of the year… we've all heard the songs.  Sang the songs.  We've also shopped the shops and baked the goodies.  One thing I haven't done myself, although I've attended and loved when others hosted, is to host a holiday cookie swap.  When Tiny Prints reached out and asked if I'd like to work with them to share about some of their fun, personalized holiday paper goods, I knew this was my chance. Someone else who wants to feed my Christmas obsession? Sign me right up, please!
Growing up, my mom worked full time out of the house.  Granted, this was in the days of yore, back when TV's had to be turned on by hand and via knobs, and if you were lucky and lived in a well populated area, you had a box with a lever and buttons to change channels once it was turned on.  No internet, cable was pretty new, so distractions were far fewer. But I digress.  My mom is where I get my Christmas crazy from. We made 1-2 kinds of cookies every single night in December. Sometimes, more. AFTER she worked all day! We were always hosting holidays, we had the house that could fit the numbers, and my mom loved to include anyone and everyone.  She was the lady who would welcome all with open arms- your coworker who couldn't fly home- bring them along! A friend of a friend? Bring them too! So we needed lots of cookies, you see, for the trays of cookies served for desserts in the weeks before, during and after Christmas. She had a master list and organized by how long you could keep those cookies fresh before they'd be stale or spoiled, and we baked accordingly.  I would love to see one of those lists today. I would probably go cry in a corner at the length, but mom just plowed through it.  We kids helped A LOT.
As an adult, and parent of three kids, working from home full time, I don't know how she did all of that. I really don't.  But I'm also easily distracted and I work online, so…. the concept of Cookie Swaps becomes more and more appealing to me.  Bake YOUR best cookies, in a large quantity, and then have friends do the same, and everyone shares?  So you all get the best of each others' baking, lots of cookies, and a ready-made dessert to serve holiday guests?  Sounds like a really good reason to have a get together, doesn't it?
Of course, I'm not even ready for Thanksgiving yet. So I haven't been able to properly plan a holiday cookie swap. But I'm a lucky girl with amazing friends who are way ahead of the game, and who are nice enough to let me come over and have a delicious mock cookie swap with their cookies.  Or at least, one friend.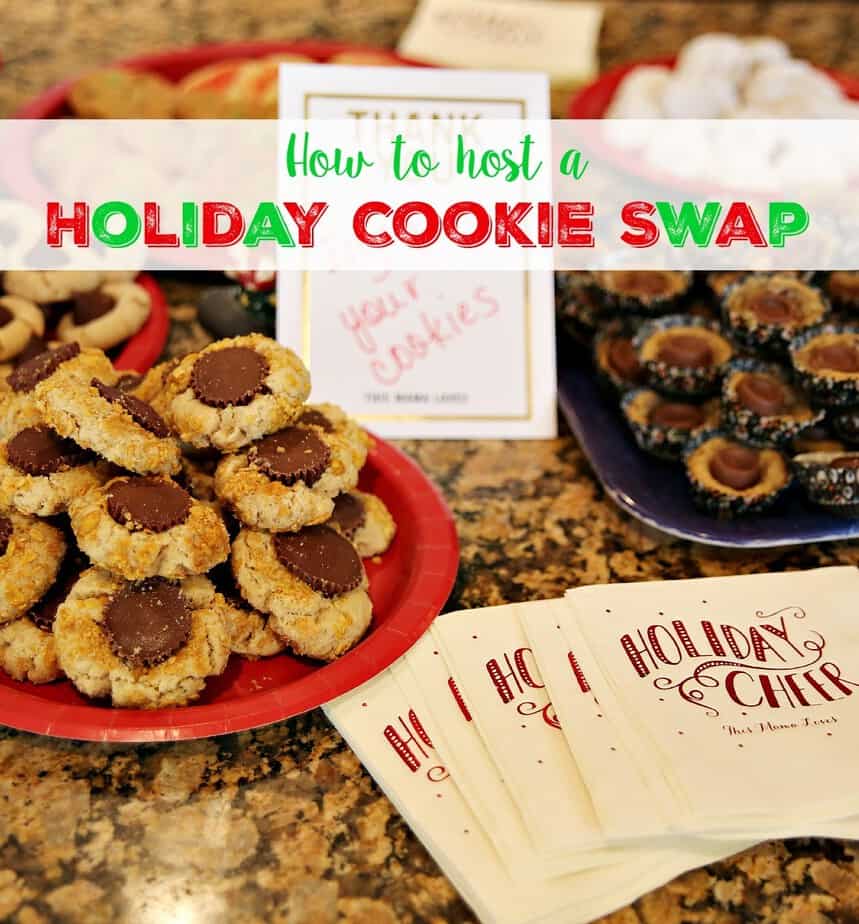 How to host a holiday cookie swap
Invite some friends and family
You can do this via email, a phone call, written invite (so old fashioned, but really, who doesn't love to open the mailbox and find something in there that's not a bill!??!), or even a personalized invite. Have some fun and order some personalized postage stamps for your invites (and holiday cards too if you'd like)!
Beverages
You can do simple or you can go crazy- this one's all up to you. I'm always up for coffee, so that's first on my list.  A fun, festive punch would be a great option as well. I found this roundup of 12 punch recipes to try… deciding which to make would be the hard part!
Snacks
Given the nature of a cookie swap, I'd skip the sweet and set out simple and maybe savory. Fruit, cheese and crackers are usually a win. Show off your semi-famous hors d'oeuvres like our Crabbies, Butternut Squash, Ricotta & Sage Crostini or Bon Appetit's Blue Cheese Bacon Focaccia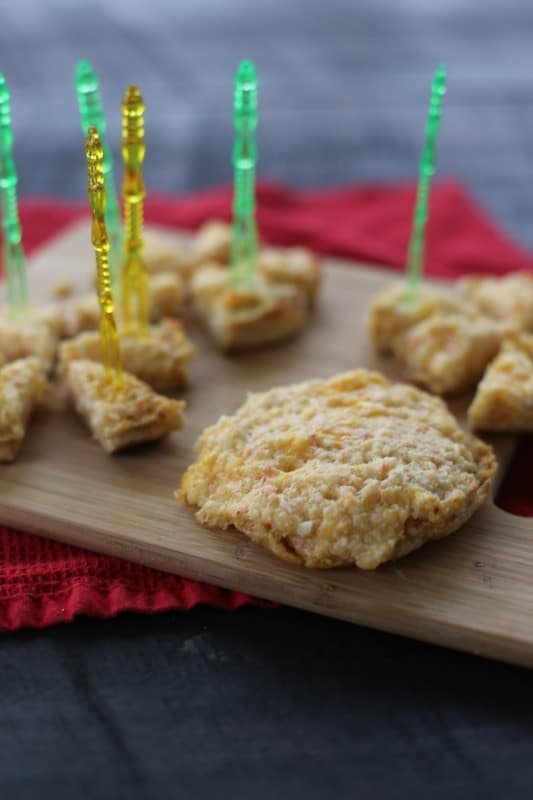 Containers
We all have that one friend (me) who would come to a cookie swap without a container to bring cookies home in…or not have one to fit all of the cookies going home.  So have a few to spare that you don't mind giving up (disposable work well) or get some labels so people know where to return them when they are done…
Music
Have some fun holiday music playing in the background. The radio, your favorite CD in your stereo (are we the only ones who still have one of those?), an app on your laptop or phone… but play some festive music!
Cookies
It's not a bad idea to ask who's bringing what kind of cookies- while M&M Cookies are always a hit, do we want to bring 3-4 dozen of them back home?  Maybe not. Keeping track will ensure a wide variety of cookies to be swapped AND make for prettier platters to present to your family and friends when you are entertaining!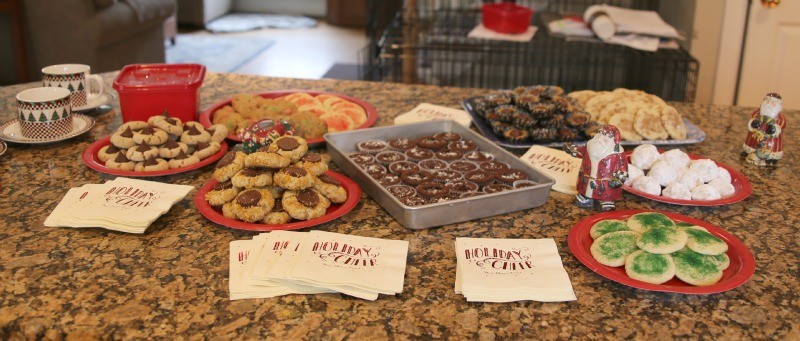 Thank You Notes
Take the time to send a quick thank you card. Again, with the "real" mail thing.  Chances are, you'll make them smile. Thanks for coming to my Cookie Swap! Let's be sure to do it again next year! Even if you write them out before your guests arrive, and tuck them into each guest's cookie bin before they go home… it's always nice to say thanks.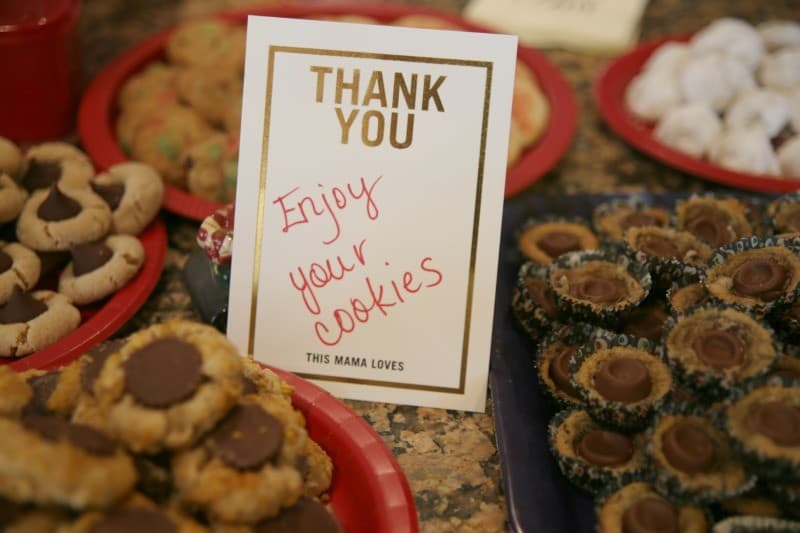 How do you put personal touches on your holiday gatherings? How do you host a holiday cookie swap? What are your tips?
Thanks to TinyPrints and Bon Appetit for sponsoring today's how to host a holiday cookie swap post.