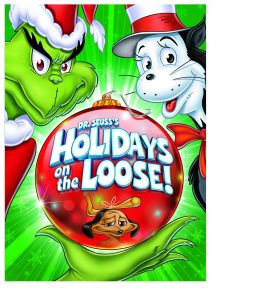 One of the first things my family does when the holidays begin is to watch Dr. Seuss' How the Grinch Stole Christmas.  It kind of marks the start of the season and it's become a tradition.  With the new Holidays on the Loose, we can now enjoy this beloved storybook come to life (which we read all year round) and now, some other seuss-tastic stories on DVD.  This is definitely a fun gift for any Dr. Seuss lover in your life- including yourself!!  This DVD is available in stores and online now!
Celebrate that special time of year with Dr. Seuss' magical stories. Just in time for the gift-giving season, Dr. Seuss's Holidays on the Loose! offers consumers the perfect collection of iconic classics in an all new gift set that is sure to captivate both kids and adults alike.

Dr. Seuss's Holidays on the Loose! Featured Specials Include:

How the Grinch Stole Christmas!

–"Every Who down in Whoville liked Christmas a lot." And every family likes How the Grinch Stole Christmas! a lot! Based on Dr. Seuss' beloved book, this joyous, heart-tickling holiday event which features the voice of legendary actor Boris Karloff, has delighted all ages since its 1966 debut. Can the Grinch steal the town's holiday spirit by stealing their holiday treats? Or does Christmas…perhaps…mean a little bit more? The answers to those questions unfold charmingly under Chuck Jones' pitch perfect direction.

The Grinch Grinches The Cat in the Hat

– What happens when the mischievous Grinch decides to wreak havoc on the world but the happy and ever-so-delightful Cat in the Hat stands in this way? The result is a triumphant story of an unlikely hero who uses a little caring and compassion to help save the world from an unfriendly and unbeautiful future. Watch and see if the Cat in the Hat can go from peaceful picnic in the shade to helping the frightfully mean Grinch turn a new leaf. This special earned an Emmy® Award for Outstanding Animated Program in 1982.

Halloween is Grinch Night

– The sinister Grinch who stole Whoville's Christmas is back to declare Halloween as "Grinch Night!" While the Whos are caught in a horrible storm of Sour-Sweet Wind, the Grinch and his trusty pooch Max, take this opportunity to terrorize the little town. Unfortunately for him he is surprised by a young boy whose unexpected courage prevents the Grinch from unleashing his awful horrors onto their tranquil town. Grinch Night will never be the same! This special earned an Emmy® Award for Outstanding Children's Special in 1978.

Dr. Seuss's Holidays on the Loose! Bonus Features Include:

óFrom Whoville to Hollywood – A rapping, rhyming chronicle of the original book and this beloved animated adaptation.

óSongs in the Key of Grinch – Interviews with composer Albert Hague and vocalist Thurl Ravenscroft.

óWho's Who in Whoville – Biography Gallery.

óGrinch Song Selections – Go right to your favorite songs.  Includes: Opening Song, Trim Up the Tree, Welcome, Christmas andYou're A Mean One, Mr. Grinch.

óTNT's How the Grinch Stole Christmas Featurette – With Phil Hartman.

óGrinch Pencil Test

Now available on Blu-ray™, Dr. Seuss' How the Grinch Stole Christmas! tells the story of how the Grinch, a bitter, cave-dwelling creature, attempts to sabotage Christmas for all the merry and warm-hearted denizens of Whoville.

As all the Whos in Whoville prepare to celebrate Christmas, the Grinch schemes to halt all noisy holiday celebrations by stealing Christmas trees and presents, presuming this will sadden all the Whos in Whoville.  However, when Christmas morning finally arrives, all the Whos in Whoville are glad and sing in spite of not having a tree, presents or holiday feast. This leads the Grinch to think of something he hadn't before, that perhaps "Christmas doesn't come from a store — maybe Christmas… perhaps… means a little bit more!"

Dr. Seuss' How the Grinch Stole Christmas! is narrated by Boris Karloff (Frankenstein, The Mummy) and directed by animation legend Chuck Jones (Looney Tunes,What's Opera, Doc?).  The story was originally adapted to television from the 1957 children's book, as an animated TV special and was highly praised by audiences and film animation fans alike.  It has been re-broadcast numerous times since its debut, with annual airings continuing to the present day.  The original book was considered among one of Dr. Seuss' finest works for children.
I received a sample of this product in exchange for my post.  Opinions are my own.