I am going to preface this by saying that not only have I made my own soap, I loved it. I stopped for the past 2 years but am going to go back to it. I love it.  I love the homemade laundry soap powder anyway- the liquid was way too messy for this mama!!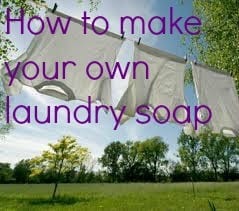 Have you ever wondered how to make your own laundry soap? Well thanks to reader Rachel, here is a recipe she shared with fans! Let us know if you try the recipe or have one of your own!
Ingredients:
1 bar of Fels-Naptha Soap
4 cups of hot water
1/2 cup of Borax
1 cup of Arm & Hammer Super Washing Soda (It has to be the Super Washing Soda, baking soda or just Arm & Hammer will NOT work!)
5 Gallon Bucket
Empty laundry containers or any kind of pour container
Directions:
Grate your bar of soap into a sauce pan with the 4 cups of hot water.
Stir continually on low-medium heat until all the little flakes of soap melt.
Fill your 5 Gallon bucket halfway full of hot water and pour in the borax, the arm & hammer, and the melted soap mixture and stir until all the ingredients are completely melted. Then fill the remainder of the bucket full with hot water.
Stir the mixture once more, just to ensure everything is mixed well. Then you need to cover the bucket (if you have the lid to the bucket, let it have a little bit of breathing room, because it will expand since it's full of hot water) and let it sit overnight to gel, it will gel HARD. Then take your dispenser (old tide container for me) and fill half with your laundry soap (I have to use a funnel) and half full of water and shake well each time you use. Will be very liquid-y but works great!
This recipe makes 10 gallons of laundry detergent so if you want to make less simply reduce the ingredients by half, etc.