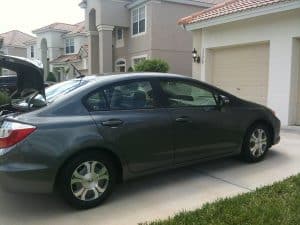 Arriving earlier than many of the other bloggers on the trip with me last week meant I had no one to share cab fare with, and several hours before I "had" to be someplace.  When offered a chance to have a 2012 Honda Civic Hybrid  to drive, I leapt at the chance and I'm so glad I did! I had a Honda Civic back in 99 and I love, love loved it – so I knew I'd be happy with the Civic of 2012 but wow.  So many differences, and so many upgrades.  The first thing the rep told me when he dropped the car off with me at the airport was that he saw my iPhone out and showed me where I could plug it in with my USB cord.  Charging tech gadgets and cell phones with a usb outlet built in is definitely a must for today's society!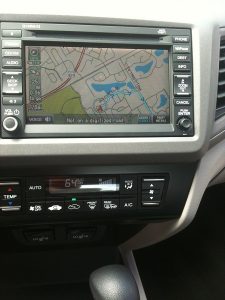 In dash GPS made my life so much easier and so much less stressful.  Having driven only once in the Kissimmee area, I was a bit apprehensive about driving on unfamiliar roads, especially given that it was spring break week and I anticipated a lot of traffic.  I was able to plug in my first destination address before leaving the parking lot and had zero issues in following the GPS.  Having it in the dash made it quite easy to both see and hear- the radio automatically quiets a bit so you can hear the directional instructions.
I have ridden in hybrid vehicles before but never driven, so this was something new for me.  The sounds, or rather, lack of sounds, took a while to get used to.  Of course, I'm used to riding with small children in the car so I'm never in a "quiet" car.  If i could figure out a way to schlep all three of my kids, plus their carseats, my dog and our "gear" on any given day, I'd buy one of these cars in a heartbeat.  I love it so much!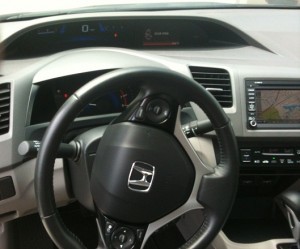 This car had great pickup speed and drove like a dream. I love the size- compact with a definite sporty feel, especially in the metallic grey color I got, and leather seats made me feel like I was driving a sports car.  Smooth riding and easy steering made me a very happy blogger!  The leather seats were so luxurious.  The leather steering wheel and gear shifter were such a nice feature!  The features aren't just for show- the Civic comes with tons of great safety features and ways to decrease your footprint on the environment- two things that are very important to me.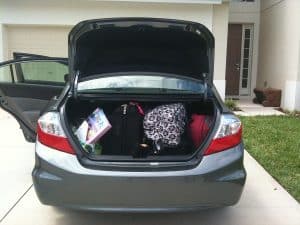 The trunk was roomy- not roomy enough for 3 bloggers' worth of luggage, but *most* of our luggage fit.  Honda vehicles always have a generous trunk space, in my experience.  3 large suitcases and multiple carryon bags are not all going to fit in there, no matter how good  you are at Tetris, so one suitcase was sent to the backseat.
Being in Florida, especially when leaving Epcot on a 90+ degree day, I was VERY happy at how quickly the A/C cooled off the car.  There's no shade to park in when at those parks so the cars were hot hot hot.  I was happy to be in a hybrid and being a bit more green while I drove around the Orlando area in style!  44 miles per gallon is amazing!!
Push Yourself

The Civic Hybrid now has a quick and easy way to boost your efficiency. Just push the ECON button[1]. The engine and other power-using systems will then go into super-efficient mode to maximize your mileage.

Coach is Calling

If you're trying to squeeze every mile out of a gallon (and who isn't these days?), keep an eye on the Honda Eco Assist™[1] feature. Those blue and green bars on either side of the speedometer indicate your level of efficiency as you drive.

Hybrids Go the Distance

All Civic models have Eco Assist™, but the Hybrid model makes the most of it by giving you a handy Eco Guide to help you along the way, and by tabulating your Eco Score at the end of each drive.

Give Me an MPG

Take advantage of all the gas-saving technology in a new Civic Hybrid, and you can get an EPA estimated 44 mpg[2] on the highway. That's money in the tank. And a neighborly nod to the environment.

Leaves, a Legacy

The Civic Hybrid benefits from all the innovations since Honda introduced the first gas-electric hybrid to the American market in 1999. It's all led to this latest milestone: a next-generation Civic Hybrid available with an impressive AT-PZEV CARB Emissions Rating[3].
[1] Eco Assist™ and the ECON logo are trademarks of Honda Motor Co., Ltd., and may not be used or reproduced without prior written approval.[2] 44 city/44 hwy/44 combined mpg. Based on 2012 EPA mileage estimates. Use for comparison purposes only. Do not compare to models before 2008. Your actual mileage will vary depending on how you drive and maintain your vehicle.

[3] AT-PZEV (Advanced Technology Partial Zero-Emission Vehicle) models as certified by the California Air Resources Board (CARB) are available in California and states that have adopted California Zero-Emission Vehicle regulations.
Want to check out some other Hondas?  The 2012 Honda CR-V: Who Knew Small Could Be So Big?, A Mom's Review of the 2012 Honda Odyssey, Five Family-Friendly Features You'll Love About the 2012 Honda CR-V, 2012 Honda Odyssey Review: 5 Features This Mom Loves are some great reviews of a few other Honda vehicles.  I know we won't always be able to fit in a Civic so I like hearing about other options, don't you?
Thanks to Honda for the use of the Civic!!  I enjoyed it- and it was so nice to have a car of my "own" to go where I wanted when I wanted to!