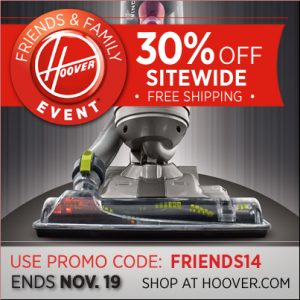 Lately I have been getting excited about cleaning products and tools.  I am not sure when this paradigm shift happened because when I was growing up I was know for my messy bedroom.  I always helped my mom with chores and we had a very clean house but the door to my room often remained closed.  Years later  as a wife and a mom, I find joy and serenity in a clean and organized house.  So, YES I get excited to see a brand new Hoover Windtunnel Air Bagless Upright show up at my front door.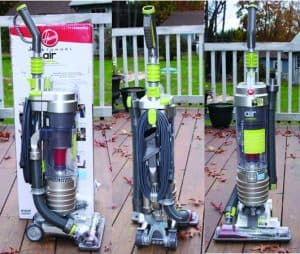 When I think of vacuums the first name that comes to my mind is Hoover.  Hoover has been around for more that 100 years and they know what customers want.  The WindTunnel® Air™ Bagless Upright is lightweight (12.4 pounds) , very effective and has a HEPA filter.  This vacuum is great for my household which consists of two adults, one 7 year old, a cat and a dog. We are constantly tracking in dirt and leaves.  My sweet dog, Beta, sheds more than any dog I have ever seen.  So having a lightweight and easy to use vacuum is important to me.
The WindTunnel® Air™ Bagless Upright was very easy to assemble.  I had to slide the  wand into place and pop the attachments onto the back.  That was it!  No need for tools or a hour spent assembling.  Thank you Hoover!
The first task I put the WindTunnel® Air™ Bagless Upright to was the mat by the back door.  This is the door that we use to bring the dog in and out, my sons goes outside through this door and my husband's office is out back.  I turned the vacuum on and turned on the brushroll.    In under 20 seconds, I was done and there was a noticeable difference.   The brushrool can be turned on and off with a button, for different surfaces.  We have mostly hardwood floors so it is nice to be able to turn it off so crumbs and dust does not fly out the back.
About the WindTunnel® Air™ Bagless Upright
This vacuum is designed with a telescopic handle with built-in wand that detaches with one simple touch. Simply connect the stair hose to the built-in hose and easily clean stairs without having to lift and carry the vacuum. Other intuitive features include convenient power and brushroll controls, a carry handle on top of the dirt cup, and a clear nozzle with no-scuff bumper. The body reclines all the way to the floor, so you can reach under furniture easily, and the brushroll automatically stops when you put the vacuum back in the upright position.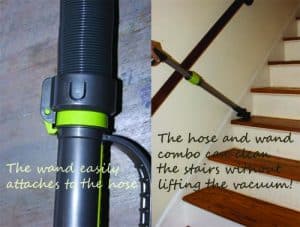 The Hoover® WindTunnel® Air™ Bagless Upright has a rinsable filter that can be easily cleaned under running water and a high-quality filter made with HEPAmedia – neither of which will need to be replaced during the warranty period with proper care.
Features:
Only 12.4 pounds – the lightest Hoover® full-size bagless upright available – easy to use
WindTunnel® Technology – removes embedded dirt and minimizes blowback or scatter
Quick Fit™ Hose – one-touch releases handle for easy attachment to hose so you can
Intuitive Power Controls – conveniently positioned where they should be – right at your
Brushroll Shut-Off – automatically turns off when vacuum is put in upright position
Fabulous Filtration -multi-cyclonic filtration system, rinsable filter and a high-quality filter made with HEPA media. HEPA media traps 99.97% of dirt, dust and pollens down to 0.3microns.
Carry Handle – on top of dirt cup so you can easily lift the lightweight vacuum for moving up or down stairs
30′ Power Cord – vacuum a large room without re-plugging
Clear Nozzle with No Scuff Bumper – protects furniture and baseboards from scuffing and allows you to see Hoover® WindTunnel® technology in action
Deep Recline Handle – lets machine recline flat to clean under furniture
Limited 2-year warranty
On-Board Tools:
3-in-1 Combination Tool
30″ Extension Wand – extends reach of the hose
Crevice Tool – helps clean nooks and crannies
Upholstery/Dusting Brush – helps get furniture clean
8′ Stair Hose – Attaches to the Quick Fit™ hose for 12 feet of cleaning reach on stairs without carrying your vacuum
SPECIAL PROMO CODE FRIENDS14:
So now you know you want one!!  We are offering you an exclusive promo code for 30% off sitewide at Hoover.com and free shipping.  The code is Friends14 . Use it, share it with your friends, family or coworkers.  It is good until November 19th so get shopping!
THE GIVEAWAY:
One lucky mamalovesherbargains.com reader will win their very own Presto 2-in-1 Cordless Stick.
The new Hoover® Presto™ 2-in-1 Cordless Stick Vac features the convenience of two machines in one with a powerful cordless hand and stick vac combo. Keep hard floors and carpet clean with the quick and easy stick vac; release the powerful hand vac with one touch for daily spot cleaning. The 3-in-1 detachable tool makes it easy to clean hard-to-reach areas. This 2-in-1 Stick Vac features 14.4V of cordless power and true cyclonic technology for great cleaning performance. The vacuum includes a rinsable filter made with HEPA media. The Presto™ Cordless 2-in-1 Stick Vac offers the ultimate in convenience with a folding handle and charging base for easy and convenient storage in tight spaces.
Loading Entry-Form…
…
The Hoover Windtunnel Air Bagless Upright was provided for the review.  All opinions are my own.
0