Happy New Year's Eve, my friends. I can't believe that 2013 is coming to a close! Our year was full of ups and downs as each year has been, but nothing overly exciting.  Which is a good thing. Many of our friends had some devastating  years and for them, I hope 2014 brings a quieter year full of peace and healing.  2014 will bring changes in our lives, that's for sure- we've been purging and organizing like crazy this past week and I think we're finally ready to start saving towards our next big change- adding on to our home so that we aren't pushing the seams of this house to the limit like we are now. Of course, no planning or discussion happens in this house without coffee.  Especially in the early hours of the day (any before noon).  I'm not sure I can function anymore without coffee in hand in the morning hours!
This post about our house rules is brought to you by our friends at Lunchbox.  Opinions are my own.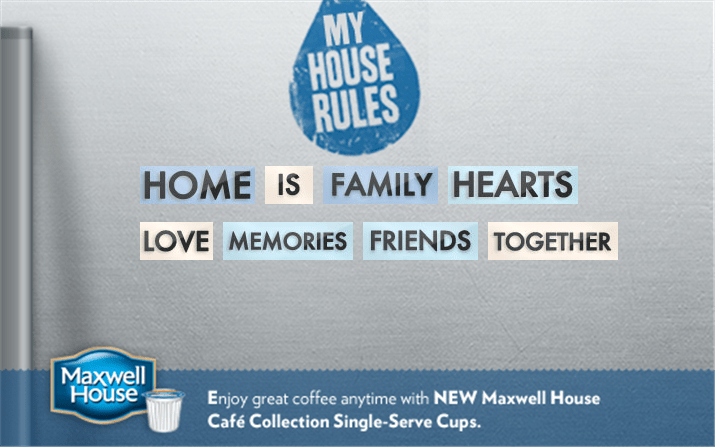 Big Taste in a Little Cup
Your favorite "good to the last drop" coffee is now available without ever leaving your home. All new Maxwell House Café Collection Single Serve Cups are easy to use and the perfect pick me up in the morning. You can find these new single-serve cups at Walmart for an everyday low price!
House Rule: The best cup of coffee is one that's on the house.
Maxwell House rules will help you get back to coffee basics. Visit see.walmart.com/maxwell-house to create your own house rule on the Maxwell House magnet board. Please share the link they give you so we can all see!! It's fun to make them. I'm actually going to print ours and hang it on the fridge later today (It needs to be cleaned first)
 So tell me, what are YOUR House Rules?
0