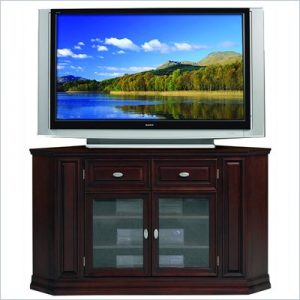 I have another confession to make.  I hate what we have for our tv to sit on.  I love the color of our TV Stand.  I do.  I also love that it stands in the corner, not sucking a ton of space out of our already short on space living room.  What I don't love is the height of it.  I love the look, but I dream of  finding something that offers the same look, the same style, but more of an armoire feel. 
The biggest issue, of course, is that we only got this corner tv stand for flat screens a few years ago, and while of course the kids have made it look "loved" already, there is absolutely, 100%, nothing wrong with it.  Sigh.  The one we have is similar in style and design (and height) to the one pictured here on the left <— and I just feel like it would look a lot better if it was in an armoire type piece of furniture.  Plus, I'd have storage above, most likely, and have doors to close off the television (imagine that!!).
 Corner tv stands for flat screens that have the look and feel of an armoire are maybe something I should have considered when we were first searching, but I wasn't really aware that that is the direction I wanted to go in.  We have such minimal wall and floor space that I was really just focused on maximizing our living area and minimizing furniture footprints.  Maybe I should have started with a designer's site with tips and info before we started shopping- I don't know.  What do you think?
0