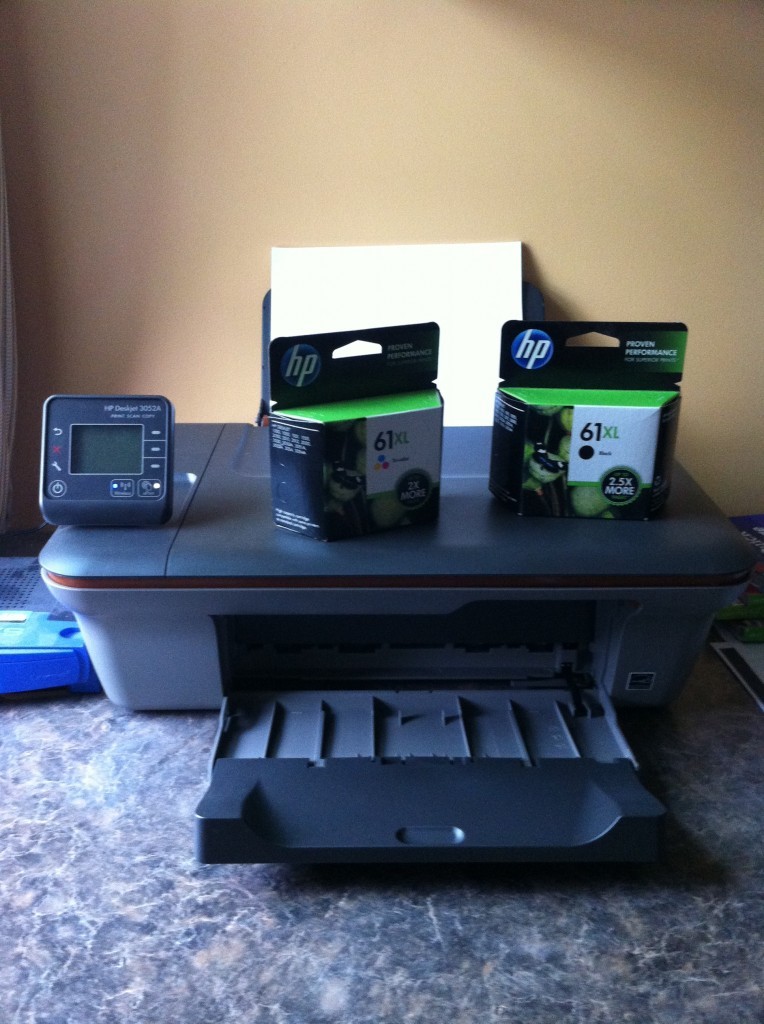 We have a lot of issues with printers in our house. We research them and end up with duds, or they don't work for long, go through ink quickly, or, in recent years, promise to be wireless but really aren't.  It's frustrating- and expensive.  When we had the chance to check out the HP Deskjet 3050A Wireless Printer, I jumped at the chance, because this is a brand we have not yet experienced, and the idea that I can print from my tablet or my PHONE had me excited….
excited…and now I'm hooked.  I actually woke my husband up a few nights last week because I found things I just had to print in the middle of the night when I couldn't sleep…you know, important things, to plan for our upcoming vacation, or gift ideas for the kids.  I haven't been able to print reliably in well over a year and now that I can, well, I'm hooked.  I might even just print this blog post, just for fun.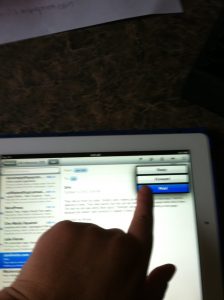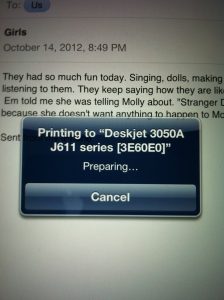 I'm in love with my  HP Deskjet 3052A Wireless e-All-In-One Printer w/ ePrint Mobile Printing and Airprint and I can't even believe the pricing on it.  It's $40.00 off right now- 37% off normal retail of $109.00.  And it works.  Really well. I can print from my iPad, or use the app on my phone and voila! A few moments later, it's printed.  For about $70.00.
HP Deskjet 3052A e-All-In-One Printer: Key Features:

Print Speed: Black: Up to 20 ppm; Color: Up to 16 ppm
Print Resolution: Black: Up to 600 dpi, Color: Up to 4800 x 1200 dpi
Built-in Wireless
Energy Star certified
Replacement Ink: HP 61 Black Ink Cartridges, Tri-Color Ink Cartridges

Additional HP All-in-One Inkjet Printer Specifications:

Built-in Wireless LAN (802.11b/g/n): Wireless and ePrint capabilities from multiple computers and devices
2.0″ monochrome LCD panel
Copier Settings: Black: Up to 4.5 cpm, Color: Up to 2.5 cpm
Scan Settings: Optical: Up to 1200 dpi; Hardware: 1200 x 1200 dpi
Paper & Media Compatibility: 60-sheet input tray, 25-sheet output tray
Media Types: Paper (brochure, inkjet, plain), photo paper, envelopes, labels, cards (greeting), transparencies

System Requirements:

Compatible Operating Systems: Microsoft Windows 7, Windows Vista, Windows XP (SP2) or higher (32-bit only), Mac OS X v. 10.5 or v. 10.6

What's Included:

HP 61 Black and Tri-color cartridges
User's Guide and Installation CD-ROMs
Power supply and power cord
USB cable
Reusable tote

Support & Warranty:

1-year limited hardware warranty; 1-year technical phone support
With HP XL ink cartridges – there are only 2 cartridges you will need for your printer.  Period.  They hold more ink, and still fit your printer just like regular cartridges.  It's just more ink for your money. You can save up to 40%! I hate spending money on printer ink.  Maybe you don't, but it's one of those "things" that irritates me to purchase. I like being able to save on it.
I received the printer and XL ink as part of a promotional program with MomSelect.
0