This is a sponsored post about heart health for women written by me on behalf of The Heart Truth® for IZEA. All opinions are 100% mine.
We all know that February 14th was Valentine's Day and that love and hearts are on everyone's mind this month but there is a much more important reason for hearts and love to be on your mind this entire month and always.  For more than a decade, the National Heart, Lung, and Blood Institute's (NHLBI) The Heart Truth® program has worked to raise awareness about women's risk for heart disease―the #1 killer of women in the United States―and the steps they need to make to lead a heart healthy life.  This February, in observance of American Heart Month, they are launching a new initiative designed to move women from heart disease awareness to preventive action!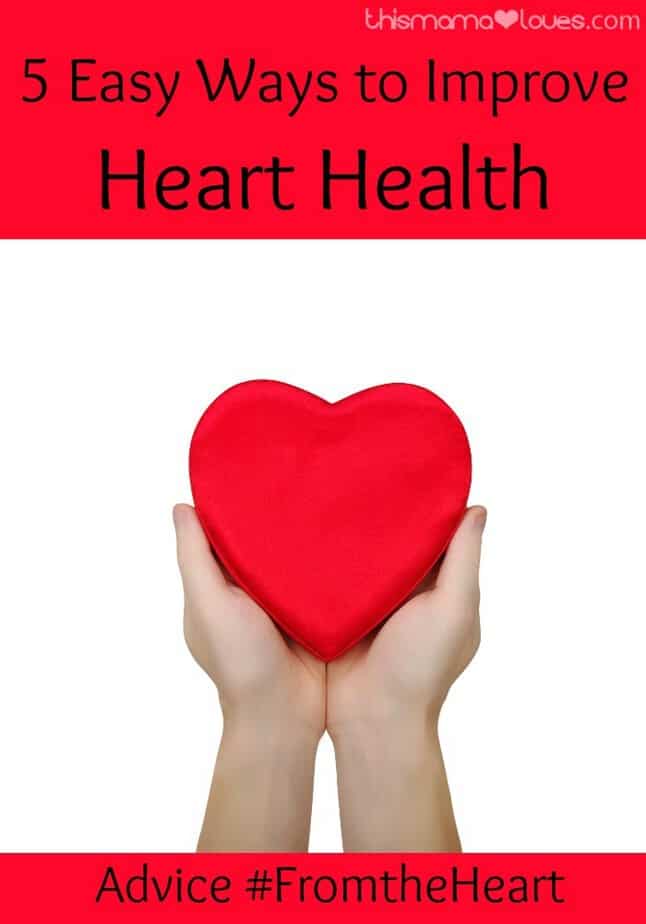 This advice we share is coming #FromTheHeart. That's the whole idea behind this program.
Of the women who died in 2013 (the latest data available), one in four women in the United States died of heart disease making it the #1 killer of women.  In 2011 my own mother was almost one of those women.  I'll never forget the call from my sister.  My dad had called and they were taking my mother to the nearest heart center which was more than an hour away.
The doctors had told my dad to call all of us, that we needed to come but that they did not know if she was going to make it to the heart center.  She had an aortic aneurysm the size of a football that had burst. The following hours and days were touch and go.  We were prepared for the worst and hoped for the best.  We knew that my mother had a lot of the risk factors for heart disease, in fact her own father had died from an aortic aneurysm in his late 60's.  She was over 55, had a history of high blood pressure, had smoked from more than 50 years, and did not lead a particularly active lifestyle.  We never expected this though.  I guess that no one ever does.  It's part of the "it won't happen to me" attitude that we all somehow get about things but the truth is that it can happen to you, it can happen to someone you love.  
Did you know that 80% of women ages 40 to 60 have one or more risk factors for heart disease?  That's a huge number!  The Heart Truth program's goal is to raise awareness about heart disease and its risk factors among women, and educate and motivate them to take action to prevent the disease and control their own personal risk. My mother fully recovered.  Her doctors and surgeons referred to her as a miracle and I believe they are right.  We walked into the heart center that day unsure if she'd come home, later we were prepared for it to be months before she might be able to be transferred to a long term rehab and to expect many lifelong challenges but in the end she was home and mostly herself in 4 weeks time.  Her life changed and her lifestyle did too after she lived through her heart episode.  Here are 5 Easy Ways to Improve Heart Health that we've all implemented since my mother's heart scare in 2011.
5 Easy Ways to Improve Heart Health for Women
1.  Know your family history and act on it! Before my mother had her "episode" I did not know that my grandfather had died of an aortic aneurysm.  Knowing that there is a family history of heart disease means that I need to be more aware of my heart health and keep my doctors aware as well.  When your doctor is aware they can order tests more frequently if they feel it is necessary.  Knowing your family history also means that you can do things on your own to live a healthier lifestyle like …
2.  Get moving! You don't have to be training for a 5k or running an 8 minute mile but you do need to get moving.  Sitting on the couch or at the desk for long periods of time isn't good for anyone.  Go play a game of basketball with the kids, go for a bike ride or a walk around the block.  Get up and go up and down your stairs a few times just because.  Sitting for too long isn't good for your blood fats or blood sugar.
3.  Eat less processed foods! We hear this all the time right?  Your heart (and mind) work better when they are running on clean fuel or clean foods which means foods that are not processed with a bunch of added junk.  Cut the convenience foods and reach for fresh fruits and veggies or other "whole" foods like nuts and seeds.  Foods that you can eat in their whole state mean that they don't have added sugars or fats in them.
4. Lose 5 lbs (or more if you need to)! According to the American Heart Association, a BMI of 25 or higher puts you at a greater risk of heart disease.  A BMI of 30 or higher which is considered "obese" puts you at even greater risk.  Do the numbers friends, that BMI of 25 or higher is easier to find yourself at than you think.  Taking in less calories, healthier calories, and being more active will help you lose those pounds and every pound counts!  Slow and steady wins the race so even if they come off slow, keep plugging away and don't get discouraged.
5.  Find a stress free hobby! Life is stressful.  I know I don't need to tell anyone that.  Whether it's reading a good book, gardening, coloring in those new trendy grown-up coloring books, or knitting finding a stress free hobby that you enjoy is really important for your health.  It's a healthy way to deal with the unhealthy stress we can't avoid in life.  Even if it's only for short amounts of time a few times a week, make time for that stress free time.
 Do you have other tips #FromtheHeart to share today?