Instant Pot Corned Beef and Cabbage Recipe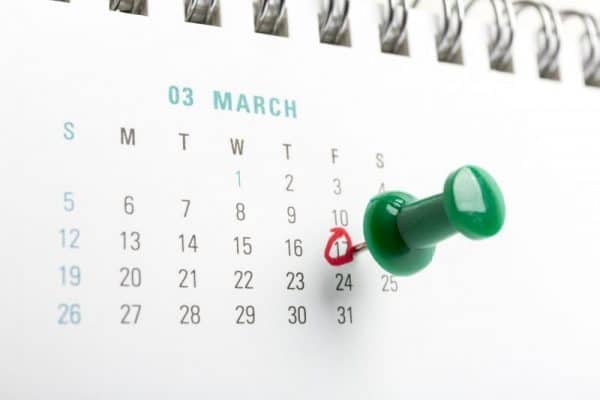 St. Patrick's Day falls on a Friday this year. While in our younger days, this would have meant heading out on the town and celebrating with friends, that's not necessarily what we want to do, and we also don't really have the time to. Family life can be hectic and Friday nights are no exception. Soccer games, gymnastics practice, and birthday party plans are all on the calendar for next weekend, and if we want to celebrate the day we need to minimize prep and planning! The one thing we NEVER go without on St. Paddy's day is corned beef and cabbage!! Thanks to Pepto for sponsoring today's instant pot corned beef recipe.
Given the crazy schedule we have — I need to make our St. Patrick's day festivities SIMPLE. My Friday afternoons are usually: pick up my 2 younger kids at school plus 2 kids we carpool with: 3:20. Home, give kids snack, leave for gymnastics with the 3 littlest kids at 4:30. Drop kids off 4:50, head back home. Arrive home 5:20. There's often a Cub Scout meeting and or a soccer game on Fridays as well, so we don't usually eat until close to 7 pm.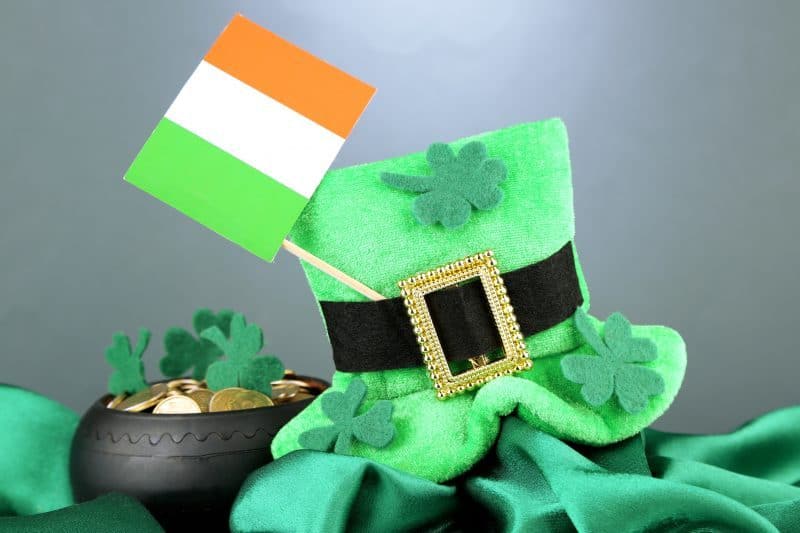 So tips for St. Patrick's Day? KISS it! Keep It Simple, Silly! Make a quick meal, and if you want some fun decorations, head to the dollar store or party store. The dollar store is much closer so guess where I'm heading? Yep! Some gold chocolate coins, fun green necklaces, maybe even a little pot for the gold and you're set for some festive fun!
My FAVORITE part of St. Patrick's Day is making corned beef and cabbage. Which, as I understand from my Irish friend Orla, isn't even the traditional meal for St. Paddy's Day. I'm perfectly ok with that. We LOVE corned beef in this house, so some of us tend to have extra hearty helpings of dinner when it's served. I won't name names. Even if it's not traditionally what the Irish do eat for St. Paddy's Day, it's kind of become an American St. Patty's Day tradition, and perfect for noshing on in celebration!
If you're going to partake in some adult beverage consumption, Guinness is generally the beverage of choice for St. Patrick's Day. Or Killians Red. Just consume in moderation and don't drink and drive! For the kids? Green milk, or if you don't want to dye your milk, make a simple punch for them with a little pineapple juice, lime sherbet, and sprite- so much fun and so simple to do!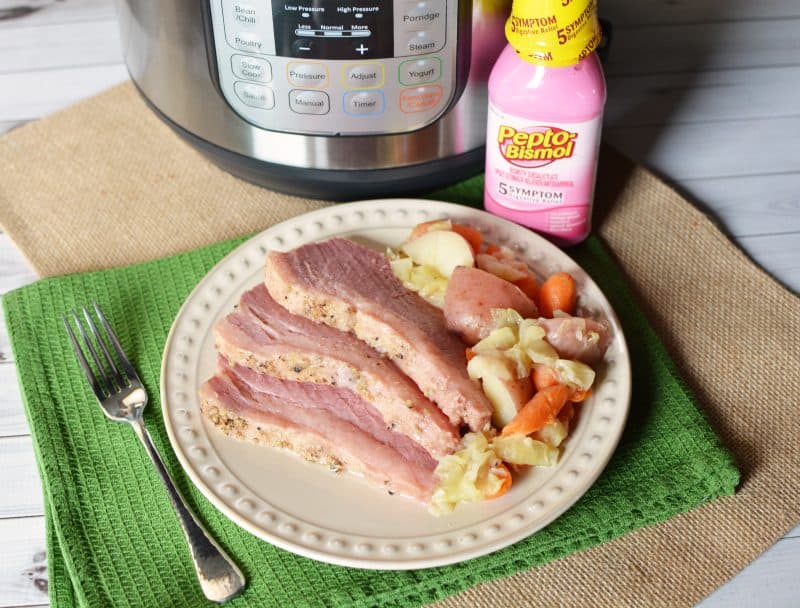 Instant Pot Corned Beef and Cabbage Recipe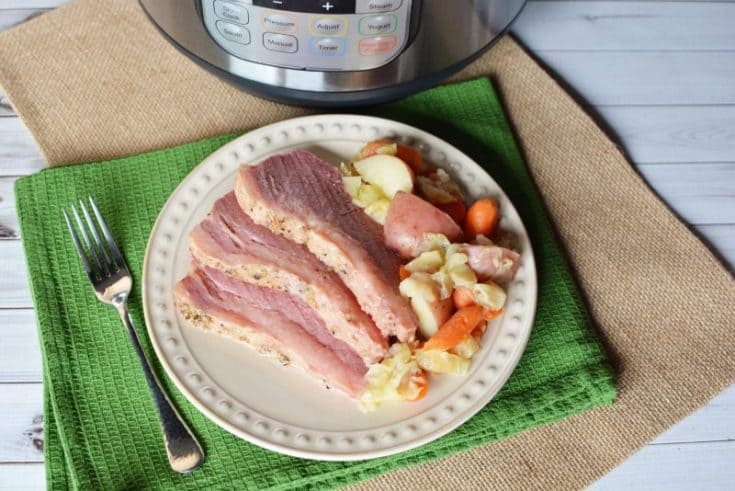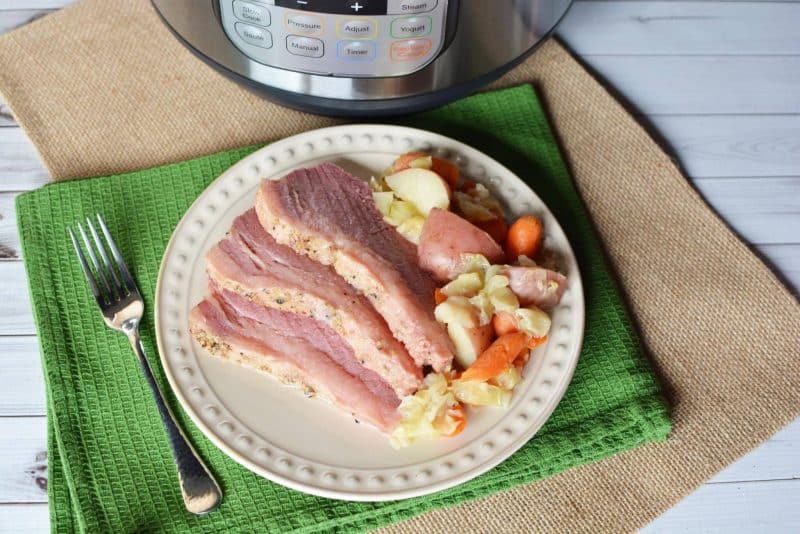 Instant Pot Corned Beef and Cabbage Recipe
This classic dish, is simplified using the InstantPot, cutting the cooking time down significantly.
Ingredients
3-4 lb corned beef
1 cup baby carrots, cut in half or thirds - you can also use regular carrots, but we're focused on time saving today
4-5 red potatoes, cut in half and then in thirds
1/2 head cabbage, chopped
1 cup water
Optional if no seasoning packet was included:
1 teaspoon garlic powder
1 tsp red pepper flakes
1 teaspoon coarsely ground black pepper
1 tsp mustard seeds
1/4 tsp coriander seeds
1 bay leaf
*You can also toss a few teaspoons of pickling spice if you REALLY want to simplify!
Instructions
Place corned beef in instant pot. Sprinkle seasoning packet on top of meat or sprinkle garlic powder, black pepper and bay leaf on meat. Add water to instant pot.
Set instant pot to manual for 30 minutes. When finished, quick release steam/pressure.
Remove meat from pot, let set, covered in foil.
Place potatoes, carrots and cabbage in instant pot (leaving juices in pot) and set to manual for 7 minutes.
Check to make sure vegetables are tender. If not, return to Instant Pot for 2-3 minutes. Release steam/pressure.
Remove from pot and serve with sliced corned beef.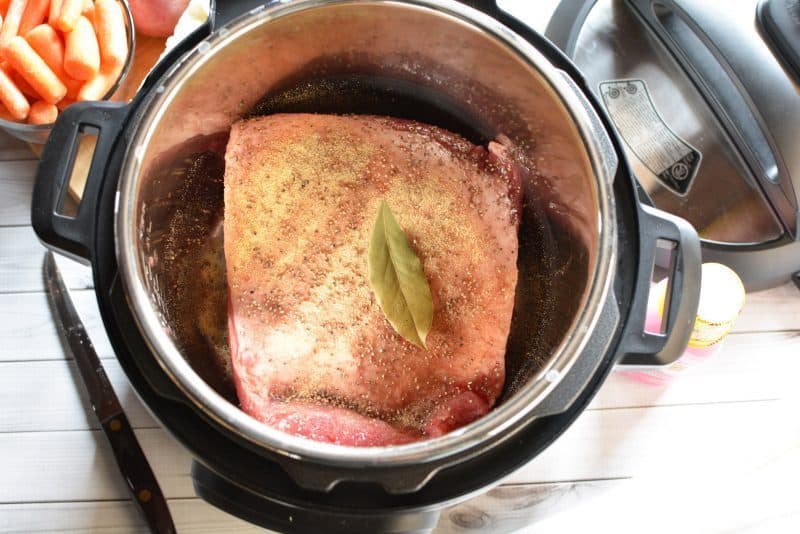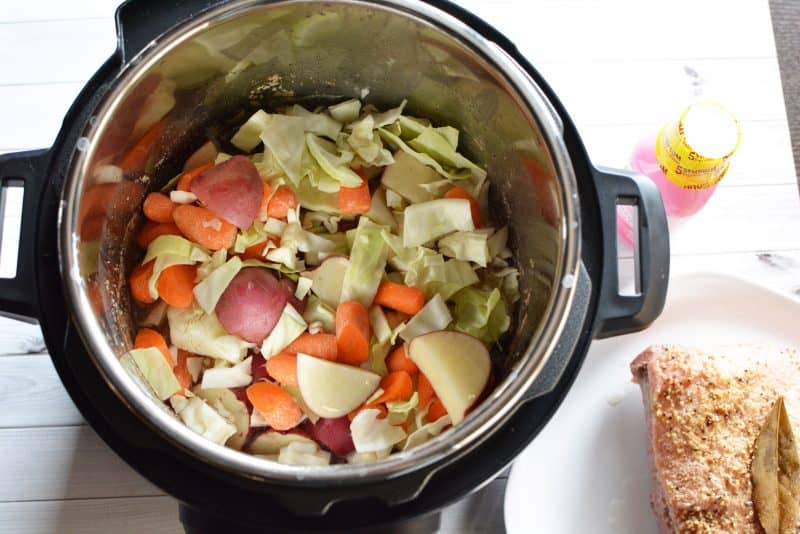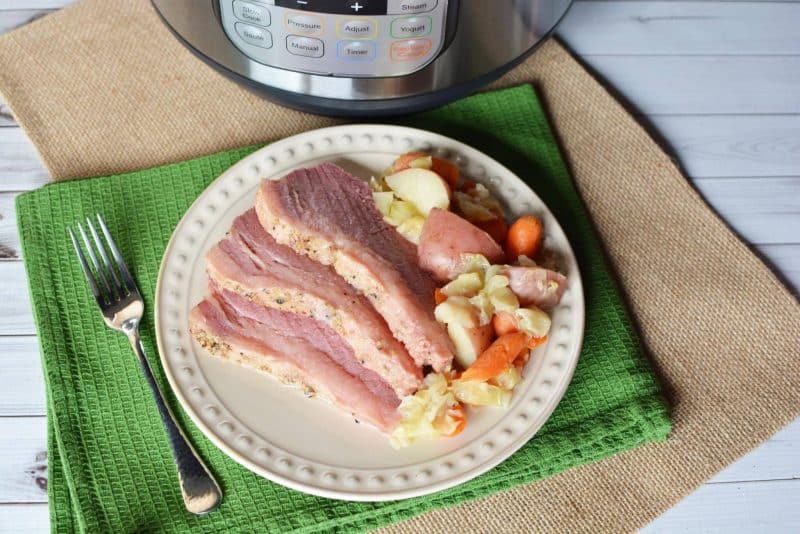 What are your tips to celebrate St. Patrick's Day? Are you like me and always have that #PinkRelief on hand just in case?