There's a new cloth diaper company that's just come stateside – the colors are bright, the fabric is snuggly minkee, the absorbancy is great…and, the names of the diapers are adorable.  itti bitti came to the US in early March of 2011 and I'd expect they'll be here a while.  itti bitti started in 2005 in Australia and are now sold in 25 countries!
We received a bright purple wetbag, a bitti d'lish snap-in-one in medium and a bitti tutto in bright pink.
The bitti d'lish snap-in-one is a low rise, as all of the itti bitti diapers are, and this is quite honestly one of the trimmest cloth diapers we've tried to date.
Because the nappy comes apart, you can re-use the outer 'shell' like a cover, replacing wet booster sets with dry ones making SIO's perfect for travelling or space saving in the nappy bag and a very economical option as well
Quick drying
No need to be taken apart and put back together for washing and drying, but this will make drying times faster
8 layers of bamboo for a highly absorbent nappy, suitable even for heavy wetters (you can expect the nappy to last 3-4 hours or more)
Only natural fibres in the soaker pads
bitti d'lish are sized nappies to ensure the best possible fit.

Small size to fit 8lb to 16lb
Medium size to fit 14lb to 26lb
Large size to fit 23lb to 37lb

bitti d'lish diapers are designed as low rise, super trim fitting diapers, so if you prefer a higher rise (often for boys), size up, not down. Often cuddly babies can fit into the size range earlier than recommended. Don't be surprised to find that such an itti bitti diaper is in fact a fantastic fit!
This diaper is not only darling, but quite abosorbant.  We've used this even at naps without leaks- for both wet and soiled diapers.  My daughter is a tiny 19 month old and this fits her perfectly at 21lbs- she's really ready for a large.  (This tells me if you aren't sure about what size to get- maybe order the next size up!!)  These diapers also come in up to 18 colors (some less) and some seasonal prints.  I love a variety of colors, and I love the bright, vibrant colors of the itti bitti line.
itti bitti diapers also have gussets in them to hold the poo in.  This is a very important feature in a diaper, obviously…so its always nice to see when you are checking out a new diaper brand that they have them!

This was after several attempts at a photo.  She's very cooperative, don't you think?  But you can see how cute her bitti d'lish is!
The itti bitti tutto is a one size diaper that boasts of fitting babies from 8lbs to 44 lbs.   These are my favorite kind of diaper to buy- far more bang for your buck, in my opinion!   I love the versatility, and when your child is ready to change sizes, you don't have to change out diapers- just move what row you snap the diaper on to adjust rise or stop snapping it down for the largest size.  We again have had zero leak issues and I love the snuggly minkee fabric that itti bitti uses for their diapers, although I once again find myself quite hesitant to actually put clothing on my child so I can enjoy the fluff!!  I also noticed zero "wing" droop- we get that with a bunch of the diapers we have in our stash and it makes me get a little cranky but the itti bittis don't have it.
The bitti tutto has a complete internal gusset, protecting the sides and back – it's our patented 'poo fence' which means you don't need to worry about leaks and can use this diaper with confidence!

Each diaper comes with three soaker pads, so you can customise the absorbency to suit your baby. PLUS bitti tutto is brilliantly economical, as you can buy extra soaker pads separately (in the original super absorbent bamboo, or quick dry microfibre) and re-use the outer shell!

With luxurious, soft and waterproof minkee fabric on the outside for babies comfort, no cover is required.
I've used this diaper as a daytime diaper, out on errands and twice overnight.  I get nervous with new overnight diapers but this did fine.  It got a bit snug for my liking so I will stick to daytime for it, but it didn't leak (I just put a lot of extra inserts in and this diaper isn't made for that like a pocket diaper is I think).   No leaks.  Not wet leaks and not soiled leaks.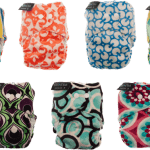 I've been really happy with the itti bitti brand as a whole!  One thing I have noticed about the prints is that they are not babyish- so those of you who have more sophisticated tastes (I just love cloth so I can't say I'm in or out of that group!!) will be glad to see some more modern,
I also love the wetbag we have- its fun, its soft, and its roomy enough to bring 3-4 diapers plus some wipes/wipe spray.  Wetbags are so versatile, we use them for far more than just diapers and wipes!  Wet swimsuits and towels are a great thing to toss into wetbags.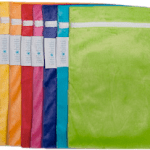 itti bitti luxury minkee wetbags are designed for storing wet diapers when out and about.
made from waterproof laminated minkee
zippered to hold in smells
perfect size for a day out
holds around 4 diapers
One of my readers will win: 1-bitti tutto, 1-bitti d'lish AIO and 1-wet bag !
Mandatory Entry: Visit itti bitti and tell me which color(s) you'll choose if you win, for your diapers and wetbag. Remember, if you don't do this entry, the rest don't count!
Extra Entries:
Like itti bitti on Facebook +1 entry
Follow me via GFC
Subscribe to my emails or follow me in your RSS reader (1 entry EACH)
Share this giveaway on any social networking site including the URL of this post  (can be done up to 2x per day, 1 hour apart, PER site)
Tweet this: #Win a @ittibittiUS #clothdiaper package from @Mamatomjr http://wp.me/p1qA6G-121″ (can be done 2x/day 1 hour apart)
This giveaway will end on April 20, 2011 at midnight, EST. Winner to be chosen randomly. US only. Winner has 48 hours to respond or a new winner will be chosen.
0