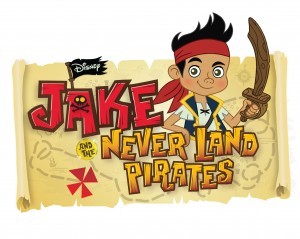 Jake and the Never Land Pirates has become THE favorite show in my house.  I love it, the kids love it, there's great messages, and fantastic music, which you can't help but adore!  This show is said to be a huge hit for boys ages 2-5, and my 4 year old son is no exception, but my 2 year old daughter LOVES her "Jake Pirates" show and asks for it over and over…she spends much of her day singing "Aw Coconuts" from that show.   My 6 year old daughter likes it, my son's best friend has older (and a younger) siblings and they all love it too.   
I enjoy the show.  I really, truly do.  We recently got to have a sneak peek at the  holiday episode, "It's A Winter Never Land!/Hook On Ice," scheduled for Friday, Dec. 2 (8:30-9 a.m. EST/PST), and I won't give it away, but its a holiday show done well and doesn't disappoint at all.  We love it.  I'm very thankful we have the DVD so we can watch it again – December 2nd seems very far away!!
In the holiday episode of Jake and the Never Land Pirates, titled It's A Winter Never Land! / Hook On Ice, Jake, Izzy and Cubby awake to find that Peter Pan has left the crew some presents and a tree to celebrate Winter Treasure Day, and Captain Hook invites Jake and the crew on a winter treasure hunt.
Not yet familiar with Jake and the Never Land Pirates?  Here's a little about the show- but honestly, just watch an episode.  You'll be singing "Never say never no never to a Never Land Pirate" before you know it right along with me, Jake, and the rest of the friends on the program.  I don't think you'll be sorry.  (We're anxiously waiting to hear when Sharky and Bones and the Never Land Pirate Band will go on tour- I'd pay for front row seats for that show!!)
A music-filled interactive treasure hunt, Jake and the Never Land Pirates introduces a crew of kid pirates – leader Jake and pals Izzy and Cubby – and follows their Never Land adventures as they work to outwit two infamous characters, the one and only Captain Hook and Mr. Smee, from Disney's classic "Peter Pan." Along the way, they model teamwork, problem-solving and physical activity, earning gold doubloons as they conquer a variety of tasks. The series features original "pirate rock" music performed by Sharky and Bones of The Never Land Pirate Band.
Be sure to set your DVR for December 2 at 8:30-9 a.m. EST/PST so you don't miss the holiday episode of Jake and the Never Land Pirates!!  Also watch for a 45 minute special episode coming in January to help kick off season 2. 
Jake and the Never Land Pirates airs on Disney Junior, which will have a stand-alone Disney Junior Channel with 24 hours of programming for the younger crowd starting in early 2012.  (Yeah, Disney!! Thank you!!)
I received this episode on DVD and some promotional items to thank me for taking the time to post about this from Team Mom.  Opinions are my own.