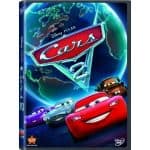 I think i've seen Cars 2 eight times already.  Obviously the first 2 viewings were probably the most exciting, given that I was at a screening in LA and then got to walk the Red Carpet and attend the World Premiere!!
In Cars 2, we revisit many of our friends from Cars- only time has passed, things have changed, and the feel of this film is far more 'big kid' than little kid. Don't get me wrong, kids all love it (my 2 year old and I have both got a mad love for Mater) but this is more a James Bond meets Pixar kind of film. Its fun, its funny, it tells a great story, and my beloved Mater gets to have a starring role in this film!
The extras are really fun for me to watch, especially the interviews with the stars, since we got to meet several of them during the Cars 2 press junket and at the party after the world premiere. It kind of puts a different feel on the film, watching it, having met the people who are the character's voices. It seems like everywhere we go lately we see Cars 2- toys, games, apparel- our TV died right when the power came back on and when we were shopping for TV's to replace it, guess what was on the entire wall of screens? You guessed it!!

This is an awesome movie and one that any Disney fan will love adding to their collection. You can find it just about anywhere DVD's are sold!  I will tell you that this DVD arrived in the middle of the power outages (but GO UPS for still delivering!!) and this DVD helped to keep this mama sane…many times.  All three of my kids like this movie and Mr. Bargains too.  (I didn't bring them to the big screen, I was concerned about the spy theme and violence for them with that large of screen – but on a small screen? AWESOME!)


I received a sample of this product to facilitate my review.  Opinions are my own.
0