He's handsome, he's charming, he's funny, he can cook, and let's face it…he's got some great hair.  The winner of Food Network's "Food Network Star" and the well-known "Sandwich King," Jeff Mauro is also paired up with Seattle's Best Coffee for the Red Cup Showdown, coming to a state fair near (some of) you this summer.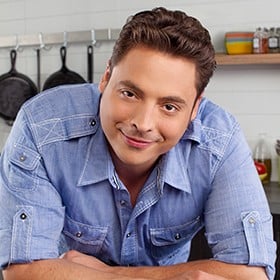 State fairs are always fun (although here in New England, we have smaller town/area fairs, and of course, The Big E).  With fairs comes fair foods- funnel cake, fried oreos, corn, sausage…and this year…the Red Cup Showdown. The Red Cup Showdown is a competition to find America's next best coffee drink.  Start thinking about your fave coffee treats!!  There's prizes involved!
There is no summer ritual that exudes iconic Americana more than the state fair. From corndogs to apple pie bake-offs, this tradition beganback in 1841 where Americans would attend in droves for livestock judging, butter sculpting, and cheese curds. Today, state fairs have evolved to become a hotbed of over-the-top culinary creativity – from a chicken fried bacon and red velvet funnel cake to frozen sweet tea and fried lemonade. Jeff Mauro, winner of the seventh season of Food Network Star, graduated from California's Hollywood Kitchen Academy, and has worked in the food industry since high school in various roles, including line cook, caterer and chef instructor. After pursuing a career as an entertainer and comedian in Los Angeles, Jeff returned to Chicago to spend time doing what he loves: cooking. His down-to-earth personality coupled with his comic skills make a great combination in the kitchen. In his Food Network cooking show, Sandwich King, Jeff proves you can turn any meal into a sandwich and any sandwich into a delicious meal.
I got to chat with Jeff for several minutes about his favorite recipes with coffee in them- beverages and not- and accidentally put him on the spot– I blame him, he asked ME what my favorite fair food was (caramel apples) and given that he's doing coffee recipes…I asked him if he can pair coffee and caramel apples…I've got to tell you I'm pretty impressed he was able to do so right on the spot and come up with a recipe idea.  I haven't tried it yet but I think I am going to this fall!!  (Tiny bits of apple in the coffee drink and caramel drizzled on top…sounds delish, right?) Check out my interview (laugh at me if you want, but lie and tell me I was awesome to my face, ok?) with Jeff and tell me what YOUR favorite foods are!!  Then I want you to go over to the Red Cup Showdown and enter your coffee drink creation– you could win $10,000!! (Hint: Jeff likes his coffee dark, so keep that in mind…)  

Let me know what you enter for your recipe!! GOOD LUCK! This conversation and interview with Mr. Mauro was part of a campaign for Collective Bias.  Opinions are my own.
0