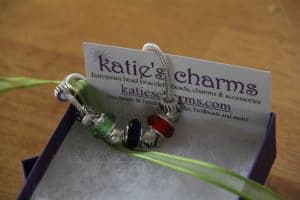 Jennifer from Katie's Charms sent me this gorgeous Mother's Bracelet. I think I'm becoming semi-obsessed with mother's jewelry.
Katie's Charms makes beautiful Pandora-style beads, charms and starter pieces.  There is a huge variety on the site, the images are large enough that you can see what you are looking at, and really see the details of  a bead you are considering adding to your collection (or someone else's).  Not sure what to get?  There are starter braceletes, necklaces, and even premade sets all on the site to help you get started.  There are lots of different styles of bracelets and necklaces to put your beads onto, so you're quite likely to find pieces to suit just about anyone's tastes.
I like that there are premade bracelets on this site- I think it makes gift giving a lot easier for many, and while adding a single bead on different occasions is definitely something I love and adore (and have a bracelet for) I also  love the ready-to-go idea.  The Nature Girl bracelet is amazing as well- that was my second choice!!   
When I was first browsing Katie's Charms, I was immediately drawn to the Mother's Love bracelet and asked Jennifer if we could do a version of that.  She quickly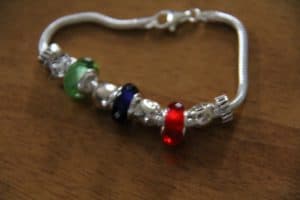 agreed and with a few simple bits of information from me (gender and birth month of each of my three kids) she told me she'd get it on its way to me before her vacation.  Imagine my surprise when it arrived 2 days later!!
Its GORGEOUS.  I loved it instantly.  I have a hard time taking it off, well, ever.  My bracelet has 2 girls and a boy charm, 3 birthstone charms, 2 stoppers and a "mom" bead.  I love everything about it.
Shipping is always free for US customers!
One of my readers will win a $50 gift certificate to spend at Katie's Charms!


I received a sample of this product to facilitate my review.  Opinions expressed within are my own.