It seems just like yesterday that we were packing up and putting away our stroller and other baby gear.  Well the time has come to get the gear out again!  I previously owned a travel system that I was never pleased with.  It turns out that the car seat has actually expired.  5 years goes by so fast!  Therefore, the stroller that went along with the car seat is somewhat obsolete.  I can't say I'll shed any tears over the thing.  It never quite worked the way it was supposed to, it was difficult to turn and the wheels were flimsy.
This time I decided to go for a really quality stroller.  One that could withstand some tough use, folded easily and most importantly, drive and turn smoothly and efficiently.  I was so fortunate to have the opportunity to work with Kiddy USA.  They generously offered their Kiddy Sport n' Move stroller for me to review.
Here are the basics regarding the 4-Wheel Kiddy Sport 'n Move:
"A multi-functional stroller, the Kiddy Sport 'n Move is true to the motto "3-in-one". Whether in the car, at home or on a walk, with infant carrier, carrycot seat or seat unit, you are well prepared for every situation! This stroller is suitable for all terrain due to the comfortable suspension and robust chassis, giving you the best equipment to enjoy being outdoors with your child. The 5-point harness with central adjustment and the safety bar will keep your baby safe, snug and comfortable."
Product Features
Versatility – The infant carrier, carrycot and seat unit are interchangeable and can be attached to the chassis easily (adapters available for the car seat).
Safety – The 5-point belt with central adjustment and safety bar ensures maximum safety.
Sporty – Thanks to the generous suspension and its robust chassis, the Kiddy Sport 'n Move is suitable for rough terrain.
Easy to operate – The Kiddy Sport 'n Move can be collapsed in seconds (24.4x11x37.4 inches) and without the seat unit it weights 20.4 lbs.
Standard Features – The spacious storage basket and sunshade windows (three) are standard features.
My Overall Impressions:
Let me first say that I was thrilled to receive this stroller in the snazzy silver and black color scheme.  This is a really sharp looking stroller.  I find that the black and silver colors really look crisp and modern.  My package arrived in one large box within just a few days.  Assembly of the unit was really simple.  The body of the stroller is already put together.  You simply unfold the chassis, attach the seat and wheels and you're off.  I found that it actually took more time to remove the protective wrapping on the handles and bars than it did to assemble the entire stroller.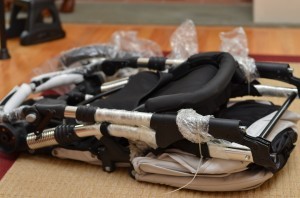 Once assembled,  I  was able to get a closer look at all the great features on this stroller.  First off, I LOVED the parking break mechanism on the back.  Simply step on the pad which is located on the bottom bar of the stroller.  It was so easy to lock and unlock the wheels!  The front wheels can be adjusted to either swivel or stay fixed.  This is easily accomplished by pushing down on the buttons on either side of the wheel.  I typically leave my wheels in the swivel position, but love that I have the option of locking them if need be for jogging.  The handle mechanism is also great.  With the push of a button, you can adjust the height and position of the handle.  This works out great for our family, as I am average height and my husband is over 6'2″.  This is actually the first stroller we have owned that allows my husband to comfortably push without having to bend over.
The stroller collapses easily by pushing a security button, then pulling backwards on the handles.  I had to practice this one a couple of times,  but now it is a breeze.  I can easily fold the stroller within a couple of seconds.
Another great feature on the base of this stroller is the extra large storage area underneath the seat.  It is very generously sized to fit diaper bags, purses, coats, etc…
This stroller comes with a  seat that fits children 20-55 lbs.  I find that this is a great range that will carry you throughout most of your stroller years.  They also offer a carrycot (similar to a pram), and adapters for car seats for smaller babies.  Car seat adapters are available for Peg-Perego, Maxi-Cosi and Chicco/Graco.  I happen to have a Chicco infant car seat that I love and will definitely be buying the adapter to fit it onto this stroller.
This stroller is a little heavier that some other models, but it is still easy to manage.  I can easily fold it and place it into the trunk of my vehicle.  I find that  the benefits of having an extremely durable stroller is easily worth the extra couple of pounds of weight.
The seat of this stroller is comfortable and easy to adjust with straps in the back.  The back position can be adjusted from upright to lying, which is great if your child falls asleep while in the stroller.  In addition, the foot section of the seat can be elevated or lowered.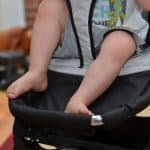 The safety bar is a great feature on this stroller.  Not only does it keep little ones safe, but my toddler just loves having something to hang onto while he is riding.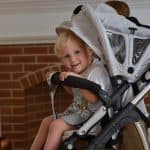 Now lets talk about how the Kiddy USA Sport n' Move actually performs.  This stroller glides like it is on glass.  We found that the ride was extremely smooth and comfortable even on rough terrain.  Turning is effortless.  This was a problem that I encountered with other strollers.  I often found that turning could be difficult or jerky.  This was certainly not the case with this stroller.
The seat comes with 3 "windows" which allow you to easily view your baby while strolling.  The can be left in the open or closed position, using the velcro tabs.  This is a really great feature that works well on this model.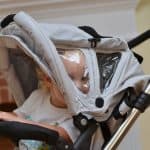 I just LOVE LOVE LOVE this stroller and would highly recommend it to anyone looking for a new stroller or travel system.  Not only does the stroller perform well and work as an all terrain stroller, but it can be adapted to be used as a travel system with your car seat.  This stroller will easily last through several children, with it's durable suspension and sturdy wheels.  Definitely check out the Kiddy USA brand for you next stroller purchase.
Kiddy USA also carries the Kiddy Adventure Pack (a structured backpack) and child seats.
You can purchase the Kiddy Sport n' Move Stroller on Amazon.  It is currently reduced to $260 from list price of $350 AND they are offering free shipping and returns!!!!  What a bargain!
I received a sample of this product to facilitate my review. All opinions expressed are my own.[ad#glam between posts]
0