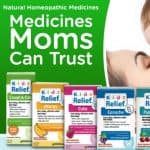 My littlest one is sick, again.  Or maybe, still.  Poor thing.  She's had a really tough winter with stomach bugs and ear infections, plus scarlet fever.  Sometimes more than one of these illnesses at once.  That's a lot for a 1 year old.  When she's not feeling well, and really, when anyone in our family isn't feeling great, I turn to natural and homeopathic remedies more and more first- like I did half an hour ago when I gave her some Kids Relief Pain & Fever and the Earache relief before her nap to keep her comfortable.  I'm fairly certain her ear infections from a few weeks ago have returned (or never went away) and she's been very uncomfortable and crabby.  We can't get in to the pediatrician until 4:45 this afternoon and she's really overtired.
Why homeopathic first?  I try to avoid chemicals out of our home and our bodies when possible.  Obviously at times there's a need for them, but if I can avoid them, I will.  Plus, there have been so many recalls on things in recent years that I would rather avoid medicines that have previously been recalled if able to.  Kids Reilef has a nice selection of products that provide relief for so many symptoms our kids can experience from 0-12!
Kids Relief™ has been trusted by mothers across Canada since 1993 and can now be found in a growing number of stores throughout the United States. Because Kids Relief™ products are 100% natural, they provide relief without the worry of harmful side effects. Homeopathic medicines are considered among the safest medicinal option in the world. There is no risk of overdose or potential negative interaction with other medicines. With Kids Relief™ your child will receive fast-acting, effective relief without the addition of alcohol, dyes and sugars. Also, you will have no problems getting your kids to take these easy-to-administer, great-tasting formulas.
Kids Relief comes in 8 different formulas, and so far we've tried the Pain & Fever (and because of our winter, had to repurchase already), the Earache Oral solution (again, had to repurchase) and the Calm Syrup, which has helped when my son's body just didn't want to quiet to settle down for nap.  I've been very pleased with these products- not just because they are homeopathic and not chemical based-  but because they are effective and I don't hesitate to offer these as symptom relief when needed for my little ones first before pharmaceutical products.  They are all dye free.  No risk of side effects.  The products each have their own color on the box that has a corresponding color on the website so you don't mix up which product you were looking for if you forget the name.  This is definitely nice if someone else is grabbing some for you when at the store who may not be familiar- you can tell them to look for the "pink" box if they forget the name.
Safe
No harmful side effects
Dye free, sugar free
No risk of overdose or drug interaction
Fast acting, effective relief
Great tasting
With products like this on the market, its getting a lot easier for parents to find options to help their children get symptom relief when needed in a more natural, safe way.  I know that more and more people in my circles are looking to go more natural and Kids Relief definitely helps to take a lot of the guesswork away and makes it easy and affordable to use homeopathic remedies in place of medicines.
Want to try Kids Relief for your house?  Their site shows you where you can purchase their products, just click here.  The products are available widely online and also are available in some natural stores and pharmacies.  I would wager a guess you'll be seeing more of the Kids Relief in more stores in the future.
I was provided with samples of this product to facilitate my review.  Opinions expressed within are my own.