Paper Jamz has new Pro Series Mics out and they are so much fun! I don't know about you, but I *AM* a rockstar…at least when I'm driving in the car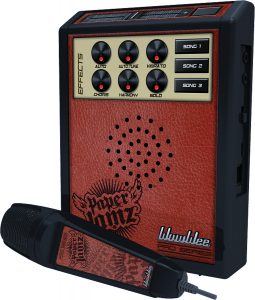 or in the shower.  Perfect tone, perfect tune, perfect pitch…so long as no one else is around.  That's why I like the Pro Series Mic so much- it kind of makes me sound all kinds of awesome, and not just when no one  is around to hear me.  I can sound like a rock star with the touch of a button.  How fun is that?  My kids of course, have been rocking out like crazy, although not with clothing on so I haven't gotten a good video (but I will share when I do!!).  I don't know why they like to rock out and have dance parties in their underwear, but they do.
 Pro Series Microphones use real-time, cutting-edge technology called Perfect Pitch™ , which allows kids (and adults!) of all ages to sing with rockstar-quality vocals. Now you can so you can sing along effortlessly with your favorite band!

Unlike other Paper Jamz products that let users make music with a touch enabled-print, the Pro Microphone is a real mic, which comes included with a small 4×2 inch box to be worn on your belt. The box acts as both an amplifier and tuner, and uses pitch detection to transform the quality of your voice as you sing, with five different modes: Solo/Duet, Auto Harmony, Auto Vibrato, Chorus, and Auto. Once you're done rocking out, simply connect the box to your computer and use the Paper Jamz to load the box with more of your favorite music from iTunes for continued play. Additionally, the Paper Jamz website has hundreds (soon to be thousands!) of songs to download, too!

PERFECT PITCH™ TECHNOLOGY
Advanced Perfect Pitch™ technology analyzes and tunes the singer's pitch in real-time, with a choice of the following modes:

Solo/Duet Mode: Sing with the artist or become the artist by turning the original vocal track ON or OFF
Auto Harmony: Doubles or triples singer's voice and shifts pitch to create perfect harmonies
Auto Vibrato: Adds perfect intonation and pitch variation
Chorus: Multiplies singer's vocals to add depth
Auto: Recreate original sound of song with real-time effects control

DETAILS AND WHERE TO BUY
The Pro Microphone comes in 3 colors: pink, neutral, and grey, and retails for $29.99. The mic will be available starting in July at Walmart stores. The product will also be available at Target this summer.
I can see many hours of fun with the kids and with just me and the Pro Series Mic!  I can't wait to get more of our iTunes songs onto it so we can see how far our talents expand…

One of my readers will try a Pro Series Mic for themselves!
Mandatory Entry: Leave a comment with your name and be sure to use a valid email address in the comment form so that I can reach you if you've won!!
Extra Entries:
Like Paper Jamz on Facebook
Follow me on GFC, Facebook, Twitter or RSS/Email Subscription (+1 each)
Share this giveaway on any social networking site (leave URL of your post please!! hint: right click the time stamp!!) #win a @PaperJamz @WowWeedotcom  #girls #boys Pro Series Mic from @mamatomjr https://www.thismamaloves.com/?p=9133 (can be done 2x day at least 1hour apart)2x/day at least 1 hour apart
This giveaway will end on at midnight August 21, EST. US only. Winner to be chosen randomly. Winner has 48 hours to respond to my email or a new winner will be chosen.
I received samples of these products through my affiliation with MamaBuzz. Opinions expressed within are my own.
0