This is a new-to-my-family recipe that I came up with – we are going to call it Kielbasa, Potato, Pine Nuts & Bacon (with a little spinach) by Taste of Home's Kielbasa Potato Skillet but altered due to what was available in our house.  I was expecting all of us to like it, I mean- it's kielbasa and potato with bacon.  That's a lot of things to like.  I wasn't expecting the whole family to want seconds- thirds- and fight over who got leftovers to bring for lunch!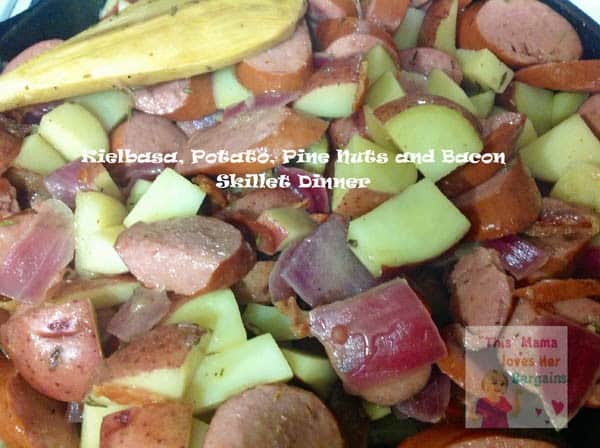 What you need:
1 pound red potatoes, cubed
3 tablespoons water
2 Kielbasa (Kielbasae? Kielbasas?)
1/2 cup chopped onion (The kids and I are not onion fans, although I love the flavor they add to dishes. I don't chop the onion, but leave it large- then it's easy to pick out!)
1 tablespoon olive oil
2-3 tablespoons brown sugar
2- 3 tablespoons apple cider vinegar
1 -2 tablespoon spicy brown mustard
1/2 teaspoon dried thyme ( I went heavier- did almost a full teaspoon)
1/4 teaspoon pepper
4 cups fresh baby spinach (I'll call this one optional- we didn't have it, I didn't use it.  I bet it would be good)
1/2 to 3/4 c toasted (roasted) pine nuts
5 bacon strips, cooked and crumbled (Listen, I'm not going to judge you if you do 6. or 7.  It's bacon!)
What to Do:
Place already cubed potatoes and 3 T water in a microwave-safe dish. Cover and microwave on high for 4 minutes or until tender; drain. (I cut them pretty small- they cook faster, but it also means I don't have to cut again for the kids)
In a large skillet (I like to use my cast iron skillet for dishes like this- it's a super easy way to add iron to your diet), saute kielbasa and onion in oil until onion is tender. Add potatoes to skillet and cook 3-5 minutes, stirring frequently.
In a separate dish, toast your pine nuts- set them aside to toss at the very end.
Add vinegar, mustard, thyme, brown sugar and pepper to skillet- stir to coat.  Bring to a boil. Reduce heat; simmer, uncovered, for 2-3 minutes or until heated through. Add spinach and bacon; cook and stir until spinach is wilted.  Add pine nuts, stir  and serve.
Do you have other Kielbasa recipes? I'm always looking for new ways to cook it- it's one of those things I always keep in the freezer for last minute meals.  I'd love to have more ways to prepare it!