If you haven't met them yet, we have two new family members in our house.  They are brother and sister, born in early June of this year, and their names are Rosabeth (named by our 4 year old) and Lloyd (as in LEGO Ninjago Lloyd). We recently got some Fresh Step 
cat litter
to try with them at Sam's Club.  We've never actually had two cats before and, well, the um…litter needs are much greater now than they were with our other cats.   Pleasant?  No.  Necessary? Yes.
I haven't ever gotten cat litter at a club store before.  In case you are wondering, it's heavy.  So plan accordingly.  The Fresh Step has a cool handle on it that makes it easier to carry, but it doesn't actually make it lighter.  You're still going to be lifting 42 lbs of cat litter.  I am pretty happy with the packaging, because it was a bag and I can toss it right into the recycling bin when we're done with it (and of course, AFTER I enter my paw points!) With the boxes we've gotten previously, there's the breaking down of the box and we've never had any kind of rewards points from buying litter- that's a sweet bonus!  We always got what was on sale and never had any issues with the litter box odor or anything before. with either of our other cats.  Now? With 2?  So totally not the case.
When the kittens are happy, they let us snuggle with them and play.  I've tried to do some catbearding with them, although with my big head (ha!) and their little tiny heads, we look a bit silly… I guess that's what catbearding is all about!?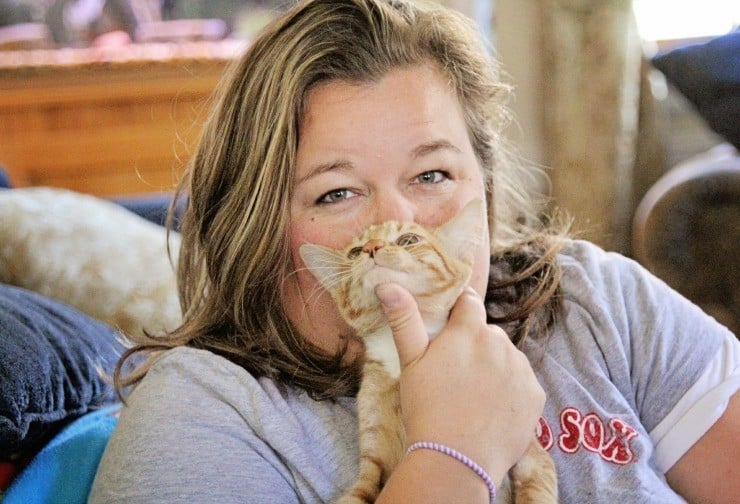 That's me with Rosie (Rosabeth) above.  She's not really keen on adults holding her- although she lets the girls tote her around in baskets and carry her around all day.  She's our feisty little peanut who's always getting stuck in unfortunate places.  She's good for laughs and really likes to chase the vacuum hose.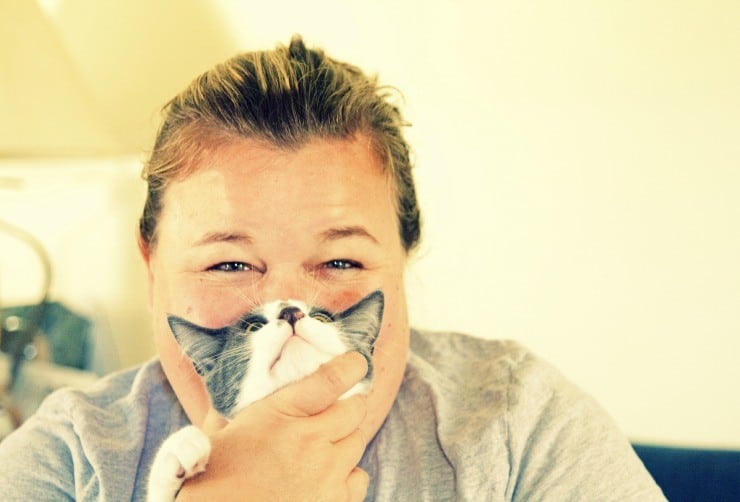 Lloyd's a pensive little kitty.  This was as beard-y as he was going to get.  Or is.  We've tried many times.  You can almost see his eyes pleading to please, bring me to a less crazy house.  Almost. He's actually my little love bug.  Once the kids go to bed, he'll come snuggle with us- but if YOU ever try to pick him up or snuggle him first?  He'll bolt.  He's all about doing things on his terms.
I'm happy we've discovered Fresh Step– with our small house and no dedicated laundry room, the cats' litter box has to live in our breezeway, so we don't want things to be getting stinky in there.  We use the breezeway 99% of the time going in and out of the house and we don't need people thinking we're a stinky cat family. Fresh Step has carbon and borax in it to help absorb odors naturally- and essential oils to add a fresher scent.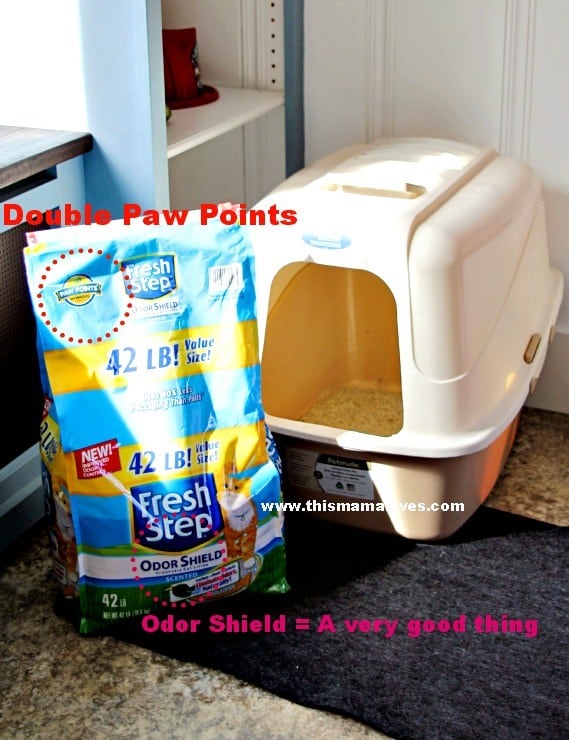 Essential oils have been found to stop the growth of odor-causing bacteria, as well as inhibit mold growth.  Both paw-activated and moisture-activated, essential oils eliminate odors on contact, "blooming" to create a shield against bad odors.  Certain components of essential oils bind with malodors to create a new, larger molecule with no odor—essentially neutralizing bad smells as well as airborne bacterial odors.
Head to Fresh Step before October 31st to get DOUBLE paw points on your purchase!
 When you go to redeem your points, choose Sam's Club in the drop down menu and enter your code.  That's it.  Easy, peasy.
Have you been doing any catbearding? I'd love to see your pics!!  
0