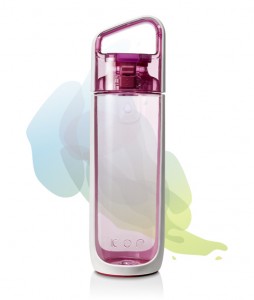 I have a lot of water bottles in my house. So many, in fact, I may have been asked to not get any more. I did manage to sneak just one more in- but in my defense- it's pink…and I don't have a pink water bottle for me. So it was a necessity. PLUS, the KOR Delta Hydration Vessel I received- it has a slim design- and I haven't yet found a cupholder it doesn't fit perfectly into. I have several other water bottles I've tried and they don't always fit into cupholders…which drives me insane.
I like the look of this water bottle. I really like the cap design, because it keeps the germs at bay. The handle is actually a reference to the Greek symbol for change, which I think is unique and different. KOR bottles have "KOR Stones" that you can slip into your cap for inspirational words to see when you get ready to take a sip of your water. These are features that while aren't part of the functionality of the product, serve to make the product stand out.
I love my new pink hydration vessel (I will probably still call it a water bottle, though). I may even get a few more for gifts. I think they are kind of cool in design and I like the look of it. Plus, they are all BPA free which is very, very important around my house!
One reader will win a Delta Hydration Vessel like mine in the color of their choice (based on availability)


I received a sample of this product to facilitate my review. Opinions are my own.
0