My kids and I were only introduced to Build-A-Bear over the summer, and all of us were instantly hooked. Snuggly, furry friends, adorable apparel and accessories, and tons of fun? Yes, please!
Build-A-Bear does it "right."  They have a great price range, frequent specials and top quality products.  They have products that when purchased, benefit certain organizations and charities.  They have fun, stylish clothes, the hottest character themed products, and great accessories that will allow your little- and not so little- ones to dive deep into dramatic play.
I think I've mentioned we'll be going to Disney sooner than later, and we're telling the kids on Christmas Day about the trip.  Part of that will be hinted in a lot of the kids' gifts- Santa's bringing each a new Build-A-Bear friend, but each new furry friend will be wearing something Disney-The girls' bears will be in princess gear, and my son's in either Darth Vader or Buzz Lightyear.  It's so much fun to have a "themed" holiday!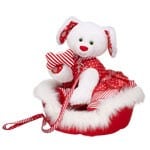 Build-A-Bear Workshop Offers New Seasonal Gifts and Personalized Furry Friends for All
This holiday season, Build-A-Bear Workshop® has great gifts for everyone's wish list including a new collection of furry friends with sweetly scented accessories, classic Christmas characters, gifts that give back and unique stocking stuffers.
Starting November 1, Build-A-Bear Workshop will sweeten the season with its new line of festive gifts with fragrant accessories.
Limited Edition Merry Mint Pup ($20) dressed in a stripes & dots dress ($8.50), red & white striped flats ($7.50), red & white candy stripe bows ($2.50), and stripes & dots leash and collar ($5) comes with a mint-scented bone. Complete this tail-wagging gift with a red & white pet bed ($12).
Give a real treat with the adorable limited edition Christmas Cookie Bear($20). This friend is perfectly present-able dressed in a candy cane tulle skirt outfit ($12.50), red & white candy stripe bow ($2.50) and red & white striped flats ($7.50) and comes with a vanilla-scented sugar cookie.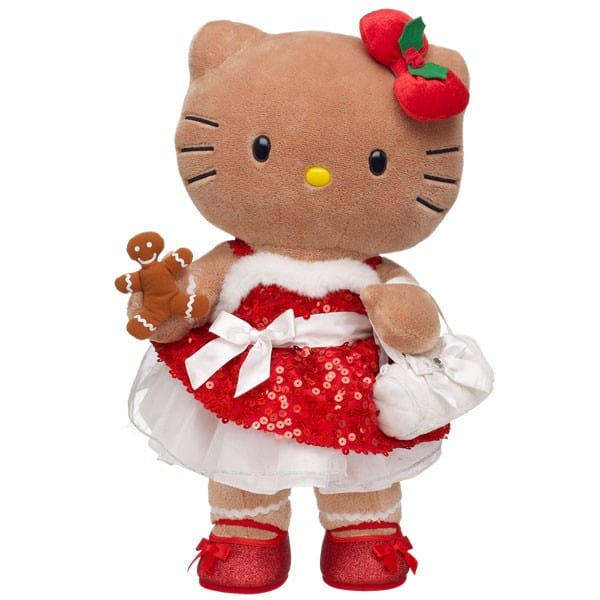 For the first time ever, Build-A-Bear Workshop is introducing GingerbreadHello Kitty® ($23). This world-famous friend is ready to spice up the holidays dressed in a red sequin faux-fur dress ($12.50), white faux-fur trim purse with bow ($5) and red heels ($7.50), with a gingerbread-scented cookie. This friend makes a fashionable gift!
All of these furry friends include a scented accessory that captures the delightful smells of the season. These super sweet-smelling friends combine comforting holiday scents with warm hugs to create a unique gift for children, and adults (who are kids at heart).
Festive Friends
Christmas classics are always on trend, so back by popular demand, you can make your own Rudolph the Red-Nose Reindeer and Clarice.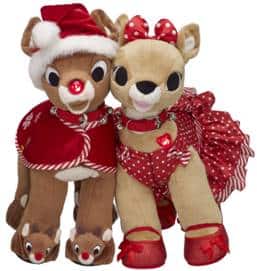 Give someone special a make-your-own Rudolph the Red-Nosed Reindeer($23); with light up nose and heart, he is sure to brighten the holidays. Dress him from head to hoof in a red holiday cape ($6), Rudolph slippers ($6.50) and bell collar ($4).
Make-your-own Clarice ($23), the beary special friend of Rudolph the Red-Nosed Reindeer, has a light up heart and wears a stripes & dots dress ($8.50), red bell collar ($4), and red glitter flats ($7.50).
This duo makes the perfect gift. Add Rudolph and Clarice's beary special song for $6.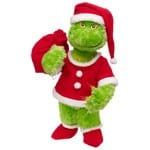 The Grinch ($23), another holiday classic, knows the true meaning of Christmas. He has a heart that lights up three times, which can be seen through his signature outfit, priced right at $13.50.
Give Christmas cheer with Santa Claus, shown here as Happy Hugs Teddy ($15) dressed in a Santa Claus costume ($12.50), Santa beard ($1.50) and black rubber boots ($7.50).
Give a gift that gives back with Champ-A Champion Fur Kids™ ($18); $1 from the sale of this furry friend supports children's health and wellness causes. Shown in a Mrs. Claus dress ($12.50) and red flats ($7.50), she is ready to help make wishes come true.
Celebrate the Festival of Lights with Vanilla Cream Bunny ($20). Dressed in a blue tiered lace dress ($12.50) and black patent bow heels ($7.50) she is sure to bring smiles all eight nights and all year long.
Lil' Bunny Big Ears ($14) and Cheerful Monkey ($18) will stand out under the tree dressed in these traditional elf costumes ($10.50) and matching elf hat and shoe set ($6). Lil' Bunny Big Ears is shown here accessorizing with red striped bows ($2.50) and red striped flats ($7.50).
Looking for super chill presents? Check out Pink Flurry Teddy and Happy Husky that popped in just for the winter season. These cool friends can be dressed in winter clothing and warm accessories. Pink Flurry Teddy ($20) dons her favorite fairisle dress ($10.50), fairisle Nordic hat ($5), fairisle purse ($5) and fairisle fur trim boots ($9). Happy Husky ($20) is cool in a snowboard hoodie ($7), snow pants ($6), silver sport sunglasses ($4), red & silver swirl snowboard ($10), and black rubber boots ($7.50).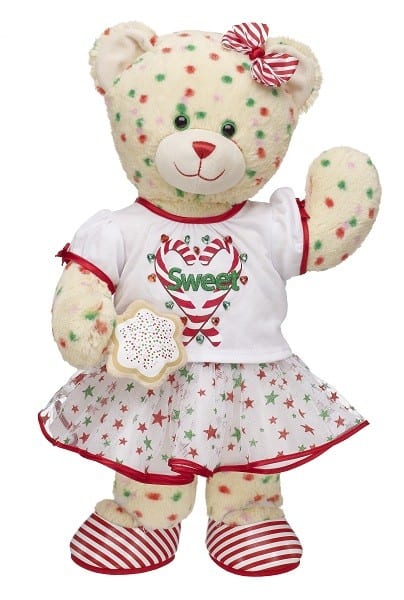 One USA/Canada/Puerto Rico or UK/Ireland reader will win a Sweet Santa Sugar Cookie Bear as pictured above!
To enter, visit www.buildabear.com and tell me your favorite accessory or outfit for a furry friend.
Want extra entries?
Visit this post and click on any of the trackable links (or images) +1 entry can be done daily

Leave a comment on this life insurance post
Share this givewaway on ANY social networking site (one share per network per day just leave a sep. comment for each)
Leave a comment on this post
This giveaway will end on December 20, 2012 at 11:59pm EST. US only. Winner to be chosen randomly.
I will receive some items from Build-A-Bear to thank me for taking the time to share this. Opinions are my own.
0