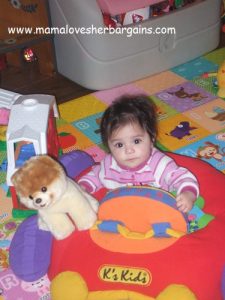 Is Mom one of the millions of Boo fans, or just a dog lover in general?
Boo, the Internet sensation, dubbed the "World's Cutest Dog", with over 4 million Facebook fans  and the star of his own book, calendar and YouTube videos, is finally available in plush for fans to love at home! The GUND version of Boo is the spitting image of the famous Pomeranian…right down to his lovable smile! 
How can you resist Boo's puppy dog eyes and cute smile?  I know I couldn't when I first laid eyes on him a few years back.  Being a huge dog lover, especially little ones, my husband surprised me with a Boo Calendar back in 2010, which made my heart melt.  Even though that calendar year is over, I kept the photos of Boo, and have a few hanging in my office, next to our three rescued dogs.  Unfortunately, this past May, we had to put our oldest dog, Manny, down, so we are left with two little girls.  As I am greeted each and every morning by Abby and Lily as I head into my office, I can't help but glance up at my cork board and see Manny's photo.  But, before I can get sad, I sneak a peek at Boo, who is right next to Manny's photo, and find myself smiling.  Boo is so cute and lovable, and helps to remind me of all the great memories we had with Manny.
So, when I found out that GUND was offering a Boo plush, I had to see this fluff ball up close.  The kind folks at GUND sent me Boo to review, and as soon as I took him out of the box, a smile came across my face.  He is just as adorable up close, as he is in the photo above.  I have seen many Pomeranians in my life, but none as cute as Boo.  I found a place for this cuddly plush on a shelf in my home office, but find that when my daughter, Savannah comes to visit, she ends up walking out with Boo, to snuggle with.
Even though we have only had Boo the plush from GUND for a few days now, this plush toy has become a hit in our office, and has brought many smiles.  And, with Mother's Day right around the corner, this Boo plush would make for a great gift for any Mom!  She doesn't have to be a Boo fan or dog lover to appreciate this adorable and cuddly plush. For more information on Boo and other GUND products, go to: www.gund.com
—BUY NOW—
For more information, or to purchase GUND's plush Boo go to: http://shop.gund.com/products/productdetail/BOO+-+The+World%27s+Cutest+Dog/part_number=4029715/753.0.1.1.1008855.0.0.0.0?pp=12&  (Retail value: $20)
Disclosure:  I was sent a sample from the vendor in order to write up an honest review.  The views above are mine and mine alone.
0