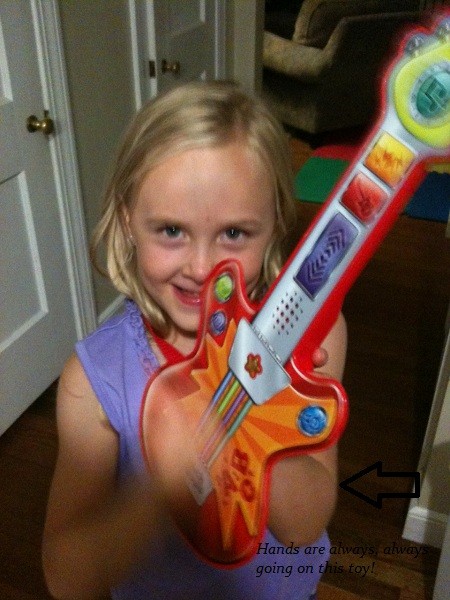 Leapfrog has been a go-to brand for many kinds of toys since my oldest was a baby.  The Leapfrog Learning table has been purchased by us many times for gifts, and probably will continue to be for a very long time.  It isn't the only thing we've loved by Leapfrog, but it's one of the earliest…and will always have a place in my heart. We recently got to check out the new Touch Magic Rockin' Guitar and Touch Magic Learning Bus from Leapfrog, and I have to tell you, these are MARVELOUS toys.
Basic info about the products:
Rockin' Guitar: Ages 3+, $24.99 SRP
Little touches. Big learning.™
• Amp up the learning fun and create and perform music while building motor skills and confidence!
• Includes guitar, percussion and special effect sounds—even applause.
• Ten different learning songs let little musicians layer in sounds and create their own unique music.
• The Touch Magic Rockin' Guitar is appropriate for children ages 3+ years.
• Parents can connect to the online LeapFrog® Learning Path for customized learning insights and ideas to expand the learning.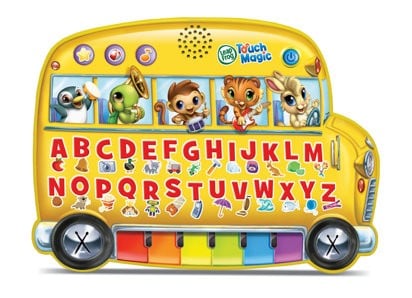 Learning Bus: Ages 2+, $24.99 SRP
Little touches. Big learning.™
• Hop on board for fun with the alphabet, early vocabulary, motor skills and learning songs!
• Make a movement or touch a sensor to activate the bus and get the learning journey rolling.
• Switch between 3 modes: Learning, Letter Exploration and Music, which includes fun sing-along songs about the alphabet, motion and more.
• The Touch Magic Learning Bus is appropriate for children ages 2+ years.
• Parents can connect to the online LeapFrog® Learning Path for customized learning insights and ideas to expand the learning.
My take, and that of the other moms at my party, and who I've told?
The WHOLE Leapfrog Touch Magic Line? A germ-obsessed mom's dream toy line.  I heard this over and over, and thought it myself.  With a flat top, and virtually no buttons "raised" up to get icky or germy, cleaning these toys is simple, and will really, really stay germ free.  I found it funny when we had our party and again as I write this how the germ thing came up over and over.  Sure, the technology is super cool, the volume is adjustable (and Leapfrog, trust me, when I tell you this is appreciated by any parent EVER)….but no little cracks or crevices for dirt, and sticky stuff, germs and goo to get stuck in?  You have hit a parental goldmine, folks.   I know I'm being silly, but I'm so serious.  A line of toys we can let the kids share with other toddlers, and preschoolers, without cringing at the germ sharing.  Parents, rejoice!
The Rockin' Guitar is cool, simply because it's a guitar.  With a strap.  Just like one for grownups. You can do all kinds of cool "stuff" with the guitar, and while the music is kid-friendly and appropriate, kids feel like they are really "rocking out."  Safety is on the minds of Leapfrog- the strap detaches quite easily so that when your kids are fighting over whose turn is next, the strap will release without hurting your little one's neck.  Leapfrog toys are always built to hold up to energetic play, which is good, because I foresee many, many future rock stars jumping off of couches, chairs, tables and furniture to embellish their rockin' ways.  It's a good thing I like the song Rockin' Robin because it seems to be the one that the kids like to play over, and over and over and over…and over again.  It's all fun, and the kids get so excited to be rock stars, I don't mind it.
The Learning Bus is very cool, and geared toward the younger friends.  It didn't get as much playtime, because everyone wanted their hands on the guitars, but it's an excellent toy also holding up Leapfrog standards.  Lots and lots of ways to interact with the toy, parents can check in and see what their child's been learning, and really, just a whole lot of fun to play with.  The littler ones who have come to play do like to play with it, although if there are two or more kids here, they kind of just start pressing the screen like crazy.  But that's how toddlers are anyway!
I have already decided we are going to get one of our little pals the Touch Magic Counting Train, because he's in love with trains and his mom hates germs.  It's like the perfect present for both of them.
Thanks to Leapfrog and MomSelect for sending the party supplies for our Touch Magic Party.  We had a blast and so did our friends who joined us!