I have seen the learning tower in advertisements throughout the years but never payed them much mind.  However, as the weather has turned cool and I have taken to indoor crafts and activities with my children I have noticed that our kitchen time has become a little disorganized (And sometimes dangerous).  My two older children will usually scootch our big heavy kitchen chairs over to the counter when it is time for cooking or crafts (scratching my wood floor along the way).  Someone will inevitably fall off their chair or end up sitting ON the counter.  Not a good situation.  So when the VERY generous and extremely friendly folks at Heirloom Wooden Toys offered me the opportunity to try out their Learning Tower AND offer a giveaway to one of our readers, I literally jumped at the chance (yes I really did jump for joy).  They even sent along the play house kit to try out too !
Not only did I find the people at Heirloom Wooden Toys extremely pleasant to work with, my items were shipped promptly.  They arrived in perfect condition and oh are they gorgeous!
The learning tower comes in a variety of finishes.  After much deliberation I decided on the ebony color.  Since I assume that this item will become a permanent fixture in my kitchen it might as well match the appliances.  There are also natural wood finishes as well as some funky colors that could look really cute.
A word on assembly: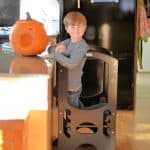 This is a fairly sizeable piece of furniture and I was a little concerned about the assembly but it was a snap.  They even supply you with the hex wrench.  My husband had it assembled in about 10 minutes with no problem.
My thoughts:
Although large, the learning tower fits perfectly next to my kitchen island.  It comes with a platform for standing on and I love that is easily moved to different height positions.  The kids LOVE this thing.  As soon as it was assembled they jumped right in.  It is easily large enough to fit both my 5 and 2 year old.  This is the hardest working piece of furniture in my house.  The kids help me cook in it, we do crafts in it, they eat their lunch standing in it at the counter and my older son even grabbed a pillow and took a nap in it!  I love that it not only enhances learning opportunities in the kitchen, but it brings me closer to my kids.  They just love hanging out with me while I am cooking or cleaning up.  Before, they could never quite see what was going on.  The kit even came with a splat mat that can be placed underneath.  This would be handy for messier crafts, but I find the opening underneath is generously sized and I can easily get a broom underneath it to clean crumbs.
The playhouse kit that attaches to the tower adds a whole new dimension of play.  Just attach the roof pieces and curtains and you have an instant puppet theater, lemonade stand, playhouse or anything else your little ones can dream up.  What a great way to encourage imaginative play !  I can't wait to try out the art kit which comes with a chalkboard and whiteboard for the sides of the learning tower.  Great for the budding artist.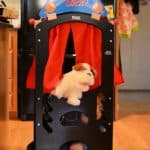 Our readers are just in time to check out the annual 10% off sale at Heirloom Wooden Toys. Starting this Monday November 14 and running through December 11th.  They have the Learning Tower (hurry the play kits are running out) and many other natural toys that would be great for gift giving this holiday season.
In addition, sign up for their newsletter for great deals and product information.  Follow them on Facebook and Twitter too.  FYI Bargain Hunters:  If you sign up for the newsletter through these links you will receive special discounts and a $10 coupon!  Heirloom Wooden Toys has their own great blog as well, with tons of great kids gift ideas for the holidays.
AND
Don't forget to enter our giveaway for a Learning Tower (US Only)!  Winner will receive a Learning Tower in the color of their choice.
---
I received a sample of this product to facilitate my review. All opinions expressed are my own.
0