This post is sponsored by BIC. Opinions are my own.
Happy Left Handers Day! I'm the only true lefty in my family, although my mom was born left handed…and my father in law is one as well.  But none of my kids are, although each has a few things they do left handed (batting, cartwheels, etc). If you are left handed, you know some of the struggles of being one. Smudged papers, constant smudges of ink or pencil on the left pinky…fun mugs that face the wrong way, scissor struggles…can openers, credit card signature tablets… the list goes on and on of things that we lefties deal with. When our friends at BIC emailed me about a new survey they did for left handers day…and said they wanted to send a surprise, I HAD to say yes. A day to celebrate my left hand? YES PLEASE!
The most annoying part of being a lefty to me has ALWAYS been the smudging on my hand. It still happens. It happens when I'm writing a letter, making a list or signing a document. SO ANNOYING, amiright, other lefties?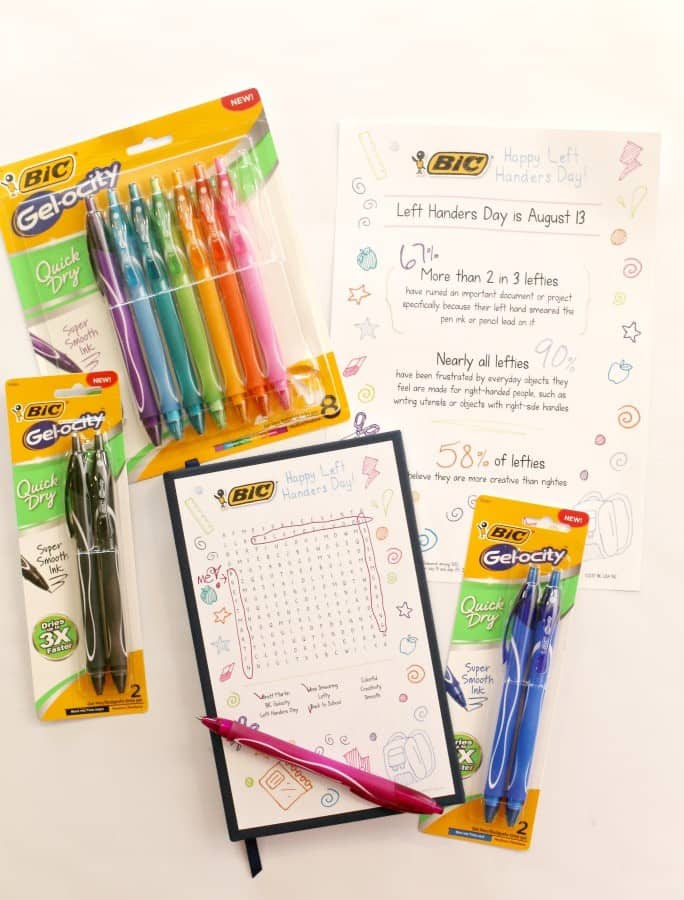 To celebrate Left Handers Day (August 13, 2017), BIC commissioned a survey* that revealed the day-to-day struggles and feelings on being a "leftie". Findings include:
Two-thirds of lefties (66%) frequently feel frustrated by everyday objects that are made for right-handed people, such as writing utensils or objects with right-sided handles
More than two-thirds of left-handed Americans (67%) have ruined an important document or project specifically because their left hand smeared the pen or pencil on it
Interestingly, that figure is higher for millennials as 80% of millennials surveyed recall a time that an important doc was ruined thanks to the smear
58% of lefties believe they are more creative than right-handed people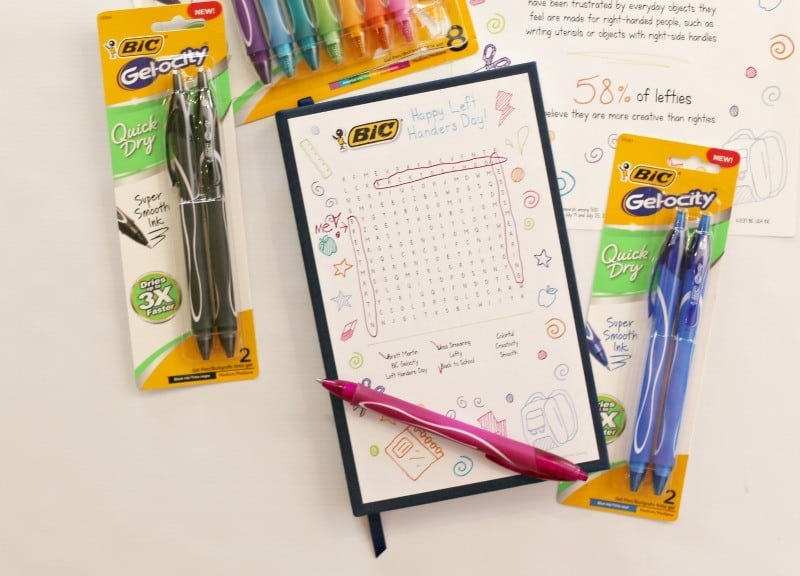 Luckily, BIC has created the new Gel-ocity Quick Dry gel pens that dry 3x faster** and come in a variety of vibrant colors for less smearing and more creativity! Please note: they have PINK and that makes me happy. After all, it doesn't matter whether the pen sits in your left hand or your right – it's the final creative product that counts! And now, thanks to the new BIC Gel-city Quick Dry pens, what you've created, stays created.
*The BIC® Handwriting Survey was conducted by Wakefield Research (www.wakefieldresearch.com) among 500 left-handed U.S. adults, ages 18 and older, between July 19 and July 25, 2017, using an email invitation and an online survey.
**vs. BIC® Gel-ocity® Original, based on average dry times of blue, black and red. Individual dry times may vary by color