This post brought to you by Walmart. The content and opinions expressed below are that of this mama loves.
Driving around doing errands this morning, going to swim lessons, eating lunch, visiting my dad, stopping for fresh corn today, I counted seventeen times I needed to wipe something or someone off.  That's only since we left home this morning.  Life isn't always neat and tidy, no matter how hard we try, and as a mom, I try to be prepared for those times.  Angel Soft® facial tissues are now available at Walmart in flexible, water resistant, durable packs. That means I can keep them in the van, the swim bag, the kids' backpacks, without worry that a little wet towel or water bottle leakage will ruin the whole pack. It also means I'm prepared no matter if I have my own bag, or just the kids, because I always insist they each have a pack of tissues in their bags as well.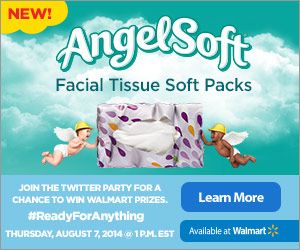 Angel Soft® tissue packs conveniently fit in your purse, camera bag, backpack, coat pocket, etc., making them available at home and on the go. That means they are at hand when you need them, on the go, when you don't have all of your supplies from home on hand.
Since many of life's little messes seem to happen before, during or after school… and its August, back to school time, we hope you'll join us for the…
#ReadyForAnything Twitter Party
, 
Dates: 08/07/2014
Time: 1:00pm-2:00pm EST
Host/CoHost:@FamilyFocusBlog/@BrettBMartin
Prizes: $1000 in prizes! (4) $50 Walmart gift cards, (4) $75 Walmart gift cards, (2) $100 Walmart gift cards and (1 grand prize) $300 Walmart gift card
RSVP:
Must attend party to win, winners announced throughout party.
First time at a Twitter Party? Check out these first-time party tips! http://bit.ly/18onQgl
This is a sponsored post written by me on behalf of Walmart. All opinions are 100% mine.