What can I say about Lilac Denim other than, WHERE HAVE YOU BEEN ALL MY LIFE! I am not kidding when I say that this particular pair of jeans is THE number one item in my maternity wardrobe. I have thrown all my other maternity pants by the wayside in favor of these. In fact, when I am forced to wash them, I am jonesing to get them back as soon as possible.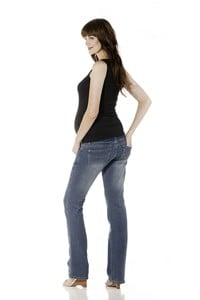 We have all experienced the inconvenience of maternity pants. First there is the decision of short panel, full panel, side panel or belly band. Then, I find that whatever style you choose, those puppies start scootching down approximately 30 minutes after you put them on. This, combined with the strange "elastic jeans" fabric that they have devised for maternity jeans nowadays, means that the crotch of the pants is located somewhere approximating your knees by lunchtime. You also have to wash and dry those pants every other day just to keep the shape.
Well, enough of my rambling. Your maternity jeans experience will be transformed by the denim from Lilac Clothing. I can honestly tell you that I put these pants on in the morning and didn't give them another thought until I took them off at the end of the day. I did not hike, pull or otherwise adjust these jeans one single time. Not even once! The type of elastic in these jeans was different than I have experienced in other jeans. I don't know how, but they just didn't stretch out, while at the same time were extremely forgiving and comfortable. In fact, I wore them 3 days in a row (a little gross, I know, but I just couldn't surrender them to the washing machine), and they fit just as snugly as day one.
These jeans are full panel, my favorite style even in early pregnancy. They just stay put better, in my opinion. I love that Lilac Maternity countoured the seam between the top of the jeans and the bottom of the panel. It doesn't go straight across like most other jeans, but is cut so that the band does not show under your maternity top.
Another perk, these jeans are also advertised as a "Tummy Trimmer". Meaning that they can be used before or after pregnancy to smooth out that "muffin top" and improve the fit and look of your clothes. What a great idea! I'll be holding on to mine for that post partum period when that lower abdomen look like any variety of bakery item peeking out above my jeans.
Did I mention the sizing? It's right on. My pre preganancy size is a 4, but I tend to gain a lot of weight when I'm pregnant, so I went up one size. They're perfect, but I really could have gotten away with the smaller size too. My only problem now? The weather is getting warmer and I need some capris. I'm addicted now, there's no way I can go back to those other brands. I guess I'll be placing my order soon.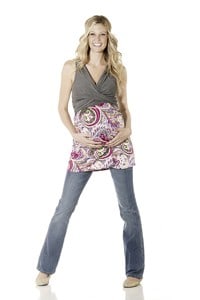 Jen Top
Lilac Clothing doesn't just carry denim. They have some of the most gorgeous maternity tops and dresses that you've every seen, in addition to camis, shorts and capris. I am in LOVE with the Jen top. Isn't it perfect? I NEED this top! I think it would just look perfect paired with the denim. They're Spring/Summer 2011 line is fantastic, you will want to check it out. They are all about bright, fun colors. All of their clothing is made from light, breathable material that is a dream to wear. I love that you can dress up or dress down all of their pieces. In addition, their pieces are versatile enough to wear before, during and after pregnancy. Here's a Mama's Bargain tip: Lilac Clothing often has a Deal of the Day that gives an exclusive savings of 50% off items! Just like them on
Facebook
to be notified of daily deals.
Here the best part.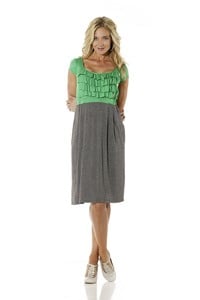 One reader is winning their own pair of Signature Tummy Trimmer Denim for Lilac Clothing!
Believe, me you WANT to enter this giveaway! Giveaway is open to US and Canada residents.
Mandatory Entry:

Like Lilac Clothing on
Facebook
1.  Visit
Lilac Clothing
and tell me which item you like the best.
2. Follow me on GFC, Facebook, Twitter or RSS/Email Subscription (+1 each)
3. Share this giveaway on any social networking site (leave URL of your post please!! hint: right click the time stamp!!) 2x/day at least 1 hour apart
4. Leave a comment on any non giveaway post +1/post up to 5 comments
5. Tweet this giveaway: #win denim @Lilac Maternity umbrella from @mamatomjr @jendpt http://wp.me/p1qA6G-OI (can be done 2x day at least 1hour apart)
This giveaway will end on June 1, 2011 at midnight, EST. US only. Winner to be chosen randomly. Winner has 48 hours to respond to my email or a new winner will be chosen.
I received a sample of this product to facilitate my review. All opinions expressed are my own.[ad#glam between posts][ad#glam between posts]
0