So here we are, a month after starting the Listerine Oral Care Challenge, and I'm sitting here with heathier teeth and gums…and waking up with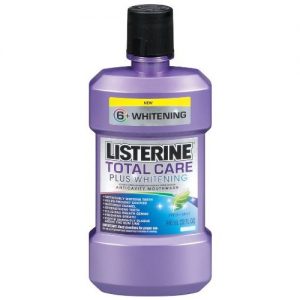 better breath.  (We refer to morning breath as dragon breath…although I feel like mine's more like baby dragon breath instead of what it was before, which was more akin to a really-old-dragon-with-lingering-illness-breath).  Happily, so is my 6 year old- and because they emulate their big sister, my 2 and 4 year old have been even more excited to brush than ever!!  It hasn't been as rough as I thought, although having a chart for my daughter and I to fill in helped (which had a run-in with some green cookie icing and didn't make it into pictures)…as did having a 6 year old holding my accountable.  We're kind of having fun, having our own little brushing parties.
After five weeks, here's my take.  I still don't like the taste of Listerine.  It's too strong.  I want to, but I don't.  So I use the kids' stuff.  BUT I'm trying to use the Listerine every few days, because I know it has so many great benefits for my oral care…so that counts for something, I imagine.  Even though I don't like the taste of Listerine, I like what it does for my mouth, and I'll keep using it because of that.  My husband has been using the Listerine and he agrees that it is a very strong flavor but he's far able to deal with strong flavors.  (He's also less picky with foods than I am…perhaps that's related?)  I love that it protects my teeth at night!!
My daughter is very generous except with her pink sparkly Barbie rinse, so I've been using the Phineas & Ferb Smart Rinse that we received.  My 4 year old claimed the Batman (and he is able to rinse and spit so I let him use it with close supervision) for himself.  Check out the printable $1.00 coupon you can get from Listerine!!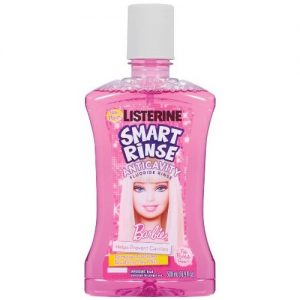 The kids are really into the fun care products that are geared toward "big kids" with the Batman, Barbie, Phineas & Ferb themed brushes and rinses.  ANYTHING that gets kids into and wanting to take care of their teeth and gums is worth every penny in my book!!  I hope they come out with some fun shaped flossers to go with the brushes and rinses- THAT would be cool.  What little guy who loves superheroes won't want to use Batman to floss?  Genius!  For those of you who aren't into or don't want the characters included- there are products without characters on them.  For the stages my kids are in, the characters are a huge help in motivation so I'll keep on buying those!
Being more aware of what we are doing for our oral care has helped everyone in my family to take better care of when and how we brush, floss and use rinses.  Santa even tucked some flossers, toothpaste and new toothbrushes (or toothbrush heads in my and my husband's case) into our stockings to keep the excitement.  Growing up, my parents never really talked much about us about anything except "brush your teeth before bed and when you get up in the morning" and here I am, with my own kids, who ask for flossers so they can sit and floss while watching tv shows, reading books, or even in the bathroom while someone else brushes.
I wrote this review while participating in a blog tour by Mom Central Consulting on behalf of Listerine and received a sample to facilitate my review and a promotional item to thank me for taking the time to participate.
0