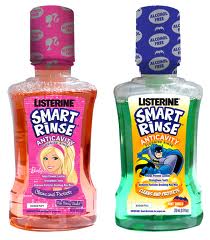 As a Mom I always want to be sure my son goes to bed with clean teeth.  Sometimes the brushing gets rushed due to a cranky child or a cranky parent.  This product has made my son excited to brush every night so he can follow with his Batman Smart Rinse.  When the bottle arrived he was so exited to see that it had Batman on the label.  We left for a family vacation the next day and the one item he kept making sure was packed was his Smart Rinse.
LISTERINE® SMART RINSE® is a post-brush mouthrinse especially designed for kids to help protect teeth against cavities and clean the mouth beyond brushing alone.
The primary benefit of LISTERINE® SMART RINSE® is the fluoride offered – an important ingredient to help provide extra cavity protection. And because it's from the makers of LISTERINE®, SMART RINSE® kills the germs that cause bad breath too.
Unlike other fluoride rinses, LISTERINE® SMART RINSE® works like a magnet to attract the particles that brushing may leave behind and tints the particles –leaving proof in the sink of a cleaner mouth.
LISTERINE® SMART RINSE® is not intended to help prevent or reduce plaque and gingivitis.
Save $1.00 off any Smart Rinse!
I received a sample of this product to facilitate my review.  Opinions expressed within are my own. 
0