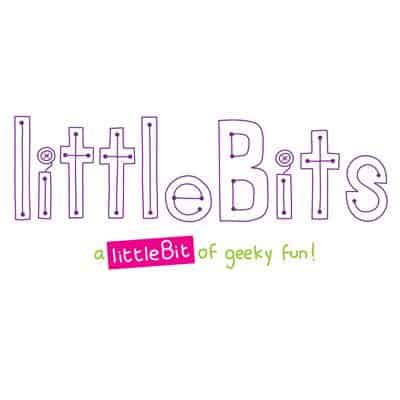 I am SO excited to share this new product with you! If you have a budding engineer in your family you are going to want to pay attention to this! Through my internet search to find a fun and unique toy that would spark the interest of my grade schooler, I learned about Little Bits. What are they you ask? Why only the most awesome electronic modules that snap together with magnets! They can be used for prototyping, learning and fun. Sound geeky? Good, it's supposed to!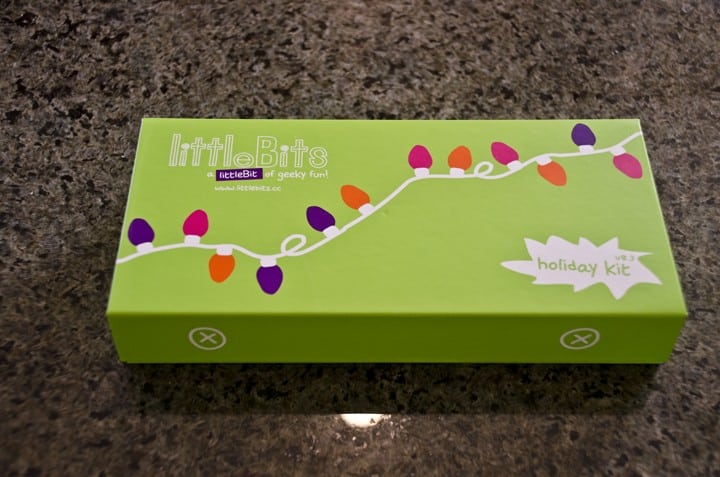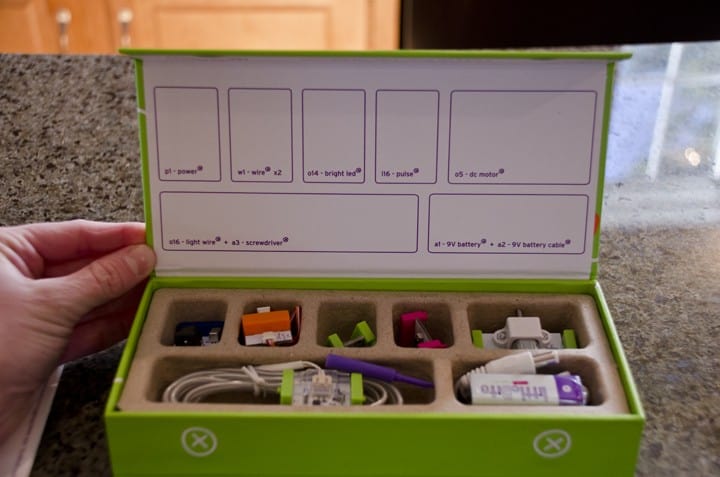 I received the Holiday Kit in the mail. It was nicely packaged for gift giving in a compartmentalized box with a magnetic closure and a bow. What It's All About "A special kit for the 2012 Holiday Season! The Holiday Kit is a great introduction to littleBits, and also includes step-by-step instructions to make special projects, like a Christmas Tree ornament, a Dancing Skater and a New Year's Party Hat! This Kit features some awesome new Bits including the Light Wire and the Bright LED to help you make a splash during the holidays. And, of course, you can you can pack everything away in the snapp case if you ever stop playing. littleBits is a system of modular electronics that snap together with magnets for prototyping, learning and fun! Each bit has a simple, unique function, like blinking a light or sensing pressure. Just snap a few
The littleBits Holiday Kit includes:
A double sided instruction sheet with quick start guide and project suggestions
A custom-made 9V battery + cable
A 9V battery connector.
Custom plastic screwdriver
7 littleBits:
power
pulse
light wire
dc motor
bright led
wire x2
Winner of Awards From: parent tested, parent approved National Parent Publications Awards Maker Faire Dr. Toy Popular Science TED *littleBits is for kids 8+ and contains small magnets My Experience I am not electrically or mechanically inclined, but these things are FUN!! I unpacked the kit and immediately started on a project. I simply followed the "recipe" in the pamphlet, cut out a figure of an ice skater, attached it with a pipe cleaner and voila. I made a spinning ice skater!!! The quick start guide had me creating within minutes.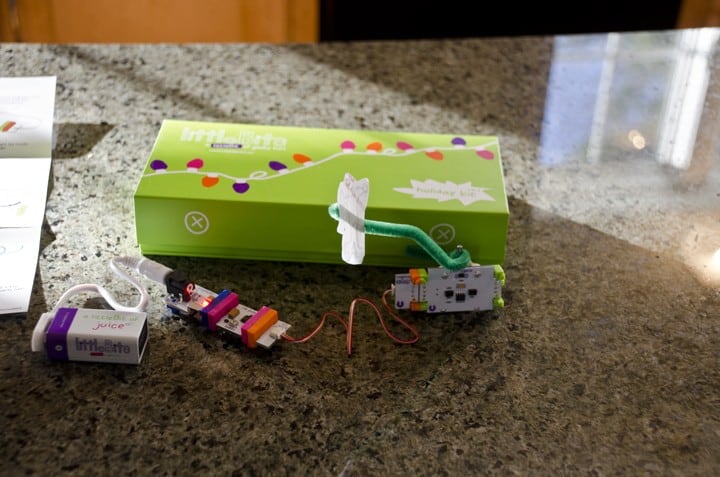 Not only is it rewarding to make your own creation come to life, but it's a GREAT way to learn. Each component snaps together with magnets and labelled (power, pulse, dc motor, etc…) Through experimentation and play your child will quickly learn the cause and effect of each of these components. Little Bits are recommended for children aged 8+, but I am really excited about sharing this with my 7 year old (with parental guidance of course). He just loves building and creating with legos and other materials. This will help him take his imagination to the next level. Who knows, maybe I will have a budding engineer on my hands! Little bits come in a variety of packages, including: teaser, starter and extended kits. Individual components are also available for sale. All kits and products can be purchased at www.littlebits.com The Little Bits Holiday Kit retails for $49. A great price for gift giving! One of our readers will win their very own Little Bits Holiday Kit!!!!
Loading Entry-Form…
…   "A sample of this product was provided to facilitate my review. All opinions expressed are my own."
0