One of my 7 year old 's favorite gifts this Christmas was the subscription she received to Little Passports USA Edition. I knew she'd like it, but I honestly believe it has been her favorite gift. She's been talking about it nonstop. All of the components of the introductory kit, called the Discovery Kit, plus the first monthly envelope that followed soon after. Little Passports is helping kids learn and understand about all different cultures in the world and right here in the USA. Helping them in so many ways, too. Kids love to get mail- but mail comes from someplace, so that right there is fun to check out- my daughter always wants to know where the postmark will be from on things that come to the house. The contents of the packages from Little Passports are never the same twice so that makes things super exciting too- mail that has surprises early on in each month of the subscription! Plus, they get to learn and discover new, fun exciting things and also experience some of the adventures that Sam and Sofia have. I can't say enough good about this program. Little Passports has us hooked.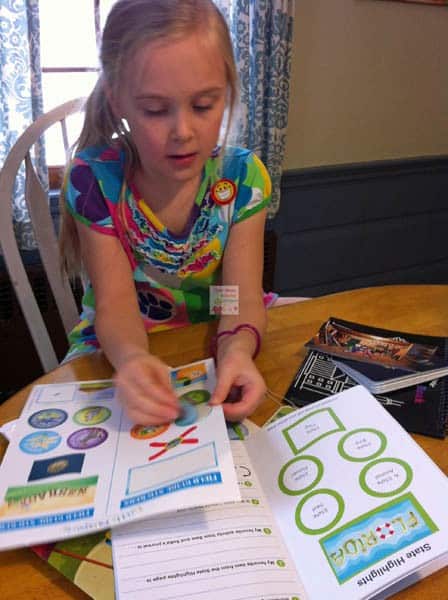 I also have a map of the world and a map of the US on my wainscotting in my dining room courtesy of Little Passports. I'm not allowed to take them down. MOM, I hear(with a side of exasperation), we can't take them down. I need to have them up all the time so I can keep finding out more facts and information and cool stuff about where Sam and Sofia are visiting next! She also goes on to explain that they are "way more fun" to look at than boring family photos and add a splash of color to the room. How can I say no to that? So they stay. It's gotten all five of us talking about places on both of the maps, which is never a bad thing. The kids want to know where my husband and I have travelled, and they share places they'd like to go. They want to know so much and I'm sitting here wondering why it is that we never thought to have a map hanging up before! What a great idea!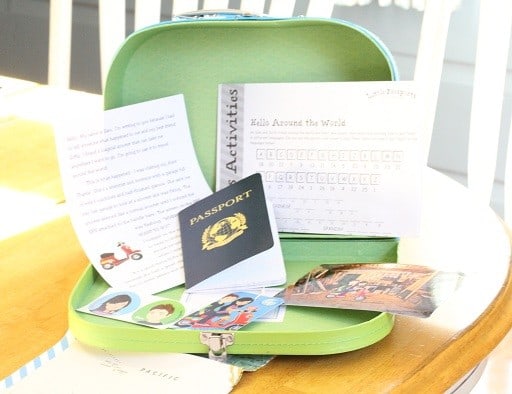 My daughter LOVES this kit, and the envelopes that are coming to bring her new places. The first "month" we got was Florida & Nebraska- perfect timing since we have our first big family trip this month- TO Florida. She's been showing her little brother and sister all of the things she's learning about thanks to Sam and Sofia quite proudly, both on the map and reading things aloud to them at meals. It's pretty cool, how excited she is about learning where these places are!
With your USA Edition subscription, Sam and Sofia travel to and experience the wonders of all 50 states. Kick-off your USA adventure with the first month's Discovery Kit which includes a letter from Sam and Sofia, a USA Field Guide, a USA scratch book, a map, and a camera. Sam and Sofia then travel to two new states every month and send an activity-packed travel journal with stickers, postcards, pop-out models and access to online activities.

When you first start your Little Passports adventure USA Edition, you will receive the Discovery Kit which comes in a custom Sam and Sofia USA (durable) Portfolio and includes:

An introductory letter from Sam and Sofia
USA Field Guide
USA Scratch Book (If your kids haven't discovered scratch books, they are a ton of fun, and a big mess. Have them do it outside or on a table so you can (carefully) sweep the scratch 'dust' as I call it neatly into the trash can.)
USA Wall Map
Disposable Camera and Photo Scavenger Hunt

Every month thereafter, your child will visit 2 new states and receive:

A 32-page activity-packed journal covering 2 states
Stickers
Pop-out Models
Postcards
Access to more information and activities online (Boarding Pass)

The recommended age range for our USA Edition is 7 to 12 years old.

After signing up, you will receive your first package with our Discovery Kit in about 4 to 5 weeks. New packages will arrive around the beginning of every month thereafter.

There are 4 options to subscribe- 3, 6 and 12 month memberships, each including a Discovery Kit to begin, and also a monthly membership which will get your child all 26 monthly envelopes and the Discovery Kit. If you want this to be a gift for a child in your life, planning ahead by about 5-6 weeks will mean the Discovery Kit is in your hands (or theirs) on the occasion you want to gift it for and they can have that to open and begin exploring and learning.

This is an amazing gift. It's going to be at least $11.95 a month, up to $14 a month, but it's going to give your child all kinds of knowledge, crafts and ideas, and keep them occupied each month for the duration of your subscription. I'm guessing most of us will spend close to that on some kind of entertainment or activities for our kids anyway- this is a way to pull those activities together and put them into a fun package so kids have a thematic curriculum that they don't even know teaches them things. It's just a lot of fun. One thing I really like is that it isn't just a one time thing that comes in the mail and gets tossed aside- my daughter goes back to it over and over again to look something up or to try another part of the journal activities. Math, science, social studies, language arts are all components cleverly disguised as fun facts and information- and a wonderful way to get your child excited to learn about other parts of the country (or world if you do the world edition- which I've already been told is next on the list).
One reader will win a 2 month subscription to Little Passports USA Edition!
We received a sample of this product to facilitate our review. Opinions are our own.