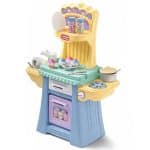 The Little Tikes Cupcake Kitchen is a whole lot of sweetness in a compact package. With the smaller profile of this kitchen, it can easily be slipped into any sized room for hours of pretend play. The muted colors suit our living room far better than our former play kitchen (which now lives in the church nursery) and the kids have had a blast preparing cupcakes and tea parties galore. This toy was seeing a lot of play time before the big storm last week but with zero power and no school for a week, the kids were really getting a lot of serious play time in, and I can't even tell you how many tea party picnics they had with their baby dolls (yes, even my son) in the living room enjoying some of the treats made in the Cupcake Kitchen. (My batteries were dead, no photos. Sad. Very sad).
This kitchen does not take a long time to assemble. An 18 volt power drill made fast work of the screws that do need to be put in but I think you could do it without a drill – it might take longer. I had the entire thing assembled with stickers in under half an hour. (This is something that I want to know when I think about toy purchasing that requires assembly, so I'm sharing with you).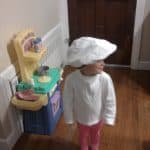 This kitchen has a storage drawer (love this feature), a little sink on the side, a burner with a saucepan (and a lid!!),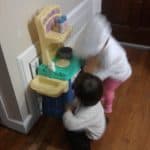 along with the 4 cupcakes, cupcake tin, 2 plates and utensils. Everything you need for a little cupcake party- plus 2 containers of "shots" – which I know many of you will think I am crazy and tell me they are called jimmies or sprinkles but where I grew up, we call them shots. Super cute, super fun, and since there's a door that closes on the oven and a storage drawer, a self contained toy!! I really like that the colors aren't overly girly- I tend to not purchase items that are color schemes in specific gender colors. My son loves to cook cupcakes as much as his sisters, and why should he have to do so in a pink frilly kitchen? This kitchen is just as much fun for him as his sisters, and I've not heard a single complaint about the color scheme from the kids.
This kitchen is recommended for ages 2-5 and I'd say that age range is dead on. It retails for $39.99 so not only will it not take up half of your living space, it also won't break the bank!
One of my readers will win a Little Tikes Cupcake Kitchen!


I received a sample of this product to facilitate my review. Opinions are my own.
0