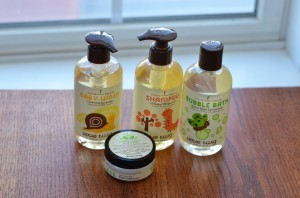 I admit it.  I'm kind of addicted to baby bath products.  Not your run of the mill grocery store baby wash, but all natural super yummy smelling bath products.  There is just nothing more fun than bathing those little bodies and making them smell so sweet!  I have been dying to try Little Twig bath products ever since I was pregnant with my youngest 2 years ago.  Don't ask me why I haven't tried them before now.  They are fabulous.  I have to admit that I was first drawn in by the packaging.  I just love the cute little cartoon figures on the labels!
Little Twig products are developed in conjunction with pediatricians and parents.  They even have an online parent forum to discuss opinions and concerns about their products.  All of their bath and body products are made with organic and botanical ingredients, are phthalate free, paraben free, nut, soy and wheat free.  Their product line includes baby wash, shampoo, detangler, bubble bath, diaper cream, baby powder, bodymilk, baby oil and suncare in addition to gift sets and washcloths.
I had the opportunity to review the Happy Tangerine Shampoo, Calming Lavendar Baby Wash, Unscented Bubble Bath and the Unscented Diaper Cream.  I loved all of the scents, par
ticularly the Calming Lavender.  You could definitely tell that the scents were developed using natural ingredients.  The products themself were fabulous. The body wash lathered nicely and rinsed easily.  It left my little ones skin feeling soft and not dried out.  The shampoo was also nice, leaving his hair soft but without flyaways.  I only needed a TINY amount of shampoo to wash his entire head.  The bubble bath was also great.  Both of my kids enjoy a good bubble bath and it makes me feel good to find a product that is all natural.  I find that all natural bubble bath is hard to find.  I also love the diaper cream.  It comes in a tub and rubs on like a thick paste.  I found that it absorbed immediately and was very effective on my toddlers very sensitive skin.
Follow Little Twig on Facebook to keep up to date on their latest products and sales!  At a price point of $10-$15 per product you won't be disappointed.  This would make an excellent gift for yourself or someone else.  I honestly used so little of the product per bath that one bottle will easily last me 6 months.  These great smelling bath products are well worth investment, you won't be dissapointed in this purchase!


I received a sample of this product to facilitate my review. All opinions expressed are my own.[ad#glam between posts][ad#glam between posts][ad#glam between posts]
0