Thank you to Magellan for sending us the eXplorist GC GPS to use while geocaching.  The GPS is great and has begun my family on a new and active hobby.  In the three weeks since we recieved the Magellan eXplorist GC GPS we have discovered trails and parks that we did not know existed.   It has got us outside hiking and being together as a family.  It is also a great way to start teaching children about directions and distance.  I am hooked and find myself hunting for Geocaches when I am running errands.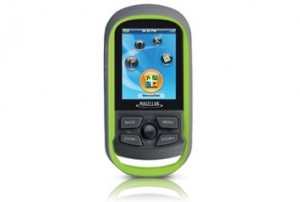 So, What is Geocaching?
Geocaching is the 21st century treasure hunt that kids and families can enjoy together.  According to Geocaching.com  it  is a worldwide game of hiding and seeking treasure. A geocacher can place a geocache in the world, pinpoint its location using GPS technology and then share the geocache's existence and location online. Anyone with a GPS unit can then try to locate the geocache.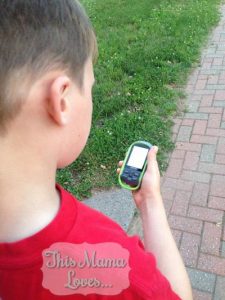 The Magellan eXplorist GC GPS provides a user-friendly experience that helps a novice geocacher discover the world of high-tech treasure hunting, and sophisticated features to give an experienced seeker an advantage in the field. The lightweight outdoor handheld GPS, with a 2.2-inch color daylight-readable screen, is pre-loaded with 999 of the most popular geocaches in the world, and is capable of holding 10,000 downloaded geocaches. For the first time, users can customize their eXplorist GC GPS with National Geographic TOPO maps or DigitalGlobe satellite imagery. Magellan has also enhanced the eXplorist GC main screen with a new, easy-to-use menu of features to give users an intuitive presentation of options for navigating through geocaches, waypoints, maps and other tools.
Features:
Handheld GPS Device Exclusively for Geocaching
Seamless connection to geocaching.com
Free 30 day premium membership to Geocaching.com
Pre-Loaded with the Most Popular Geocaches in the World
Complete paperless geocaching
Holds 10,000 caches
What do you find in a geocache?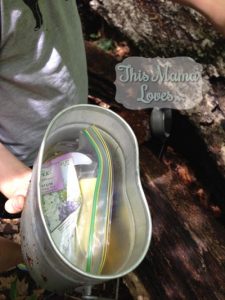 In every geocache is a log to sign with your geocaching handle.  Some geocaches are micros or nanos and only have a log to sign.  Others are larger and have items to trade.  You should always trade for equal value or leave an item of higher value.  Often the items are small toys or gift bag items.  We have also found plant seeds, a compass, money and more.  Kids love to bring and item and trade.  There are also items called travel bugs that can be taken and moved to another cache.  The object is to see how far it can travel and the movement is tracked on geocaching.com.  There are really so many great lessons that can be taught to kids through geocaching.
The first day we got our Magellan eXplorist GC we were able to get out and find 3 geocahes in our neighborhood.  Geocaches can be anywhere.  Some are in shopping plazas, town parks or in the middles of the woods.  We love the variety and they fact that we can find at least one anyplace we go.  After explaining geocaching to a friend she ordered and eXplorist and started geocaching with her daughter.  It is fun and addictive!
Where will you look for geocaches? 
A Magellan eXplorist GC was provided to facilitate this review.  All opinions are my own.