We received a MAGIC JINN interactive guessing game for review. We're spending hours each day at the swim and tennis club we joined- the kids are in lessons but not always at the same time.  I like to have a bag of tricks, so to speak, with me, so that if there's down time, the kids have something kind of quiet to do so they can chill for a bit.  I like the things in that bag of tricks to be light and portable, since I'm already lugging a huge cooler bag full of snacks, lunch and drinks to keep 3 busy kids fed and hydrated!!  The Magic Jinn game is perfect all around- it's small, it's lightweight, and definitely something the kids can wind down and play to get a little bit of quiet in their busy day.  ALL of the kids are loving this, and I am bound and determined that I will stump the Magic Jinn sooner or later.
My oldest did a video demo for Magic Jinn.  Watch and see if she stumps him or not.


Jinn has a funny voice- it took me a few moments to get used to it, the kids just think it's funny how he sounds.  He also exaggerates some sounds more than others which does sound funny to all of us! A press of his nose gets things started- and just so you know, if his nose is pressed while in the bag of tricks…or any other bag…he'll start chatting away whether you are playing or not….for a minute or so until he "realizes" you aren't there to play. Then he'll shut off.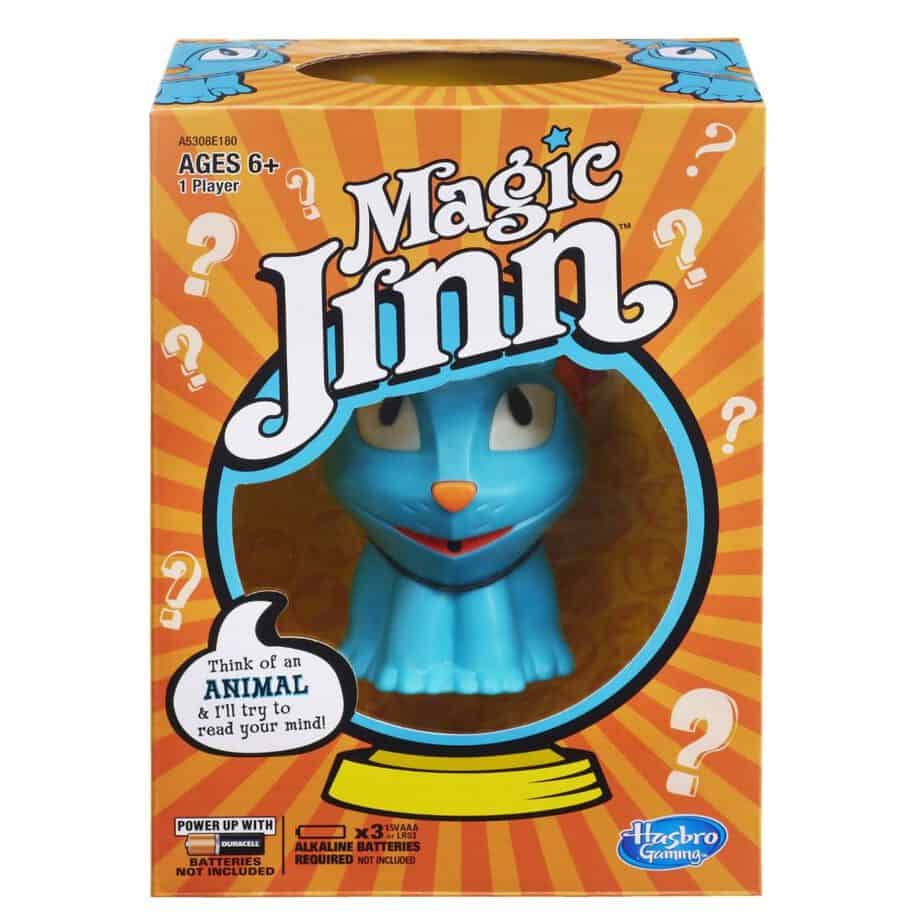 Age: 6+; Players: 1+; Available: Summer 2013; Approximate Retail Price: $19.99
Think of an animal and leave the rest up to MAGIC JINN! Be amazed as MAGIC JINN guesses your thoughts in this new interactive guessing game. Listen to a series of questions from MAGIC JINN to which you answer yes, no, I don't know, or maybe. You may think you can stump MAGIC JINN, but he will magically try to guess the animal you are thinking of with his questions! MAGIC JINN is also available in an additional category of Food and Drink. Each sold separately. (Requires 3 AAA batteries – not included)
One reader will win a Magic Jinn interactive guessing game  toy of their own!