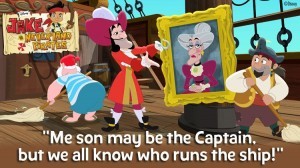 Guess what?  Just in time for Mother's Day, we'll be meeting Mama Hook on Jake and the Neverland Pirates – voiced by the hilarious Sharon Osborne!! I, for one, can't wait to meet her!
When we'll meet Mama hook, she pays a visit to Captain Hook and is disappointed in his naughty stealing- and sets to teach him a lesson about sharing.  She's slated to be appearing in later episodes, as well.  More fun for the parents, I'm sure!
The episode premieres on Saturday, May 12 at 8:30am ET/PT on Disney Channel.  (It will also air at 11:00 AM ET/PT on the 24 hour Disney Junior Channel).