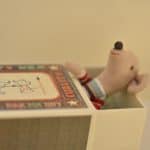 A few weeks ago, Jenni and I were chatting and I noticed a stack of catalogs with pages marked or pulled out. One such catalog page was from Garnet Hill, and when I grabbed the page to look, I gasped. These little cuties (to the left) were on the page, and we both said "We NEED these mice!" Little stuffed mice, who sleep in little tiny matchbox beds, and live in a milk carton house. They have little tiny furniture pieces made from little pieces of newspaper. Mom and Dad mouse sleep in a cigar box. Whimsical, simple, and oh so very sweet with lots of attention to detail and let me tell you- one look and you're in love. These are called the Mice Family, imported from the rustic, nostalgic and artistic minds from Maileg… and there are many family members to love. There's newborn twins, little brother and sister, big brother and sister, and mom and dad…with Christmas versions of several of these. I will warn you now that you will not want to stop at one. Or two. You'll want the whole family and you'll probably want some friends for them. They are
THAT cute. They are tiny, too, so they are easy to travel with, and are wonderful toys to inspire imaginative and creative play.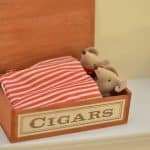 I was surprised at how sturdy the matchbox itself was for the mice- I'm not sure what I expected, but this is a nice, durable cardboard, made to last to lots of playtime. I forsee hours and hours of play. Or rather, more and more hours of play. One day we may even let our kids play with them too. I love that the clothes aren't meant to be changed on the mice family. I want to be little again so that these can be my favorite toys, clutched in my hands at every possible moment and carried around wherever I go. Maileg doesn't stop with the Mice family. There are bunnies and wooden toys and fabric banners and clothes and elf hats…there are textiles for the home and cards for sending, and even rustic wrapping paper to prepare your parcel for giving. They've only been here in the US for a few months but I have a feeling they are going to be around for a very, very long time! I think what appeals to both Jenni and myself is the simplicity and sweetness of these adorable mice friends. Perhaps its nostalgia? But look at this family! How can you not fall head over heels in love?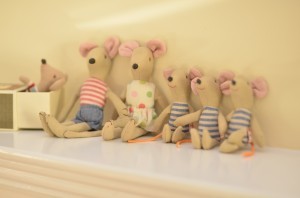 When our box arrived from the wonderful folks at Maileg, it was literally overflowing with Mice family members. What does that mean for YOU? It means that we have SIX lucky readers who are going to win some of these adorable mice family members for their house. RafflecopterSettings = { raffleID: 'NjJiMjZhMjc3MzcwMTIzMGQ0NGM4NTIwYjAwNjY2OjEzMA=='};You need javascript enabled to see this giveaway.
We received samples of this product to facilitate our review. Opinions are our own.