I participated in this sponsored campaign viewing party and toy review of Max Steel for One2One Network. All opinions stated are my own.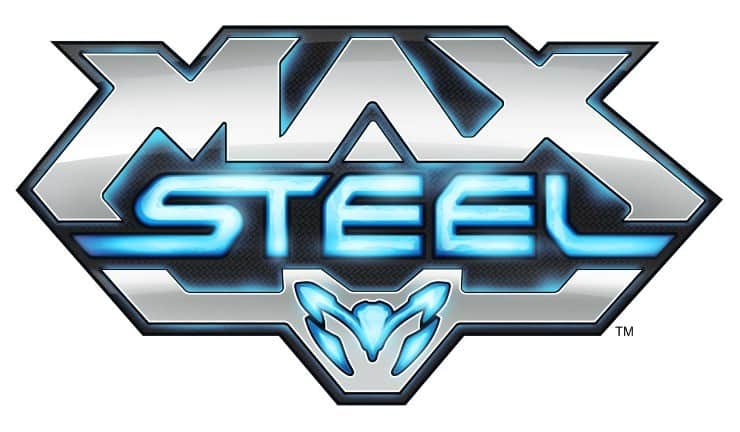 The idea of superheroes has long fascinated so many of us- in print, television, the big screen- everyday life- the superhero represents the ultimate Good vs. Evil battles we'd all love to win- the hero triumphs over the villains, and the world stays safe from evil again.  We watch the movies, read the comic books, the books, the magazines, we buy the shirts, the shoes, the sweatshirts, hats…and the toys.  I can remember going to see the original Superman movie – it was my first movie theater experience- and I was simply in awe at the big screen, and of course, of Superman himself.  Fast forward about 30 years later…and though he's never lost his fan base, Superman's been reincarnated once again, inspiring a whole new generation of kids to want to be just like him.  But it's not just Superman, it's all superheroes.  Given all that's happening in the world around us, you can't blame a kid for wanting superheroes to be real, to save the world, to protect us from evil plots hatched by sinister villains.
Of course, today's kids have technology along with the love of Superheroes, so it's only natural that we'd have some heroes coming along with extra technology.  One of Mattel's "old school" heroes, MAX STEEL, has come back with a new series airing on Disney XD, a live-action film due out in 2014, and a whole line of fun, cool interactive action figures and toys released in September, 2013.
Max Steel is the newest and coolest superhero from Mattel. He's Maxwell McGrath, a 16 year old kid with a superpower he hasn't always known about, with a 21st century sidekick, Steel.  Steel isn't your typical sidekick- Steel is an alien warrior who's the equivalent of 16 human years- and when he's not playing practical jokes, he's paired up with Maxwell McGrath to form the ultimate superhero MAX STEEL (or as I think of him, modern day superhero, Superhero 2.0).  Most of the action figures light up and they have all got a "thing" they do- which is great for kids.
Our favorites? The Max Steel Rip Launch Toxzon Action Figure (there's a rip cord, and the discs fly through the air.  Also amusing with kittens).  Our other fave? The Max Steel Blade Attack Dredd Action Figure – because his hand spins and spins and it's fun to do. It's almost like a helicopter blade- just cool and fun!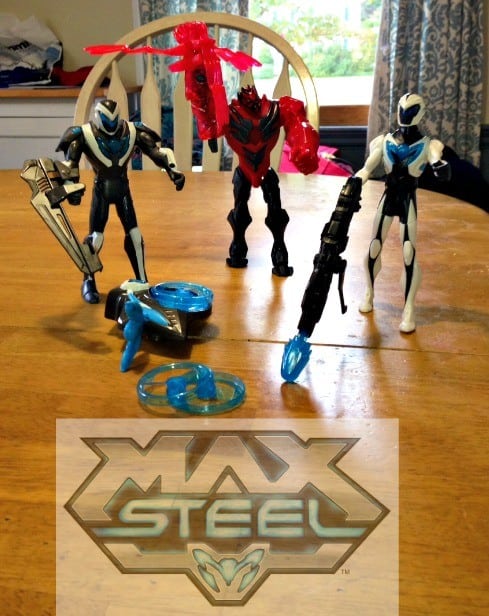 Kids can bring their favorite Max Steel adventures to life with the brand new Turbo Sword (MSRP $29.99) for action-packed play. With built-in motion sensors, the sword makes battle sounds, lights up and repeats key phrases from the hit animated series with a few simple moves.  You can find it on Amazon, Target, Walmart and ToysRUs.com
The Turbo sword is full of sounds and lights- 19 sounds in all when Steel is attached.  Lots of fun for kids, but I prefer this one goes outside for play (and stored indoors) because the volume is a bit high for my liking (I will fully admit I'm hypersensitive to toy sounds so it may not be so loud to you!)
The Max Steel toy line also includes action figures (MSRP $5.99) and a Max Steel costume (MSRP $21.99-27.00), perfect for boys this Halloween.  It's VERY refreshing to find action figures priced at this point.  My son is at the age where action figures and imaginative play take up most of his free time (besides building blocks) and he's usually found in one costume or another, saving the world and "getting" the bad guys by whatever means necessary.  He loves to get together with his buddies and run around inside, outside, up and downstairs, getting totally engrossed in their play and losing track of time and really BEING in the moment.  They love superheroes.  I can't blame them- who doesn't want to save the world?

Teamwork: Max is like any other high school student. But when he teams up with Steel, their combined forces unlock superhero powers that help them conquer their world.  It's nice to see team work encouraged and NEEDED modeled for kids!
Humor: Just like every bond between best buds, quick-witted Max and trusty sidekick Steel's banter back and forth is just plain funny.  Steel's even funnier to us because he's an alien, and that brings a new level of humor!
Friendship: The bond forged between Max and sidekick Steel is undeniably unbreakable. Together they operate as one inseparable duo showing that the power of two is better than one.  It goes back to teamwork too, but it's also really a great example of the power of friendship.
We will be having a little viewing party once everyone in my house is healthy and my son's friends are as well- we've had to change the date a few times because of back to school sickies!!
Watch MAX STEEL on Saturday mornings at 8:30/7:30c on Disney XD!
0