New Wave Enviro sent me a Litter Free Lunch kit and some Seriously Save Stainless Steel Food containers to try out.  We are always trying to find ways to make less waste and be kind to the environment.  These products are BPA-free, litter free and stylish too.  I received the bag in swirls with green piping, it also is available in a blue pattern and a solid light brown.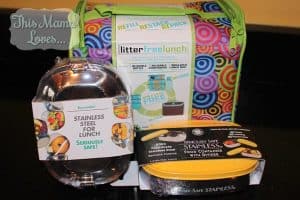 About Litter Free Lunch Kit
This kit has an insulated shell, four BpA-free airtight food containers (2 small, 1 medium and 1 large) and a 15oz BpA-free bottle – everything you need to pack a fresh, healthy lunch.
Bottles are dishwasher safe. Bag can be washed in a washing machine.
2 small containers: 3.75" x 2.25" x 1-3/8" deep
Medium container: 5.25" x 3.75" x 1-3/8" deep
Large container: 5.25" x 3.75" x 2.75" deep
Bottle: 2.25" x 2.25" x 6.5"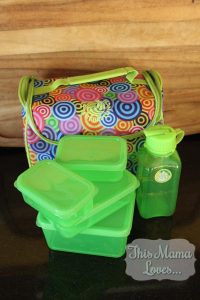 There is enough room for a salad, a sandwich and a couple of sides.  The containers are air tight but easy to open and close, even for the little guys.  I love that the box in insulated because I often forget to pop my lunch in the fridge when I get to work.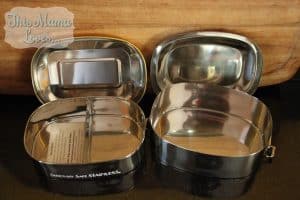 About Seriously Safe Stainless Steel Food Containers
100% 304 Food Grade Stainless Steel. A non-leaching product – no chemical, no toxins, no taste. Resistant to stains and corrosion. Durable and rugged – designed for everyday use. Go ahead and throw them in your bag – they won't open until you open them! 6" x 4.5" x 2-3/8" deep
You can find all of the New Wave Enviro products online or try their Store Locator.
All of these products make weekdays lunch prep so much easier and I feel great not using dozens of plastic bags each month.
These products were provided to facilitate this review.  All opinions are my own.
What great uses would you have for there products?
0